I have always wanted to write a post about what Tuscany is like at different times of the year. I get the question a lot from prospective guests of our vacation rentals. So, I have decided this is my new "pet project" for the next 12 months, 1 month in Tuscany at a time! With a word of caution: every year things are slightly different and vary across Tuscany (no need to remind you that Tuscany is a big place, right? If so… please check my post about the various regions of Tuscany, thanks!). See all the posts in this series.
[Are you looking for accommodation in Tuscany in May? We still have vacancies and great prices at our Casina di Rosa! Check it out!]
What is Tuscany like in May?
I believe May is (usually) the best time of the year to be in Tuscany. The weather is normally fairly warm but not yet hot. Of course there are exceptional years like this one (2012), when May is extraordinarily rainy and temperatures have dramatic rises and sudden falls. Normally, however, temperatures at the beginning of May are already pleasant enough that you can wear short sleeves in the late morning and early afternoon and a light jacket or sweater is enough to keep you comfortable in the early morning and in the evenings. By the end of the month, temperatures are summer-like. Average temperatures range between a minimum of 10°C (50°F) and a maximum of 22°C (72°F), but warmer days with temperatures around 25°C (77°F) are not uncommon.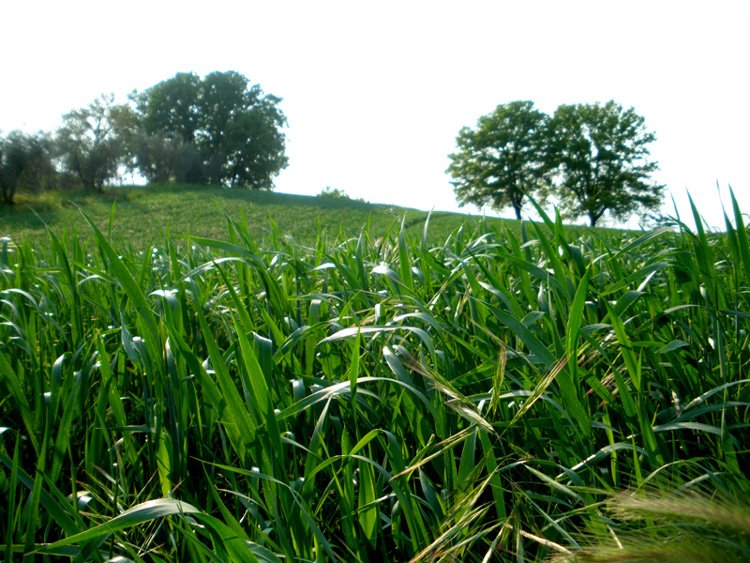 (Green fields at the beginning of May)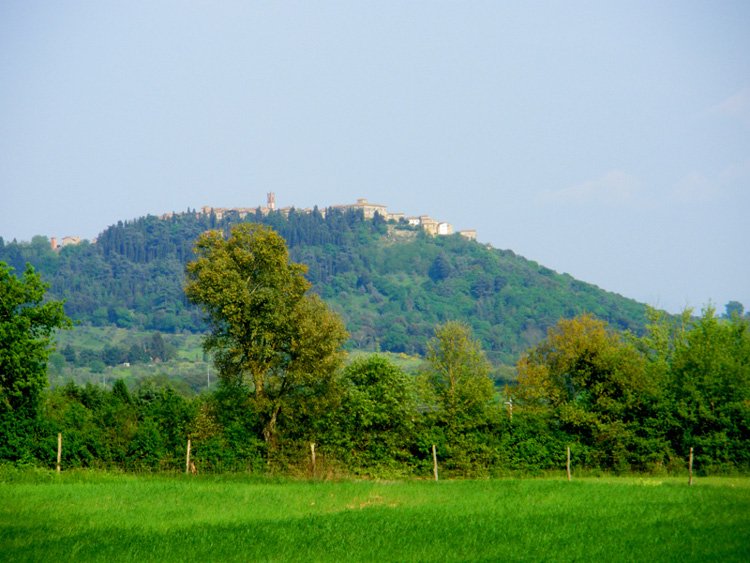 (Beautiful countryside and our village in the background)
What I love the most in May is the countryside: it is absolutely gorgeous. At the beginning of the month, and usually at least until around May 20, the fields are bright green. The bright yellow rape-seed flowers tinge the countryside first. Soon after the bright red poppies dot the hills and border the roads, and they are really beautiful!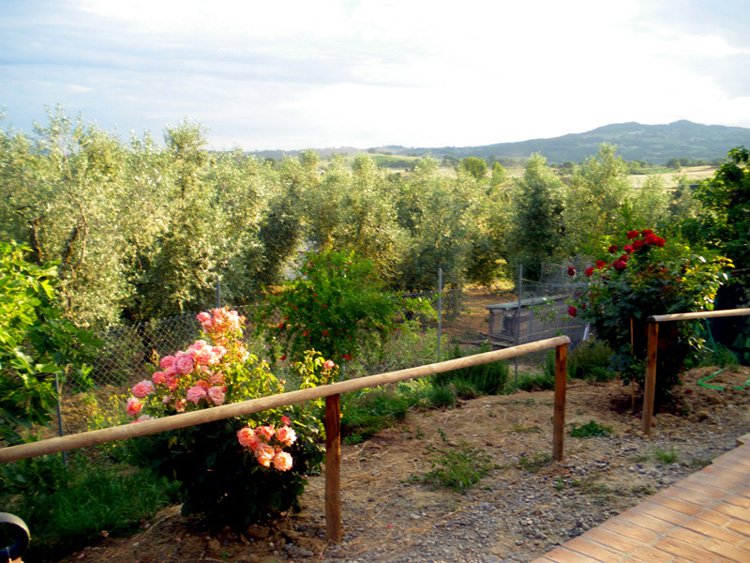 (Roses in bloom)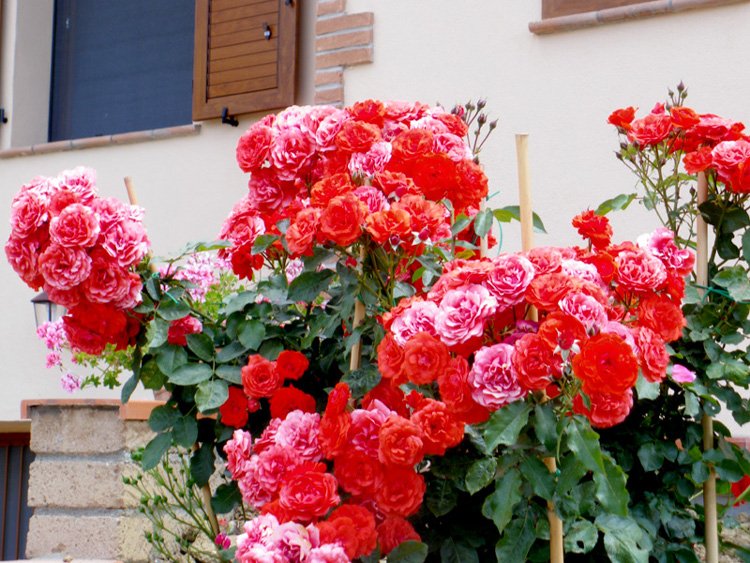 (Roses in bloom)
Wild flowers also cover the meadows, mostly in the shades of yellow and purple. Finally, bright yellow flowers cover the broom plants and if you look out of the window, you can see yellow patches all over the hillsides. Sage, olive trees and vines are also in bloom.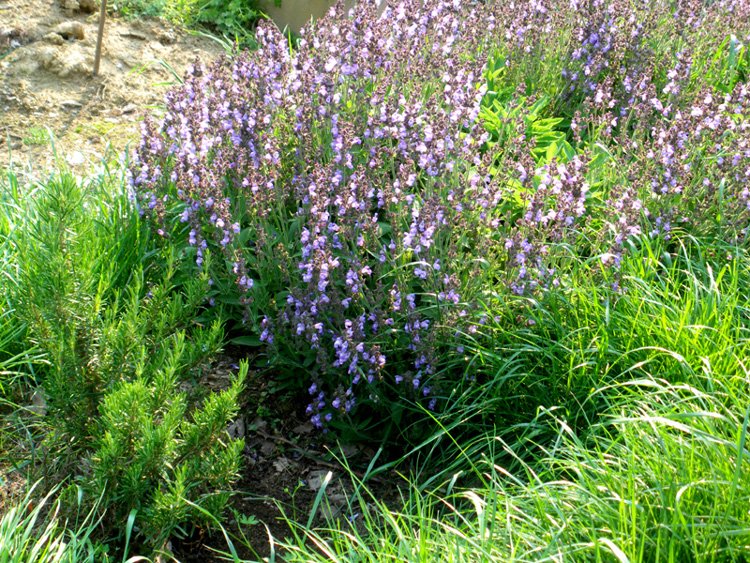 (Sage in bloom)
(Poppies)
(Wild flowers and our village in the background)
Trees are covered in bright green leaves and gardens are full of roses, snapdragon, jasmin, azaleas and other beautiful flowers. Vines are covered in leaves again but olive trees will be much "thinner" than in April, because they will have been pruned.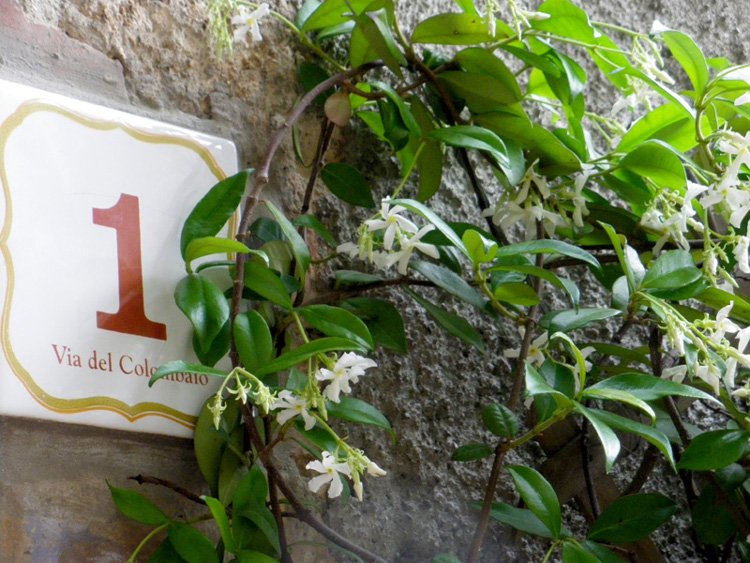 (Jasmine on the loggia at Casina di Rosa)
(The countryside changing color at the end of May)
The landscape changes quickly. By the third week of May, wheat fields will have already started to turn pale green and all of a sudden the countryside will take on its summer colors: bright yellow and brown.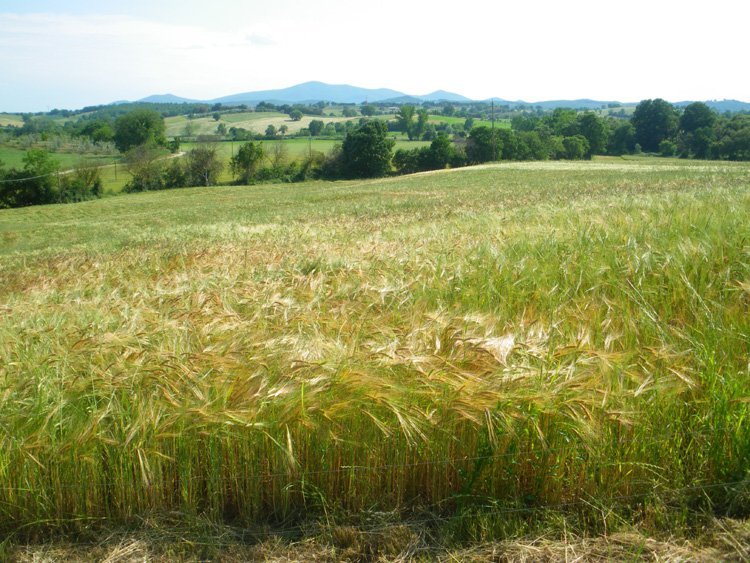 (The countryside changing color at the end of May)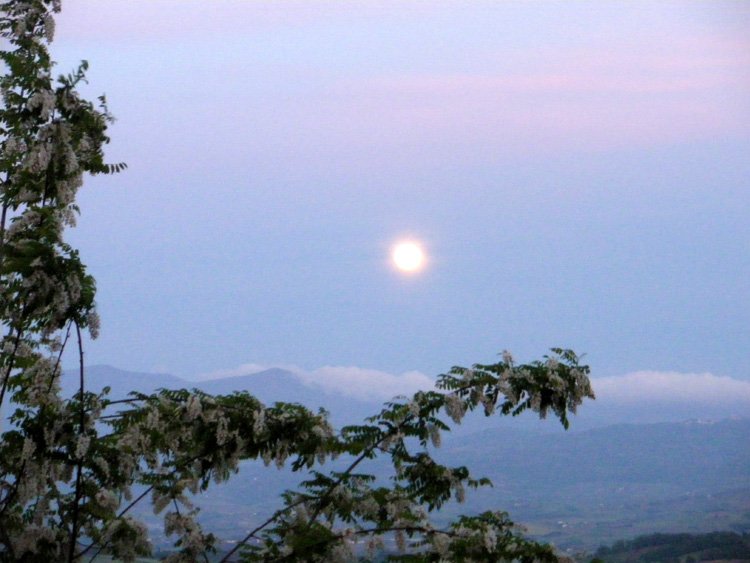 (Full moon and trees in bloom)
Cities are also nice in May, because most green areas will have flowers and bars and restaurants will have reopened their outdoor spaces, placing tables and chairs outdoors. More and more people will be out at night and by the end of the month many establishments on the beach will open for the season and the locals will start to flock to the coastal towns.
[Are you looking for accommodation in Tuscany in May? We still have vacancies and great prices at our Casina di Rosa! Check it out!]
What is in season in May?
May is a very rich month in terms of fruit and vegetables that are in season. Besides strawberries, which are already available in April, cherries are finally available. If it is not a very warm year, loquats are still available. You can still find cultivated asparagus, while the season of wild asparagus might already be over. The first leeks and onions of the season are also available and so are green beans.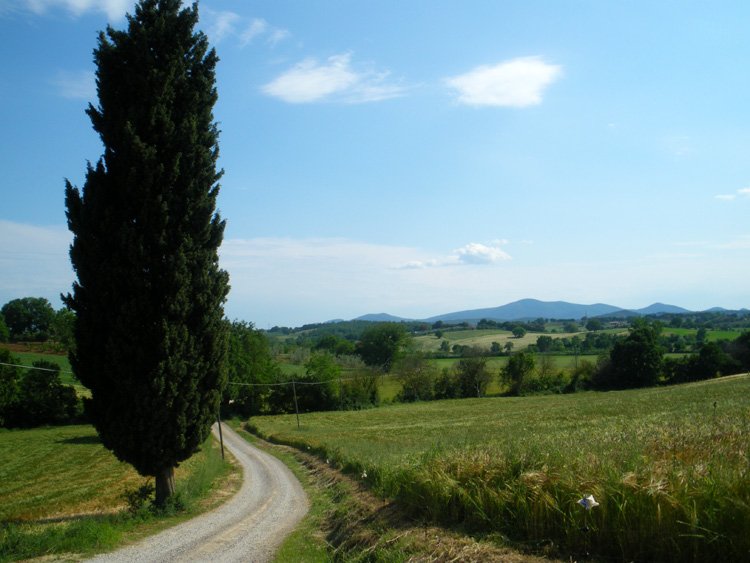 (The countryside at the end of May)
But one of the most popular vegetables in season in May is no doubt broad beans, which are popular on Tuscan tables in this season and are served stewed or raw with prosciutto and pecorino cheese. Tomatoes are now decent, even though, just like zucchini, the ones you can get now come from green houses or warmer climates. The same as the first melons, watermelons and the first peaches, plums and apricots.
May 1: Labor Day
May starts with a national holiday, Labor Day. Traditionally, parades and other initiatives of socio-political nature are organized in most cities. Most shops will be closed, as will some attractions.
Popular tourist spots will be crowded because Italians will be enjoying the day off too.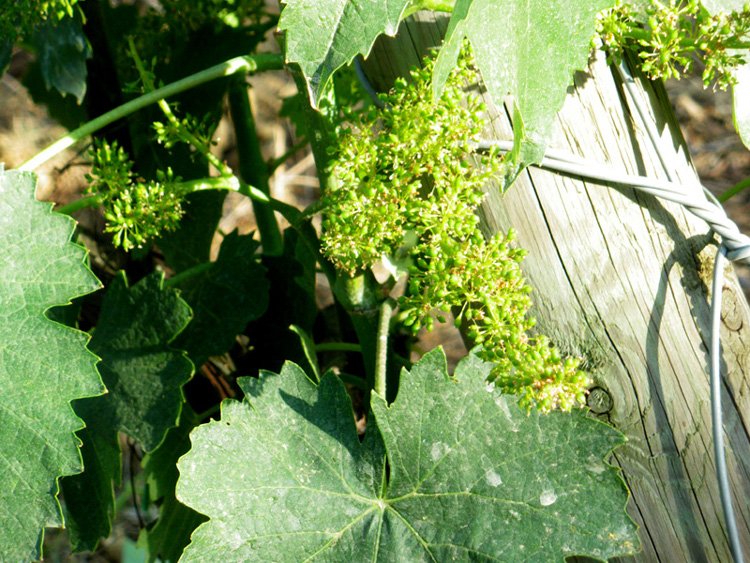 (The vines with baby grapes)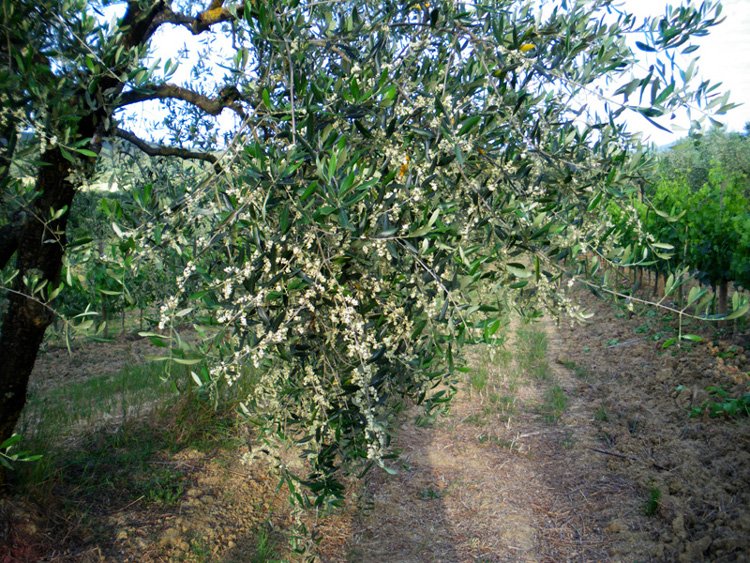 (Olive trees in bloom)
An interesting tradition is that of the "Maggio". Traditionally, on the night between April 30th and May 1st, the village men would walk throughout the village stopping under the windows of unmarried girls to sing the traditional canti del maggio (May chants) a cappella. The songs would always include the name of the girls and of some young man who was supposedly courting them. They would also leave some laurel branches by the girl's door as a sign that in that house there was a "giovane da dar per moglie" (literally, a young woman to be given as a bride) and as a wish for good luck. Laurel in our dialect is also known as "maggio", the same word we use for the month of May.
(The fields at the end of May)
The anxious parents of the single girls would leave eggs and wine outside their doors to thank the singers, also known as "maggiaioli".
Mother's Day
Up until 15 years ago, Mother's Day was celebrated on May 8, a day dedicated to the Holy Virgin. Then, since most mothers were at work if it fell on a week day, it was moved to the second weekend of May. If you happen to be in Tuscany on Mother's Day, you wil find most flower shops open.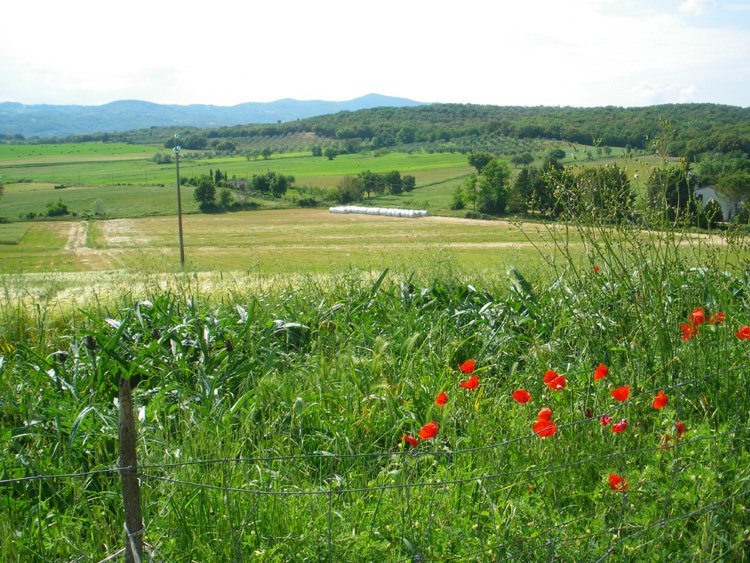 (The countryside in mid May)
Many village festivals: the beginning of the season of the Sagre
Although you can find village festivals pretty much all year round these days, traditionally, the real beginning of the season of the Sagre was, and still is, May. Two years ago, I posted an article about the village festivals in Tuscany in May and one about the medieval festivals in Tuscany in May. The dates are from 2010, but most events will be held every year on the same weekend of May. Just google the name of the festival you might be interested in and you should find the dates for the current year.
(The countryside in mid May)
Sagre are a great way to get to eat good local food made with seasonal products, drink good wine, and enjoy music and other shows or just spend a nice day in good company. And the best way to get a glimpse of the local culture and traditions.
[Are you looking for accommodation in Tuscany in May? We still have vacancies and great prices at our Casina di Rosa! Check it out!]
Getting married in Tuscany
May is the most popular month for weddings in Tuscany, so if you plan on eloping or having your destination wedding in Tuscany in May, start planning well ahead of time. If you need a planner, check out Boutique Events!
(Broom in bloom near the pretty village of Pari)
[Are you looking for romantic accommodation for your honeymoon in Tuscany in May? We still have vacancies and great prices at our Casina di Rosa! Check it out!]
Infiorate and Sacraments
May is a busy time for Catholics. It is traditionally the month when children receive their First Communion or Confirmation, so expect to see lots of families celebrating in restaurants on Sundays. It might be a good idea to book in advance if you plan on eating at some popular restaurant at lunchtime.
If the festivity of Corpus Domini falls in May (it's always 60 days after Easter), you might be able to see "infiorate", pictures in the streets which are made with petals. The most popular of this "infiorate" is actually in Bolsena, which is in Latio, but very close to the Tuscan border so you might want to take a daytrip to see this magnificent event.
Looking for accommodation?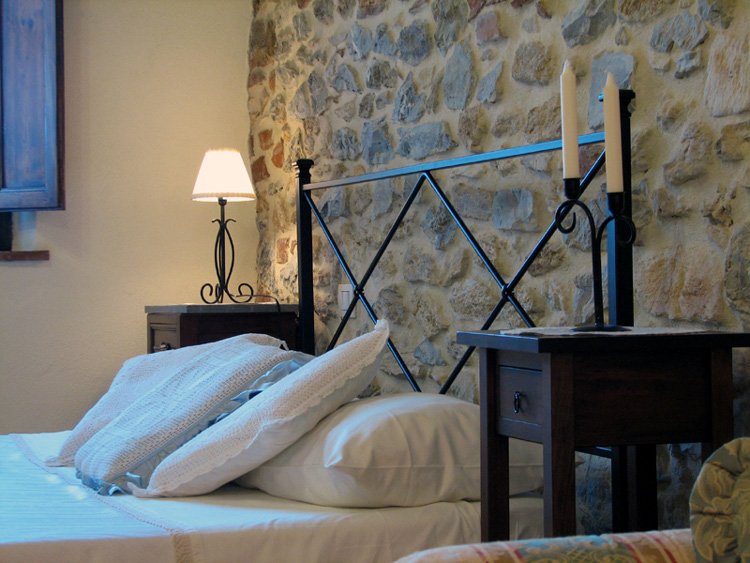 Look no further: check out our vacation house between Siena and the coast of the Maremma. Ideal base to explore southern Tuscany and a great deal! Top reviews available online!