Those of you who have visited a travel forum even only once will have seen at least a couple of threads about fines for trespassing into ZTLs in Italian cities or for other traffic violations. If you have taken the time to read the posts, you will have noticed that most of the people leaving messages to vent about their misadventure with the Italian laws regulating traffic claim that they have been scammed, and sometimes end up blaming the car rental agencies for not telling them about the ZTL rule.
Pisa is one of the cities in Tuscany (along with Florence) where such complaints are most frequent. This post will hopefully clear up a few points.
What is a ZTL?
ZTL is an acronym which stands for Zona a Traffico Limitato, meaning Limited Traffic Zone. It is an area of the city center that is closed to non-residential traffic. Only city buses, taxis, residents with a valid permit and other authorized vehicles (i.e. delivery vehicles, couriers, etc.), can drive there.
What is the point of having a ZTL?
ZTLs are not created to mess with drivers, either locals or foreigners. There are three main reasons for having ZTLs in cities.
Italian cities are old, and the centers of most of them boast historical buildings of great value which are inevitably damaged by traffic. This is undisputable: everybody knows that traffic is bad for old monuments and buildings. It covers them in black powder, it produces vibrations that destabilize them and damages façades.
Streets are narrow and pollution is not easily dispersed in the maze of roads that constitute the center of most Italian cities. This impacts badly of the health of the residents of the cities that are most popular with tourists.
Cars are noisy, and messy. In order to fully appreciate the beauty of the city center of an old city, you need to be able to reduce the amount of traffic and create pedestrian zones or zones with a low number of vehicles zooming by. It's safer. It's prettier. It's healthier.
For these reasons, most municipalities have decided to create "protected" areas where only the most inevitable traffic is allowed: only residents can drive and park in ZTLs, if they have obtained a special permit from the City. Otherwise, they are not allowed either.
Everybody else, Italian, local or non local, or foreigner, has to stick to the alternative routes where driving is allowed.
How do I know if I am in a ZTL or where they are located?
A common myth is that ZTLs are not clearly marked, on purpose. This is simply false.
ZTLs are clearly marked with large signs, lane restrictions and cameras on big poles. You simply have to know what to look for, so do your homework before coming to Italy.
If you didn't notice when you passed through one of the ZTLs gates, there is no way to know that you are in a ZTL for sure. Some good clues, though, are:
all the parking spaces on the side of the road you are on are free (marked in white)
all the cars parked there have local plates
all the cars parked there have a special sticker on their windshield
you are driving by outstanding monuments and tourist spots
there are only few cars moving on the road where you are driving and many pedestrians
What happens if I drive through a ZTL?
You will be fined if you drive past the cameras at the entrance of the ZTL . They are clearly marked, you have to know what to look for, so do your homework before coming to Italy.
You won't receive the fine until after you have gone back home. It will probably be the car rental agency that will forward it to you. The fines range between €76 and €100.
Please note that you can be fined several times in the space of a few minutes, that is every time you pass under a ZTL camera. Be careful when you drive in a city you don't know.
Pay attention to the signs indicating mandatory direction or no entry.
How am I supposed to know that ZTLs even exist? Why didn't the car rental agency warn me?
It is your responsibility to learn about the rules of the road in the country you are about to visit and where you plan on driving. Most guidebooks will have a section about driving at the end.
It is also your responsibility to find out if the road signs look the same, if what is allowed in your home country is also allowed in Italy, etc. Car rental agencies cannot be held responsible for your ignorance on the matter or for you not taking the time to learn about cultural differences before traveling. They might not even be aware of what the customs in your country are, or that ZTLs are a European thing. It's you who are travelling across cultures, not them. They also have no way to know where you intend to drive.
Also don't expect signs or warnings in any language other than Italian.
Here is an excellent article about ZTL Zones and Traffic Cameras on Roadways and in Towns in Italy. Please make sure you read it before driving in Italy.
If you are from a non-EU country road signs are different: make sure you learn them. Here is a useful guide to Italian road signs.
If you still have questions, ask your hotel or vacation rental owner about possible things you need to know to drive to your accommodation, e.g. special permits required to reach it or park nearby etc. They are more likely to have those answers than the car rental agencies.
What if I get fined and I am already at home?
You will receive a notification with details for the payment and contact numbers. Pisa has an English and German speaking call center too. You will be asked to pay by bank trasnfer.
You can try an appeal, but it will be rejected unless you can prove the camera was not functioning properly or that you were not driving that car.
If you live in France, you have no choice but to pay the fine, because of a special agreement between our two countries. If you live in any other country, it's ethical to pay. But if you don't, there is not much Italy can do. Some car rental agencies might have you sign a form to get permission to charge your credit card in case of fines.
UPDATE: Some one pointed out that first, the car rental agency sends you a notification it has charged you for giving your details to the police (or whomever sends the fine) and then you get the fine separately from the authorities and up to a year later. (Thank you Lynn!)
Not paying a fine is not a crime in Italy. It's an administrative infraction, so you won't be jailed next time you set foot in Italy again… The car rental agency might initiate a debt collection procedure against you.
The ZTL in Pisa
I have already written something about the ZTLs in Pisa a few weeks ago. Here is the official map of the access points of the ZTL in the city. And here is a google map I created – you have to watch out for the cameras in Via Roma and Via Mazzini.
Some people believe they are a scam for tourists, but they're not. They support their thesis with the argument that the city council even has English and German speaking clerks helping people pay ZTL fines. That is a service meant to help people who were distracted or didn't do their homework and entered one of these areas.
Italians get fined too. But not, as some believe, because ZTLs are so difficult to identify that not even Italians can see them, but because when you navigate an unknown city, you get distracted, whatever your nationality. So the first thing to do is to learn to identify the ZTLs.

SeeZTLs accesses in Pisa on a larger map.
Tired of reading about this, I asked for numbers. It is true that 70% of the fines go to tourists, the remaining 30% to Italians, 40% of which are not from the city.
90% of the fines given to tourists happen near the Leaning Tower in Via Roma. Some might say that then this is the proof that the ZTL is not clearly marked, and it's tricky.
This is the access where 90% of the tourists get fined: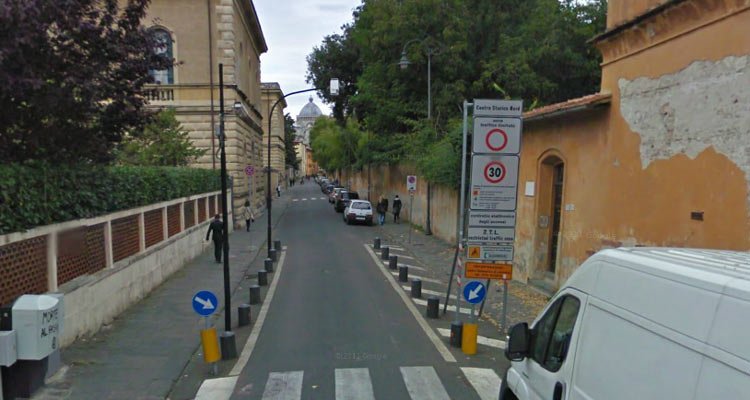 Should you still be wondering how can you possibly know that this is the access of a ZTL…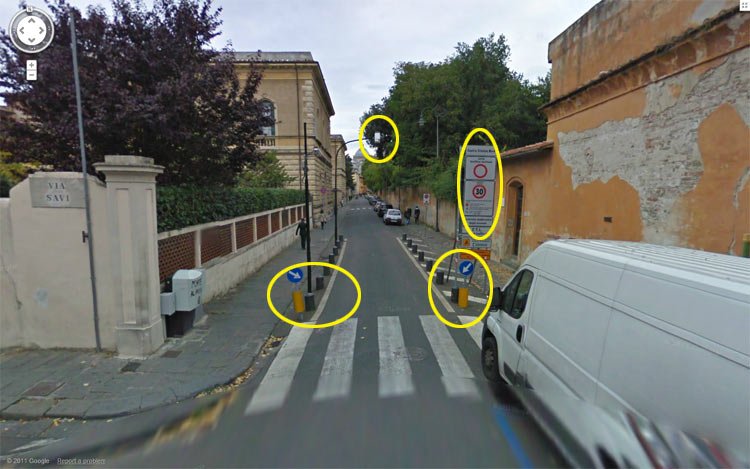 To avoid this, you need to turn in Via Salvi, the street that you can see on the left, before the pedestrian crossing. If you end up in Via Santa Maria, you are in the ZTL.
The remaining 10% of the fines are received by tourists trespassing the ZTL access in Via Giuseppe Mazzini, a street that veers off the Lungarno.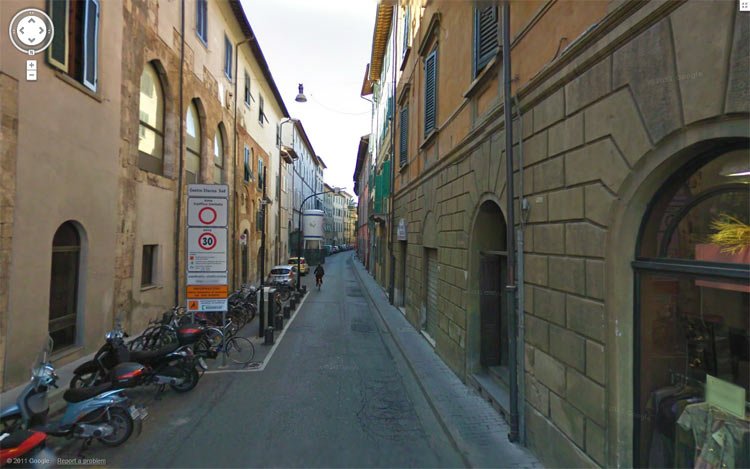 Again, it is pretty obvious that this is where the ZTL starts: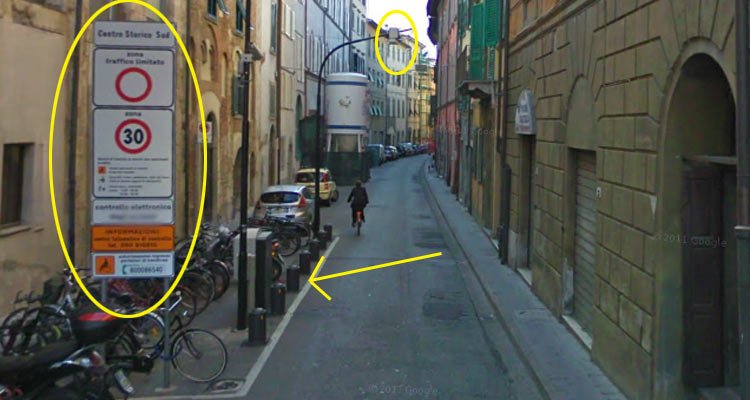 As I mentioned in the other post about parking in Pisa, this access can be a bit confusing, because you only see the ZTL cameras once you have already turned into Via Mazzini, and backing up into the Lungarno is not an option. However, if you pay attention to the signs on the Lungarno, you will see that you will have passed signs indicating that you must go straight.

These two accesses together make up for 100% of the ZTL violations by foreign drivers. Learn to recognize them and you will be fine.
You will be fine if you drive along the Lungarni (these roads that run along the river banks) without taking ANY side roads. Stay on the Lungarni, or outside the city walls.
Italians, on the other hand, are more likely to be fined on the Lungarni in the summer. The ZTL on the Lungarno is only active in the summer after 9pm when the locales on the river are open and thriving. There are usually traffic policemen too, so as to reduce the number of confused drivers, and flashing signs say "varco attivo" (active cameras). When the sign is like this "varco non attivo" (inactive cameras), it means you can drive there.
I had a GPS system: it's not possible that I drove through a ZTL
GPS Navigation Systems are totally unreliable when it comes to identifying ZTLs. First of all, the software is often not up to date with the change in traffic in the cities. Second, they can be used by residents and taxis too, and are programmed to show the easiest way to get from point A to point B, independently of whether such points are included in a ZTL or not.
Do not rely on GPS systems to avoid ZTLs: it's proven that they do not work at all.
I have booked accommodation located within a ZTL: what should I do then?
Write to the reception and make sure that you can drive to your hotel. If not, ask them where you can park your car nearby. Most hotels in limited traffic zones will have special agreements with the local traffic police offices to allow their guests to safely reach the hotel. If this is the case, make sure you let them know your plate number as soon as possible so that they can file it with the dedicated offices to get you a special permit to drive in the ZTL. The cameras will still take pictures of your car but you will not be fined because the system will know that you had a permit.
Be aware that having permission to drive through a ZTL to reach your accommodation does not give you the right to drive through all the ZTLs in the city. If you are staying in a hotel near Via Mazzini for example, you will still be fined if you try to enter the ZTL near the Leaning Tower. Pisa is divided into four distinct ZTL areas, each requiring a different permit. The permits are only valid insofar as they allow you to get to your accommodation and back to the free driving zone.
Did I forget anything?
If you have a question about ZTLs in Pisa or in general which is not answered here, please leave a comment and I will try to find an answer! Thanks!