(Photo by Claudio Vaccaro)
Do we really need a car?
I would like to have a euro for every time that  I have answered this question in travel forums or email messages. My answer is always the same: it depends on where you want to go.
If you want to use northern Tuscany as a base and visit then major centers (Pisa, Lucca, Florence, Pistoia, the Versilia coast) no, you don't need a car. Choosing Pisa as a base, for instance, public transportation is excellent to all those places. Pisa is a major transportation hub, with frequent trains to Florence, Lucca and the coast. Reaching the Cinque Terre from there is also very easy. Plus there are plenty of buses and taxis, in case you want to go to one of the smaller towns in the nearby area (Calci, Vicopisano, etc.).
If you want to use southern Tuscany as a base and visit "picture postcard Tuscany", with the hilltop towns and the gentle rolling hills, yes, you absolutely do need to rent a car. Public transportation in the Siena area, in the Val d'Orcia and the Crete, is at best poor. Besides, the drives which get you from one place to the other make for 50% of the vacation itself. Driving on the slow winding roads through the countryside will allow you to really enjoy what this corner of Tuscany has to offer and to visit the many tiny medieval towns and villages which represent the main attraction in the area. See this post about a slow drive through countryside of Tuscany.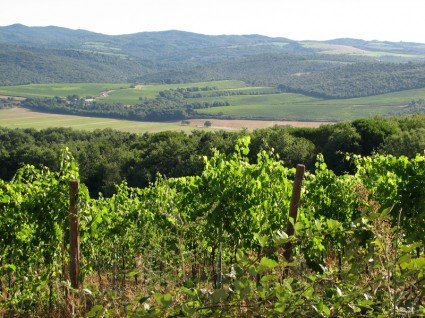 Another important factor in deciding whether you should rent a car or not is what type of traveller you are. If you are mainly "a city person", then you might be perfectly happy sticking to the main centers with no car. If, on the other hand, you are a countryside person who enjoys visiting off-the-beaten-path destinations, quiet spots and getting lost on the small countryside lanes, then renting a car is a must.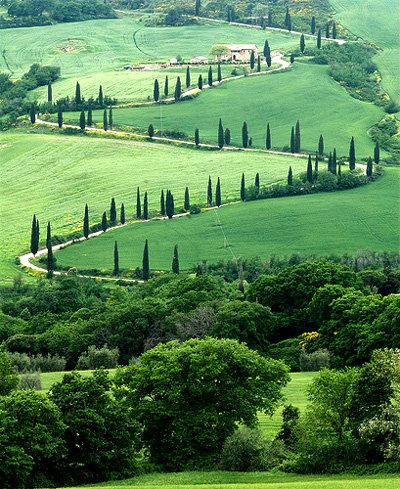 (Photo by Vathiman)
Renting a car is expensive
It can be. Gas is also quite expensive (€1,55 per liter at the moment). However there are many rentals that have good offers. We usually recommend Bravo Fly because that's where we have always found the best deals. However, over the last couple of months we have found out that several of the agencies that advertise on the portal will ask to put 1000 euros on your credit card at the time of pick-up as a damage deposit, which seems quite a lot and can create problems with credit card usage limits. Make sure you ask about this new policy before committing to anything.
We hear Italian drivers are crazy
Well, Italians are a bit crazy to begin with. However, driving in Italy is only difficult in the cities. Avoid driving through Florence, Milan, Rome, Naples and the other large cities. You don't need a car there.
Driving on highways and other extra-urban roads is no problem. In fact driving is much simpler than people say and the bad reputation of Italian drivers might partly depend on different expectations: just remember to do your own thing and ignore what other people are doing. If you want to go slow, go slow. If other drivers get impatient, it's their own problem.
You might find that people do not respect safety distances between vehicles, so expect to have someone stuck to your bumper. Make sure you do keep a safety distance from the guy in front of you, and forget about the guy behind you.
(Photo by -=PASqua=-)
Driving in a foreign country is scary for everybody. I never want to drive abroad. One thing you have to remember is that in no case is it acceptable to pass on the right, not even on the few three lane highways. So if you are used to large highways where you can move across lanes passing people on both sides, don't.
Also, on multiple lane roads, signaling that you are about to move into another lane is not enough to make sure people in that lane will let you in. Make sure there is enough room before switching lanes, because people will expect for you to wait for them to pass you before you move.
We're afraid we'll get lost
You need to prepare. Road numbers marked on maps mean nothing most of the time: roads are rarely marked with the highway number but instead have signs indicating the names of destinations in the directions you want to head.
If you get lost, don't panic. The next village or town won't be more than 10 minutes away and there you can ask or figure out where you are.
(Photo by jovike)
What car size should we choose?
Most Italians drive small cars. You don't need a SUV. Quite the opposite. Rent a small car: it will be cheaper, easier to park and to drive on small roads.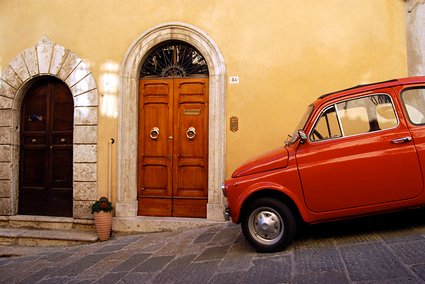 (Photo by angerman)
We hear foreigners get fined all the time in cities
This is the new myth about the dangers of driving in Italy. Most city centers are closed to non-residential traffic: you will be fined if you drive past the cameras at the entrance of the ZTL (Limited Traffic Zones) . They are clearly marked, you have to know what to look for, so do your homework before coming to Italy.
ZTLs are not a scam to squeeze more money out of tourists: they are a fundamental survival tool for residents of city centers and fines are given out to local and foreign drivers alike.
Here is an excellent article about ZTL Zones and Traffic Cameras on Roadways and in Towns in Italy. Please make sure you read it before driving in Italy.
If you are from a non-EU country road signs are different: make sure you learn them. Here is a useful guide to Italian road signs.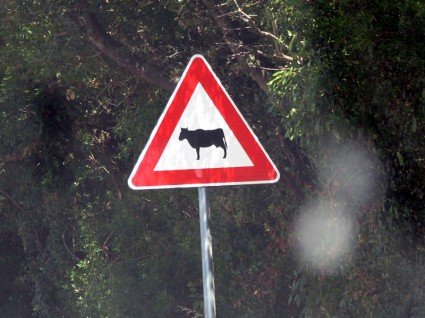 There won't be any signs in English: make sure you learn the Italian names of the cities you want to visit.
What about parking?
Ask the people at the hotel or vacation rental you will be staying at what the situation for parking is. If you plan to spend a few days in a city, you might consider dropping the car off and picking up a new car when it's time to venture into the countryside again if your hotel doesn't have parking space.
In most cities you will have to pay to park. The price per hour varies according to how central the parking lot is. Usually prices vary between 50 cents per hour and 3 euros per hour.
In terms of the places we know best: in Siena, go park at the stadium (follow the soccer ball symbol) or by the fortress nearby. Remember that on Wednesday most of the public parking spots are taken up by the market.If you park at the stadium you will have to get a ticket when you go in, pay at one of the machines before returning to your car and use the ticket to get out of the parking lot. If you park by the fortress, you will need coins to pay at one of the machines placed throughout the parking lot when you leave the car. Remember to leave the ticket well visible in the car.
In Pisa, most parking spaces are on the street and you need coins to pay at the machines.There are two large park and ride parking lots that are free of charge and you can reach the center by bus (every 10 minutes, 1 euro). They are located in Via Pietrasantina and Via del Brennero.
In general: white lines mean free parking space, blue lines mean pay parking space, yellow lines mean reserved parking space. If all you see around you is white lines, you are probably inside a ZTL. Watch out.
Happy driving!
Italy Blogging Roundtable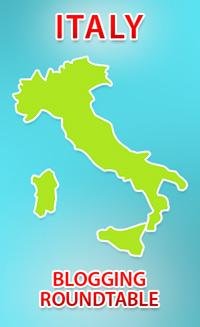 This is the second post in a monthly series called The Italy Blogging Roundtable. Here you can find the posts of the other bloggers who participate in the roundtable and who, like me, talk about "driving in Italy":
Alexandra (Arttrav) – It must be a sign: driving in Italy
Jessica (Italylogue) – 3 Dream Drives in Italy
Melanie (Italofile) –Some suggestions for driving in Italy
Rebecca (Brigolante) – Driving in Italy