Many of the people who contact me via the web, mostly via forums and social media, ask me what the best area to base themselves to explore Tuscany is. I have to fight the "instinct of self-promotion" and try not to reply too quickly "you should come and stay at our Casina di Rosa of course!"… I also have to fight the temptation to be too condescending and to explain that, even if Tuscany does not cover an enormous area, it is still too big for people to be able to choose a base which is in a position to reach any possible place of interest in the region. Also, the amount of things to see and do in any sub-region is incredibly large… you can spend a month in a small area and see only a tiny fraction of all the things there are to see. This is sometimes hard to understand for people who are used to the huge North American or Australian distances (the same as it is difficult for a European to understand that you might have to drive for 4 hours before finding something else to see in these places).  But in Italy, if you drive the equivalent distance that separates Ottawa and Toronto in Canada, you will pass areas so diverse and different from each other, with distinctive historical, cultural, natural and architectural features that it is almost like driving through different countries.
I originally wrote a long, long, post. But then I have decided to split the content over few days because there is no point in publishing something people won't feel like reading if it's too much to take in. So, here is the first post of this new series about what I think everybody should be aware of when planning a vacation in Tuscany.
1. There is no such thing as Florence and Tuscany
Tuscany is a political region of Italy. Florence is its capital and is in Tuscany. So when you say you want to see Tuscany you are talking about a large territory which includes very famous cities such as Pisa, Siena, Lucca, Arezzo  and many smaller yet just as famous towns such as San Gimignano, Montalcino, Pienza, Montepulciano, Cortona, Volterra, Barga and more. Many use the word "Tuscany" as a synonym for Chianti or the Val d'Orcia/Siena area. Those are tourist regions, with distinctive cultural, geographic and architectural features that make them unique and different from any other tourist area in Tuscany.
2. Two… no maybe four… main different areas
Tuscany can be ideally divided in two main areas: northern and southern Tuscany. The difference is remarkable in terms of density of population, accent, landscape and architectural features.
Northern Tuscany includes the provinces (or part of the provinces) of Livorno, Pisa, Lucca, Massa and Carrara, Pistoia, Prato and Florence (even though Florence is "ideally central", the heart of the region). The area is quite densely populated (with a few exceptions like the Garfagnana and the Lunigiana north of Lucca, the Val di Cecina – Volterra area in the province of Pisa and the Appennines north of Florence), more industrialized, less "stereotypically" Tuscan as far as the landscape is concerned (yet really beautiful in the less densely populated areas), home to beautiful art nouveau and classical architecture, countryside mansions and lively beach towns. Plenty of cultural events too: music festivals, art exhibitions, and more.
Southern Tuscany includes the provinces (or part of the provinces) of Livorno, Grosseto, Florence, Siena, and Arezzo. The area includes the typical picture perfect landscape of Tuscany, the rolling hills, the cypress-tree lined roads, etc, mostly in the province of Siena.It is less densely populated, with lots of smaller hilltop hamlets and much open countryside. It is the area of the nature parks (Casentino, Maremma, Valdorcia). It's not very industrialized (with the exception of the Poggibonsi area and the area of Monte San Savino and surroundings near Arezzo). It is home to the highest mountain in the region, Monte Amiata, quite unique, and to the most unspoilt stretch of coastline, the coast of the Maremma. It's the heart of medieval Tuscany (even though Pisa in the north is also prevalently medieval).
These two macro-areas, which are just simple approximations, make for two very different types of holidays and could be further subdivided. Northern Tuscany has the mountain areas of the Apuan Alps, Garfagnana, Lunigiana and Mugello which are quite different from the coastal areas of the Versilia and the cities. Southern Tuscany has the Maremma area which is quite unique, and very different from the "classic" Sienese landscape.
3. Many tourist regions
Something that might be confusing for people who want to visit Tuscany is all the various regions they find mentioned in portals and on guidebooks. Being such a varied territory, rich in sites to see and traditions, it should not be surprising that many tourist areas with peculiar traits can be identified.
This map should speak for itself: it depicts the "official" tourist areas of Tuscany. A real patchwork! (I only marked down the cities I was quite sure people had heard of, but of course there are many more that deserve to be visited.)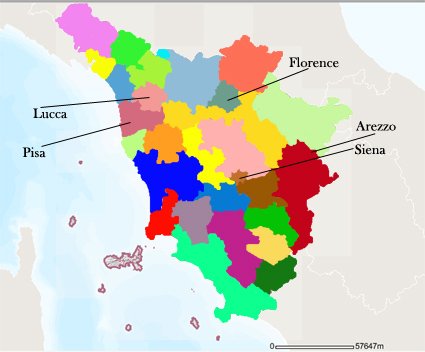 This is why 3 days in Tuscany (or 7 for that matters) will not be enough to see "Tuscany". Truth be told, most people who want to visit "Tuscany" actually want to visit southern Tuscany, mainly the Siena area.
And here an image of the ideal division in two areas: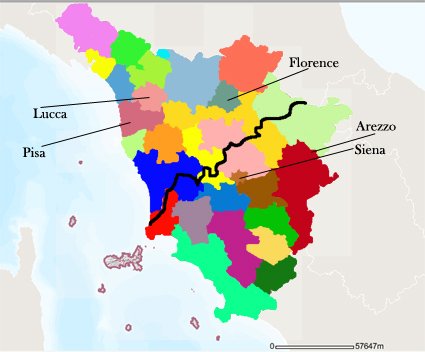 In the next few days I will post more about the various regions, with the landmarks in each of them.
4. So how does one choose where to go?
First of all by reading a guidebook and figuring out what interests you the most. I recommend either focusing on northern Tuscany choosing as a base Pisa or Lucca or southern Tuscany chosing Siena or the countryside around the city as a base.
5. And here comes the self-promotion
But I truly believe anything I am about to write and I would write the same even if we didn't manage holiday rentals.
Pisa is an excellent base in northern Tuscany because it's an excellent transportation hub. You do not need a car to visit the major sites. Of course if you want to venture up into the rural areas, then you will need a car, like in most countryside areas of Tuscany. But there are plenty of places that you can reach by public transportation. Besides, the city is really underrated: it you dare venture away from the Leaning Tower, far from being a tourist trap, Pisa is a University city, with many lively locals, plenty of restaurants and many culural events. Of course we have a special place to recommend… Behind the Tower, our vacation rental in Pisa!
If on the other hand you want to see picture-perfect Tuscany, and the most popular areas in southern Tuscany, I think the area where my home village is located, and our other vacation house in Tuscany, Casina di Rosa, is ideal. A picture is worth more than 1000 words (and that's a topic for another blog post!) to show how central the village is to the main areas of southern Tuscany, also thanks to the easy access to the major road connecting Siena to the coast. So here is our area marked in white:
So, you see how it is hard for me to avoid blatant self promotion…but hey… this is my blog, so I can be blunt, right? My village, Civitella Marittima, is a short drive away from many different areas of southern Tuscany, which means that by choosing it as your home base you can visit most of the most popular sites with a 30 to 60 minute drive, you don't have to pack and unpack every three or four days to move to the next base  and you go back to a non-touristy, quieter village in the evening and make yourself at home in Tuscany!