A few days ago, I started writing a long, long post about the many tourist areas in Tuscany and then I decided to split the content in more than one post because the original one was too much to read all at once. I posted a few maps with a lot of colourful "swatches", but no explanation of what those colours represented. Today, I am going to present very quickly the different areas that people can visit in southern Tuscany.
Of course, there are common features, but there are also very distinctive characteristics that make each one of these areas unique and clearly distinguishable from the other ones.
Here is the map of Tuscany again, with the area where my village is marked in white, to show its location relative to the other destinations. It quite a good home base in southern Tuscany, I believe, because it is a short drive away from many different areas of southern Tuscany, so that visiting most of the most popular sites takes only a 30 to 60 minute drive. And you can always go back to a non-touristy, quieter village in the evening and make yourself at home in Tuscany!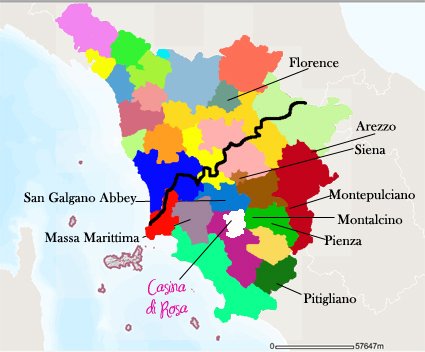 Like last time, I have marked down some of the most popular destinations, so that people can have some reference points.
And here is some information on each area!

Val di Chiana. It is the area where a beautiful city like Arezzo, and famous hilltop towns like Cortona, Montepulciano, Chianciano Terme and Chiusi are located. It borders with Umbria and is characterised by breath-taking views.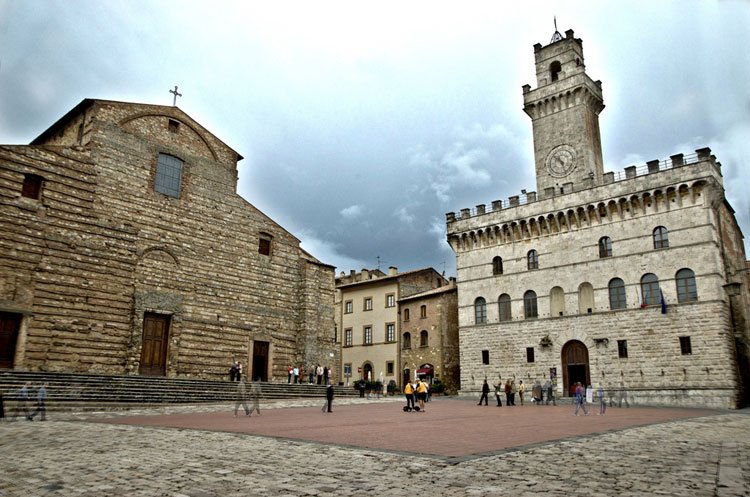 (Piazza Grande in Montepulciano – Photo by zu78)

Crete Senesi. One of the most spectacular and most representative areas of Tuscany. Famous for truffles and for beautiful towns such as Asciano, Buonconvento, San Giovanni d'Asso, Trequanda and Rapolano Terme. Other attractions include thermal baths, art sites (e.g. Jean-Paul Philippe's Site Transitoire), and the beautiful Abbey of Monte Oliveto Maggiore.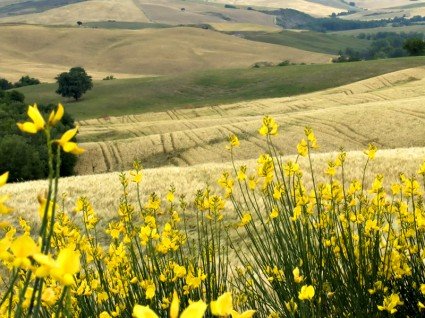 Valdorcia, the green heart of the region and the place you want to go to to see picture-perfect Tuscany. Home to the hilltowns of Montalcino, Pienza, San Quirico d'Orcia, Bagni San Filippo, and Castiglion d'Orcia; to the Abbey of Sant'Antimo famous for the Gregorian chants; to one of the most popular Tuscan wines, Brunello di Montalcino; to beautiful castles and mills. This is the area of the rolling hills, of the open countryside, of the stone houses dotting the countryside. Contrary to what many believe, the Valdorcia is shared by the provinces of Siena and Grosseto.
(Pienza – photo by stiffunggegenstand)

The city of Siena and immediate surroundings. Siena deserves a mention on its own. It's such a spectacular place. It is also the city of the very famous horse race called the Palio di Siena and of the most traditional Christmas sweets in Tuscany: ricciarelli and panforte!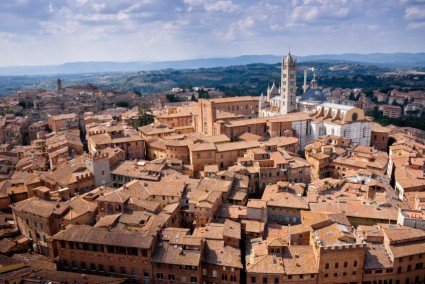 Val di Merse. The wildest area of the province of Siena, with remote villages, forests, rivers and the beautiful Abbey of San Galgano, cradle of the Arthurian legends and home to the original sword in the stone. Val di Merse is a paradise for hikers, horseback riders and cyclists. And if you happen to be in the area in summer, you should not miss the Opera at the abbey.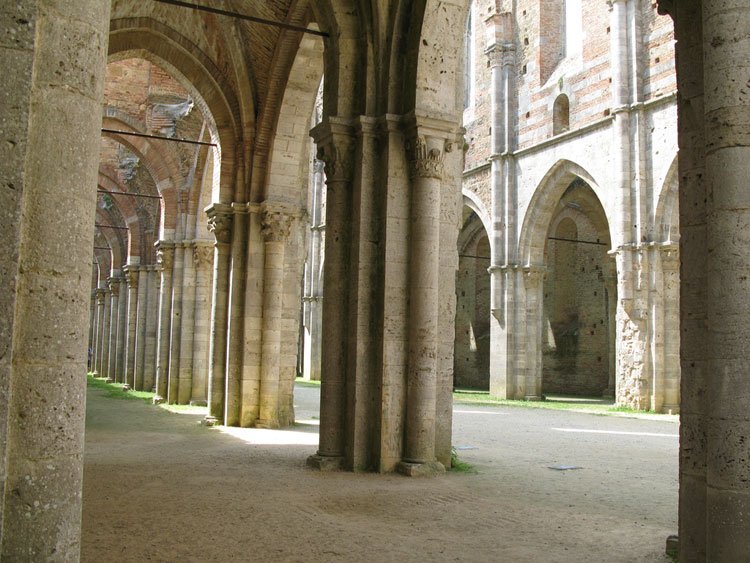 (San Galgano – photo by ho visto nina volare)

Chianti. The most popular area of Tuscany, famous for its wine, for small picturesque villages such as Greve in Chianti, Gaiole, Radda and for castles such as Meleto, Brolio and more. The Chianti area covers parts of the provinces of Siena, Florence and Pisa, but the most popular part of it is the region called Chianti Classico, between Siena and Florence.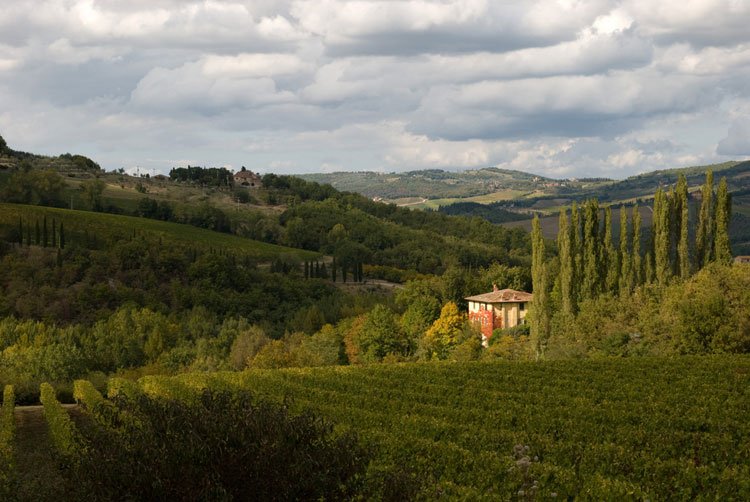 (Chianti – Photo by TonyDuckles)

Val d'Elsa has some densely populated areas and other areas that are essentially rural. It boasts famous towns such as Certaldo, Castelfiorentino, Gambassi Terme, which are actually in northern Tuscany, but I have included it here because it also encompasses areas such as the "montagnola senese" (literally "the sienese hill-land") with villages such as Sovicille and towns like Colle Val d'Elsa, famous its crystal, and the popular villages of San Gimignano and Monteriggioni.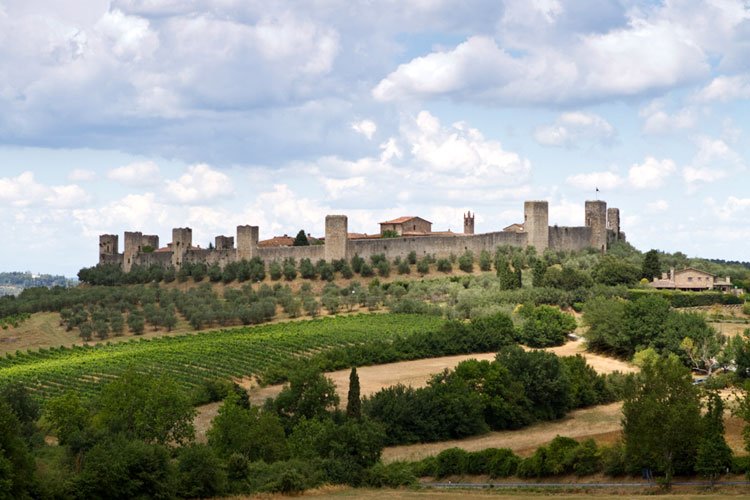 (Monteriggioni – Photo by Isabelle Puaut)

Casentino. It is a mountain area, mostly woodland. It's quite wild, and very well preserved since the Middle Ages. For its quiet and beauty this area is almost mystical. It boasts famous hermitages such as Eremo di Camaldoli and Saint Francis' La Verna. It is also a land of pievi, castles, and medieval villages such as Poppi. A large nature park preserves the forest.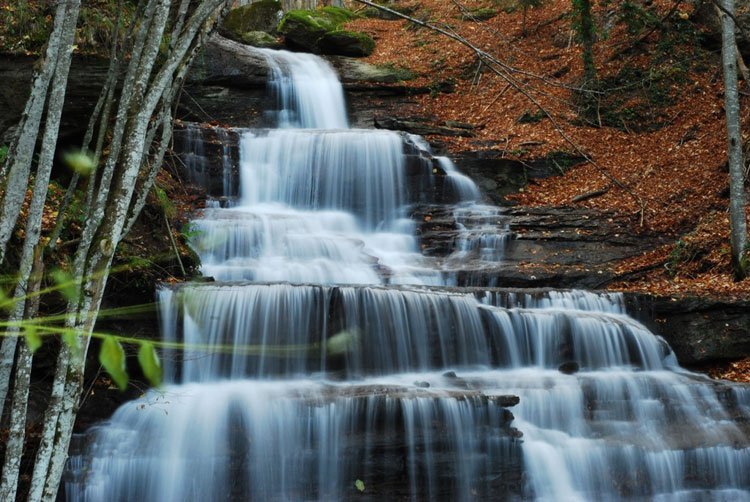 (Parco delle Foreste Casentinesi – Photo by Sheilasan)

The inland hills of the Maremma, also known as Alta Maremma (Upper Maremma). My home village, Civitella Marittima, and our vacation rental in Tuscany, Casina di Rosa, are here. The area is mostly rural and has traits of the Siena area and the Valdorcia and traits of the Maremma. It is very beautiful, a nature paradise with small hilltop hamlets, olive groves and the famous Petriolo hot springs.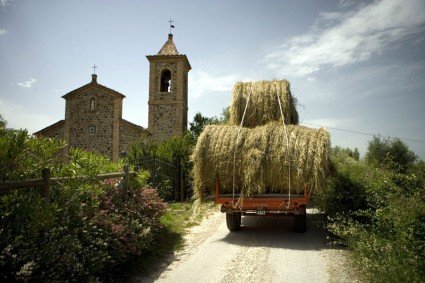 (Photo by Gianluca Giannone)

Monte Amiata. The highest mountain in Tuscany: very different from any other place in the region, with chestnut tree woods, mountain villages and towns such as Arcidosso, Santa Fiora, Castel del Piano, Castiglion d'Orcia and the pretty abbey town of Abbadia San Salvadore.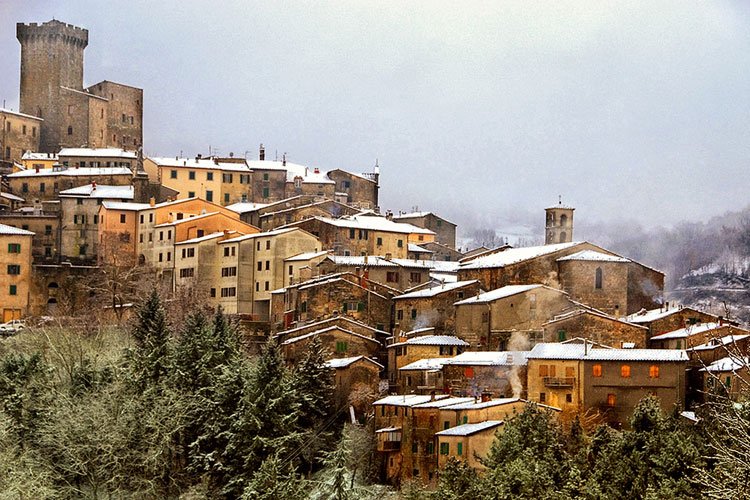 (Arcidosso – Photo by Carlo Tardani)

Colline Metallifere. Also part of the Upper Maremma, this area has very distinctive features and it has been inhabited since the Antiquity because it was very rich in minerals. Massa Marittima is located in the area and it is a real gem.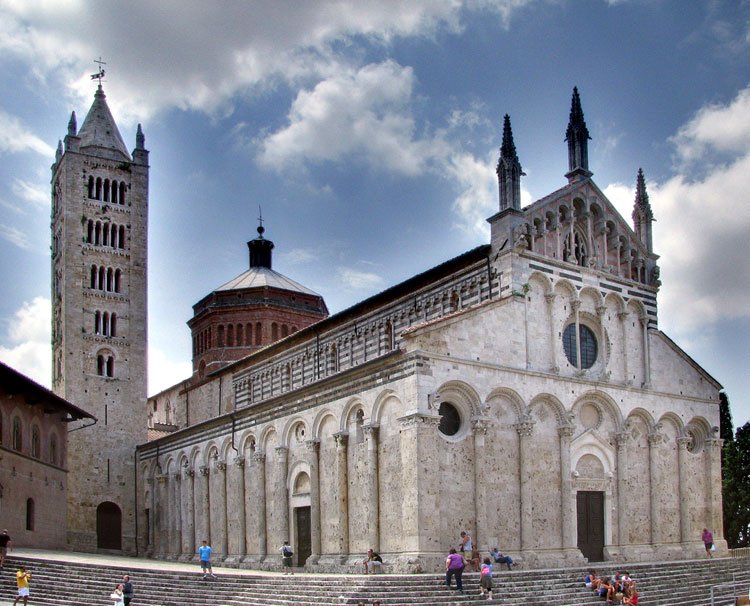 (Photo by giovanni novara)

Maremma. Famous for the unspoilt coastline boasting both rocky and sandy coasts, pretty coastal towns like Castiglione della Pescaia and Talamone, luxury beach areas such as Argentario, a large nature park (Parco naturale della Maremma) and several Etruscan archaeological sites. It is also home to a popular wine: Morellino di Scansano. The Tuscan Archipelago, with the Isle of Giglio, the Isle of Elba and Giannutri, faces the coast of the Maremma.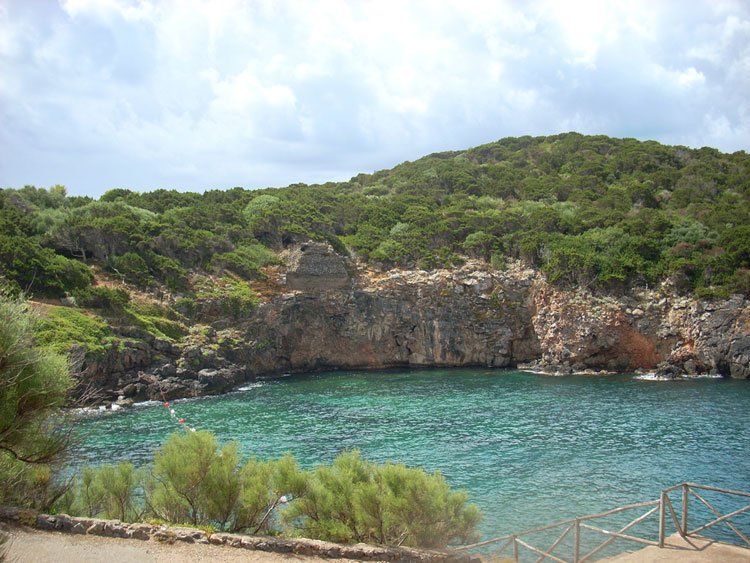 (Photo by icara)

Area del Tufo. The heart of the ancient Etruscan empire, with towns such as Pitigliano, Manciano, Magliano, Sovana, Sorano and the famous spas in Saturnia. There are many archaeological sites and the breath-taking Vie Cave, ancient roads carved in the stone. Pitigliano also has a ancient Synagogue.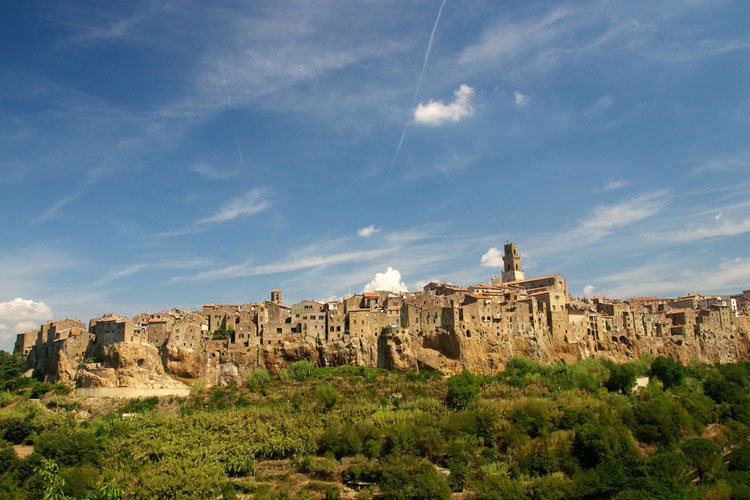 (Pitigliano – Photo by Andrea Contri)

Val di Cornia – Maremma Livornese. Val di Cornia includes beautiful towns such as Suvereto and Monterotondo Marittimo which are further north but also the famous Etruscan coast (Costa degli Etruschi). Ferries to the Isle of Elba leave from the town of Piombino. A very interesting place is the archaeological park in Populonia and the walk to the near cove called Golfo di Baratti.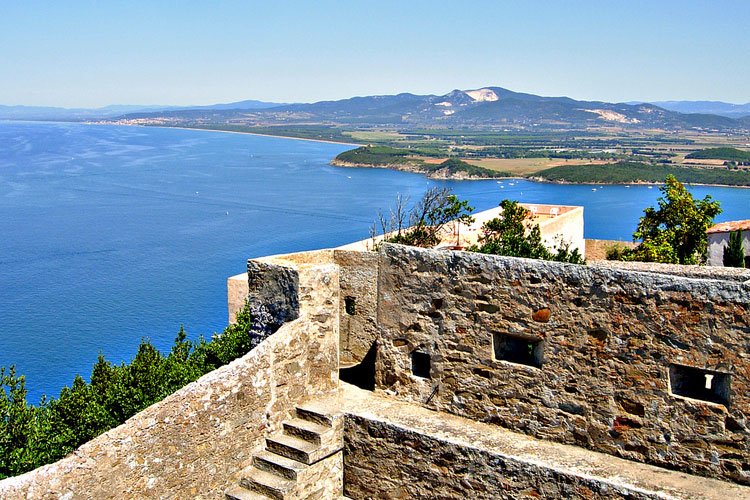 (Golfo di Baratti seen from the Castle of Populonia – Photo by AlessandraElle)

Val di Cecina. This is the Valdorcia of Northern Tuscany. An area that is known to few travelers to Tuscany, and yet it boasts spectacular landscapes, characterized by gentle rolling hills and small hamlets such as Montecastelli and Castelnuovo Val di Cecina. It extends mostly in Nothern Tuscany but I have included it because it also boasts beautiful Volterra, which, contrary to what most people think, it is actually not in the province of Siena but in the province of Pisa.
(Volterra – Photo by Thomas Willemsen)
A final recommendation: take it slow! There is plenty to keep you busy for two weeks or more. You won't be able to see everything anyway so choose according to your tastes, and remember to take enough time to actually experience Tuscany and its lifestyle and not just "see" it passing by its major landmarks.
Happy planning!