Have you ever wondered how your travel choices change people's lives on a global scale? Well, they do: for better and for worse.
Tuscany is one of the most popular destinations in the world, or at least it was. I am not 100% sure if it is still true. What is true, though, is that it still has one of the world's highest concentrations of art and nature treasures, so if it is not anymore, well, it should be.
Most people don't know that Tuscany is not enormous, but still too big to be visited in a few days. Many write to me telling me they are going to Florence and then they are going to spend a couple of days in "Tuscany". To them, Tuscany is just "not-Florence", be it the Chianti area or the beautiful hilly area south of Siena. I have written a few posts to clarify this common mistake: Florence is the capital of Tuscany, which also includes cities like Siena, Pisa, and even Massa, Livorno, Grosseto. Here are the links:
Most people choose to base themselves in the bigger cities: Siena, Florence, Lucca and the like. Some braver ones venture to smaller places as well, Volterra, Montalcino, Montepulciano. The bravest of all reach really small places like my home village, Civitella Marittima. And I believe their courage and curiosity is truly rewarded by the unique chance to feel part of an authentic community for a week.
There are hundreds of small villages like mine in Tuscany, where people still live their entire life with their families. Small communities that have been self-sustaining for centuries and that have only recently opened their doors to "i forestieri", the "foreigners", and welcomed them, be they immigrants, expats or tourists. They all remain "guests" in a certain sense, and but slowly they start to feel at home and join in the daily rhythms and routines of the people who have always lived in the village.
They change the community, for better or for worse. They enrich it with new traditions, new colors, new ways to look at life, new habits, new rhythms. They enrich them, on the one hand, and they take something away, on the other.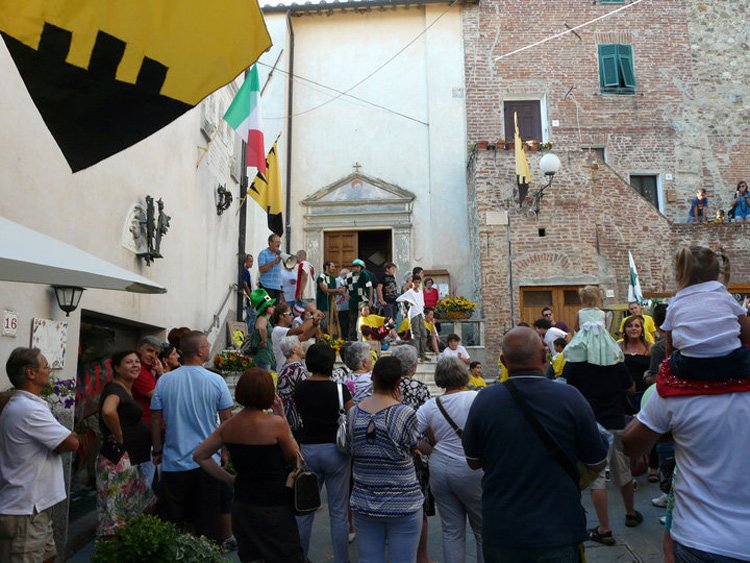 (Photo by Alessio Capanni)
This is why you should choose a small community as your base in Tuscany:
you will not go unnoticed, like one of the many thousands of tourists running up and down the streets of the larger cities. People will know who you are, they will learn your name if you let them, they will greet you, and will try to talk to you. In their language or in what they believe is yours!
you will have a "home" to go back to after a long day of exploring the sights, not just a room or an anonymous apartment. Guests who spend their holiday at our vacation rental Casina di Rosa will always be tagged as "the people who are staying at Rosina's place". Now, Rosa was my great-grandmother and she died in 1987, but for the people who live in the village, it's still her hosting guests. That is her home.
you will be remembered. People in the village still talk about some of my guests, usually those who have mixed and mingled the most. Some have even made friends who have visited them in their countries of origin. Others have remained in touch via social media.
you will touch people's lives. The guests who choose to live in the village, and not just sleep there, will touch the lives of those who are part of the community. They will help support the community. They will keep the local businesses alive. They will become a piece of authentic Tuscan life themselves.
you will experience how people really live in Tuscany. You will discover what living in Tuscany really means, if you are outside the big tourist circus. That is a "treat" that only few people get!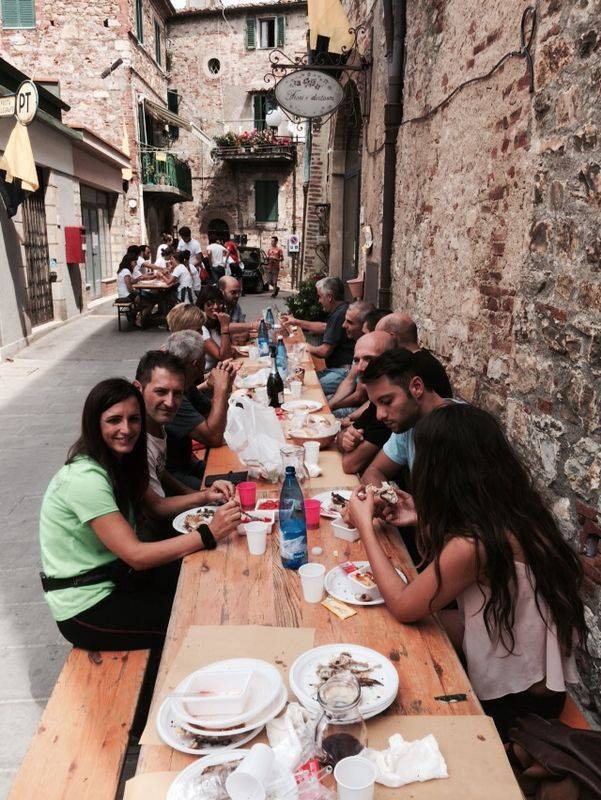 (Photo by Alessio Capanni)
you will have a chance to participate in ancient rites and traditions. We always encourage people to visit the village during the "Sagra", the village festival, which is run entirely by the people in the village, including cooking and serving food, and is meant for the people of the village and of the neighbouring communities. You will be a most welcome guest and you will be a witness to some very old traditions such as the "corsa dei carretti", a race on wooden carts. Another very interesting thing is to participate in the traditions connected to religion such as the Easter week. The women of the village recreated the Holy Sepulchre in the village chapel using white flowers and a plant which is grown for this purpose in the dark called "veccia". Since it is kept out of the sun, its leaves are white instead of green. Twelve men are chosen to impersonate the  apostles and starting after the mass of Holy Thursday, featuring the rite of the washing of the feet, they never leave the Holy Sepulchre unattended, until Easter midnight. On Friday night, the Stations of the Cross are celebrated throughout the village: small altars are decorated by the people in the village, in the same spots where they had always been placed and two large statues of the Holy Virgin and Jesus are carried by the people in procession. Young girls carry the Virgin, and the men carry Jesus. People in the village light candles or lamps on their balconies and window sills and turn the lights off inside their homes, including our guests. The chanting of the "maggio" is another interesting tradition. I have written about it here.
you will be able to join the locals in activities. My village has a very lively association: a hiking & biking club, Civitella Bike & Trekking. They organize hikes and bike excursions and they are always happy to take our guests out with them.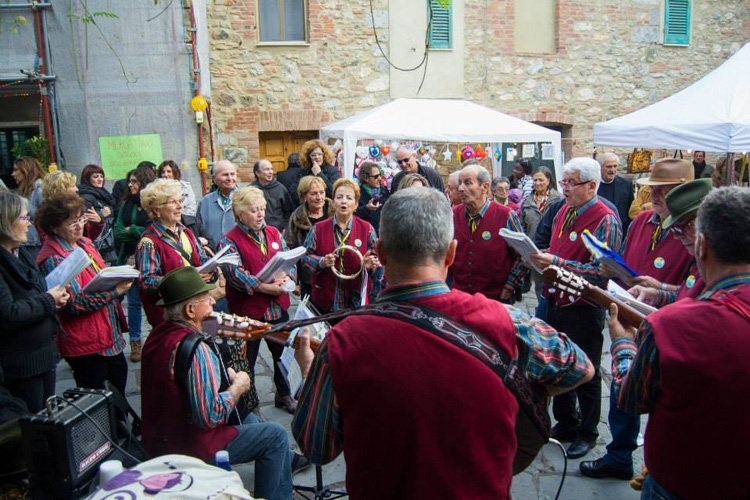 (Photo by Alessio Capanni)
Next time you are planning your holidays, think about this. It might require a bit more planning, probably renting a car, and being ready to mix with the locals. It will be a completely different experience, but it will be a good, rewarding one, I promise.
Italy Blogging Roundtable
This is a post in a monthly series called The Italy Blogging Roundtable. Here you can find the posts of the other bloggers who participate in the roundtable. Our topic this month was "community":