Those who follow my blog know that I believe that, in order to really see Tuscany, you need to venture out of the main cities (if you have time) and, to do so, you need to rent a car and drive to the smaller towns and villages. This is especially true in Southern Tuscany, where the distance between villages or towns is usually greater than in Northern Tuscany and public transportation is less available.
If you plan on renting a car, you might find these posts useful:
However, I am aware that some peope do not feel comfortable driving. Moreover, most guests at our Pisa apartment, Behind the Tower, choose not to rent a car, because the city is a fabulous transportation hub and the apartment is excellently served by the local city buses. For these reasons, over the years, I have had to gather information on how our guests could reach the minor centers around Pisa: it was high time that I actually did something with it.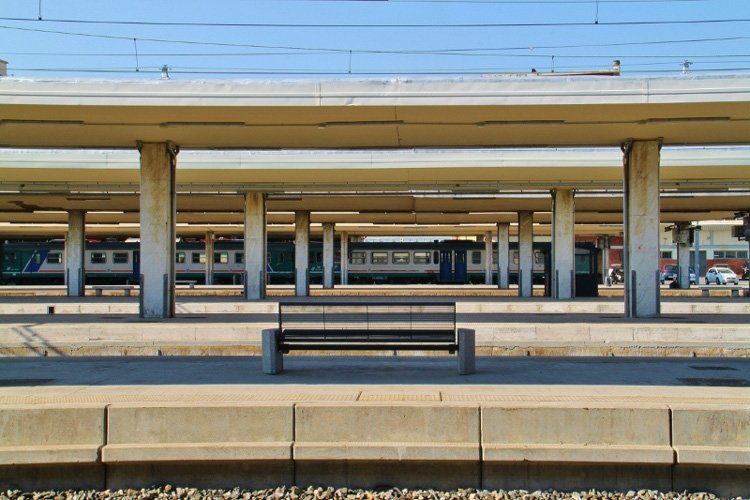 (Photo by prasad.om)
A few days ago, while I was on a train going back to Pisa from Siena, it occurred to me that I should write a post about the centers that one can reach more or less easily from Pisa without a car.
The Big Ones
From Pisa you can very easily reach most of the "Big Ones" by train. Florence is extremely easy. You find all the details in my post on how to travel from Pisa to Florence.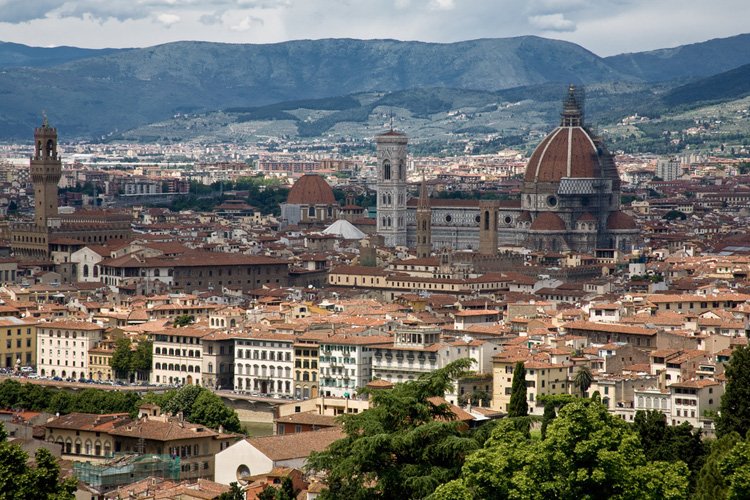 (Photo by alh1)
Getting to Lucca is also a piece of cake. There are frequent trains from Pisa Centrale and Pisa San Rossore. The journey takes approximately 30 minutes and the ticket costs 3 euros.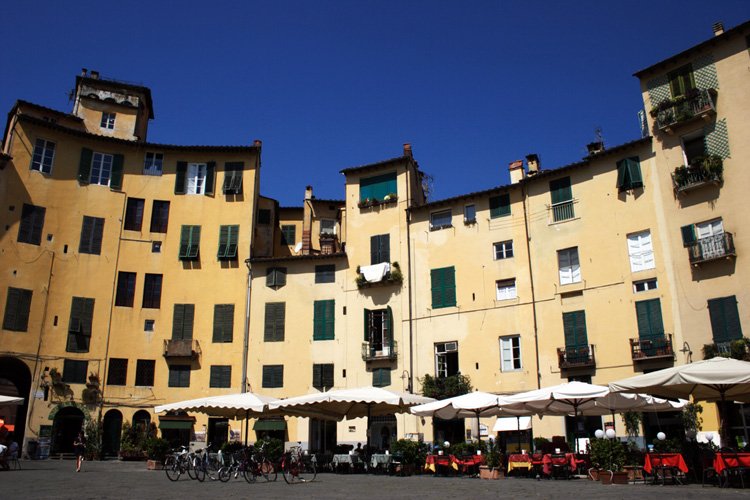 (Photo by Ostrosky Photos)
The number of trains to Siena has also significantly increased over the past few years, although it still takes up to 1h45 minutes and you will need to change trains once. To go to Siena from Pisa, you first need to get on a train to Florence and change at Empoli. To return to Pisa you need to get on a train to Florence again, and change at Empoli. Be careful in Empoli because the change can be a bit tricky. The departures board does not list Pisa  but rather  the final destination of the train, which will be either Livorno Centrale or Pontremoli. Both of those trains will stop at Pisa Centrale.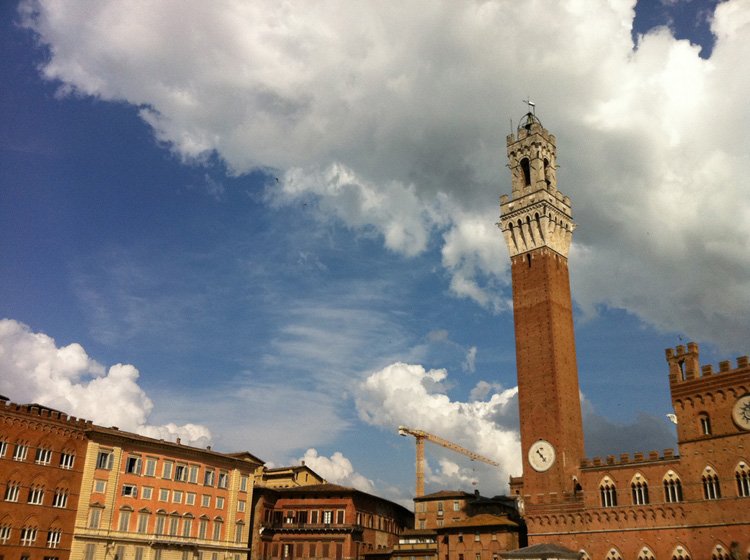 (Photo by littlestar19)
Livorno and Grosseto are on the  train line to Rome. Livorno is only a 15 minute train ride from Pisa, while the trip to Grosseto takes 1h40 minutes. Any train to Rome or Naples will stop in Livorno and Grosseto.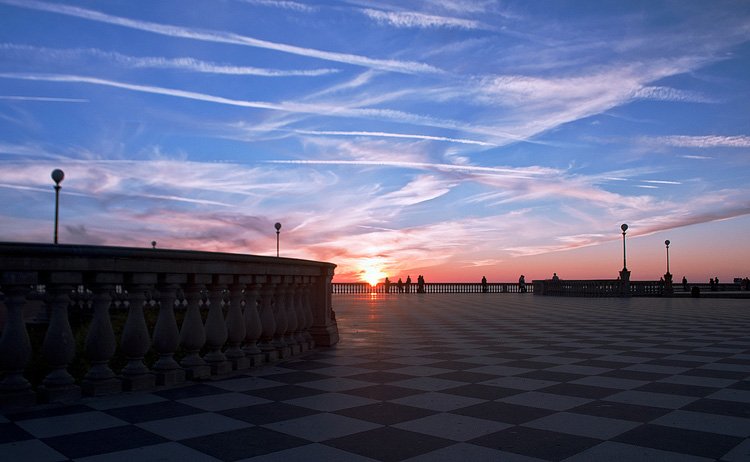 (Photo by tomcraft2xlc)
Pisa is a convenient base to visit other major centers outside of Tuscany, such as Genoa and Cinque Terre. Genoa is on the main line to Turin and Milan. You can reach Genoa in 1h45-2h45 minutes, depending on the type of train (17 – 25 euros). To go to the five villages of Cinque Terre you need to change in La Spezia and get on a train to Riomaggiore, the first of them. The ride takes about 1h40 minutes and costs 6.40 euros. Then you can get a ticket to the other 4 towns. Remember that train tickets must be used within 6 hours from the time you stamp them before getting on the train.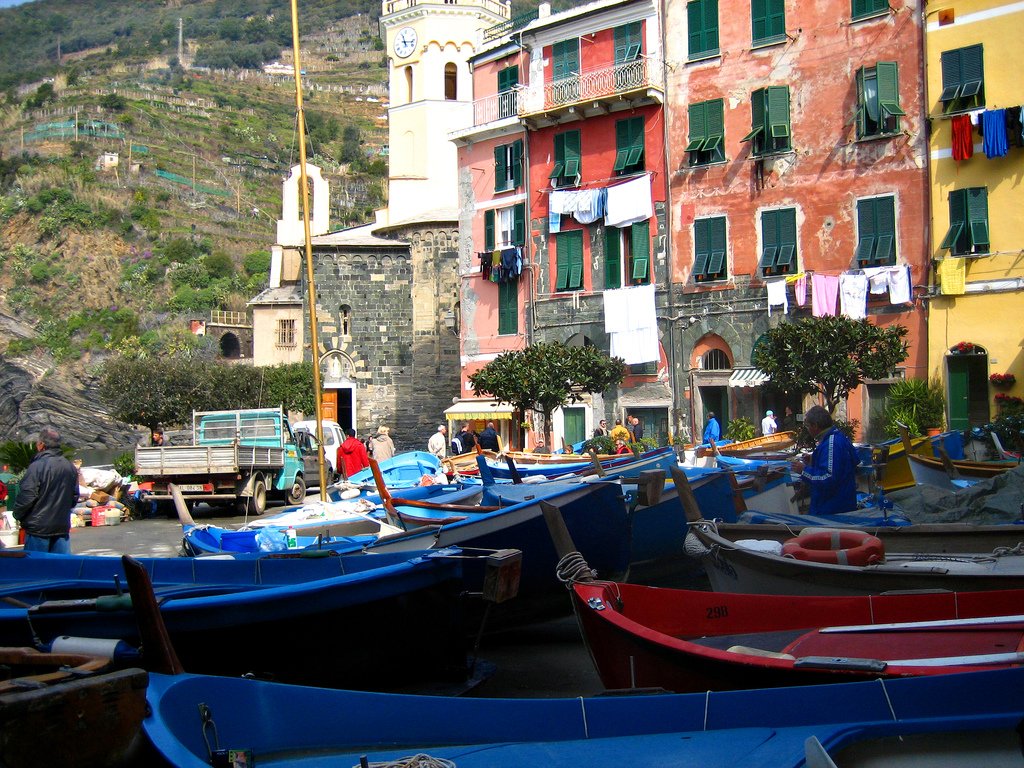 (Photo by antmoose)
Carrara and the marble quarries are also an easy daytrip from Pisa. Carrara can be reached by train in 35-45 minutes and from there you can join one of the tours such as "Cave di Marmo Tours".
(Photo by Nevada Tubleweed)
For further information on train tickets and schedules, please check the Official Italian Raylway System Website.
The Small(er) Ones
There are many, many pretty towns and villages in Northern Tuscany. I will only mention those that can be reached quite easily from Pisa.
The province of  Pisa can be ideally divided in 5 major areas: the city itself, the Pisan Mounts or Monti Pisani, the Valdarno (the valley where the river Arno flows), the Valdera (the valley where the river Era flows) and the Pisan Hills or Colline Pisane, and the Val di Cecina (the valley where the river Cecina flows).
The immediate surroundings
Just outside Pisa, you can reach the beautiful Basilica of San Piero a Grado by bus. Buses leave from the main bus station in Piazza S. Antonio. You need to get on the bus n.10 to Livorno. The ride takes 15 minutes, tickets can be purchased at the bus station (before getting on the bus) and cost less than 2 euros. The bus continues on to the coast, so if you are up for a day on the beach or for a nice seafood meal, you can easily reach Marina di Pisa and Tirrenia.
The nature park of Migliarino, San Rossore and Massaciuccoli makes for another great daytrip from Pisa. The park is right on the outskirts of the city; it features a great walking trail system, a renowned hyppodrome, and beautiful sandy beaches with high dunes. There are several transportation options to reach the park from the city. Y0u can get on the hop on hop off sightseeing bus in Piazza Arcivescovado (Line B). You can rent a bike. You can hire a horse drawn carriage. And you can go by taxi or even walk there.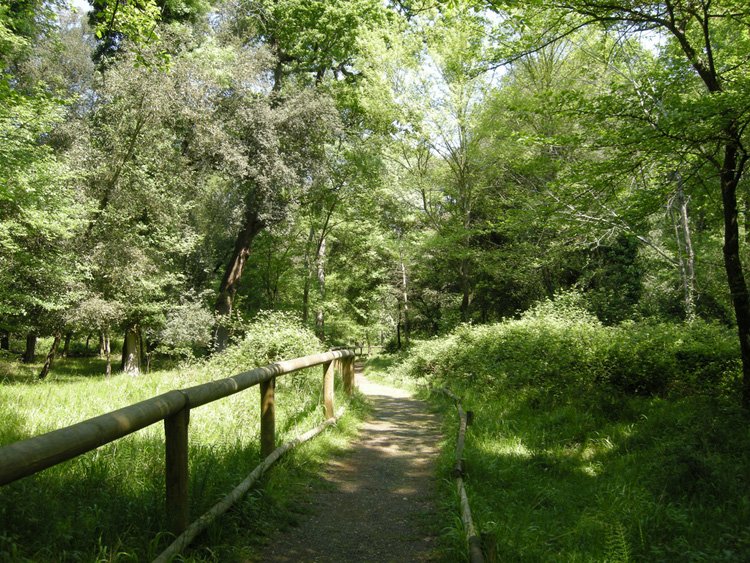 (Photo by Marco Menu)
Monti Pisani
In the area known as Monti Pisani, there are a few neat towns that you can visit by public transportation.
If you like going to the spas, San Giuliano Terme is your ideal destination. There you can find a 5-star spa resort: Bagni di Pisa. Grotta Giusti is also quite impressive. You can reach San Giuliano by bus n. 70 (Pisa – Gello – Pontasserchio) or bus n.110 (Pisa – Asciano – Agnano), and by train, as it's on the Pisa-Lucca line. It is close enough to the city that a taxi ride could also be an option. Uliveto Terme is another spa town that can be easily reached by bus (n.140, Pisa – Vicopisano – Pontedera).
For lovers of the Middle Ages, a visit to Vicopisano is a must: it can be reached by bus 140. The village hosts a great medieval festival on the first weekend of September.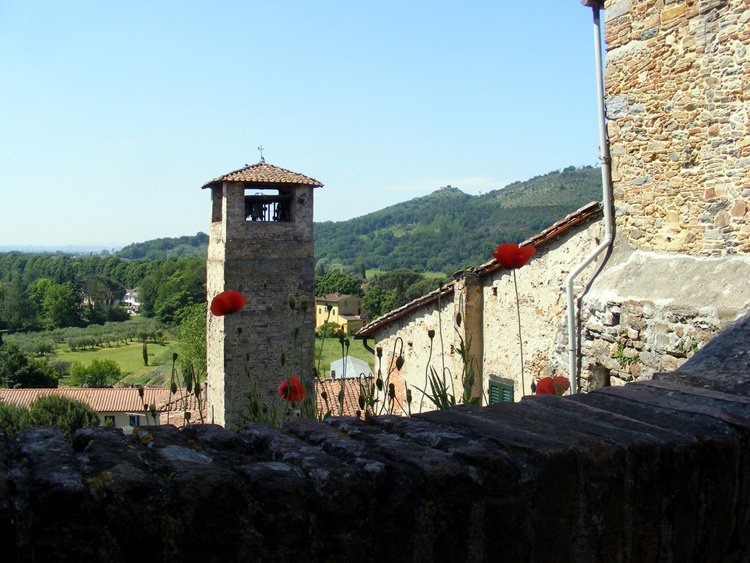 (Photo by Gruenemann)
Calci with its Certosa is also a very interesting day trip from Pisa. The Certosa also houses the Museum of Natural History. Not far from Calci, the tiny hamlet of Montemagno is also worth a visit. Both can be reached by bus n. 120. Bus 160 also goes to Calci.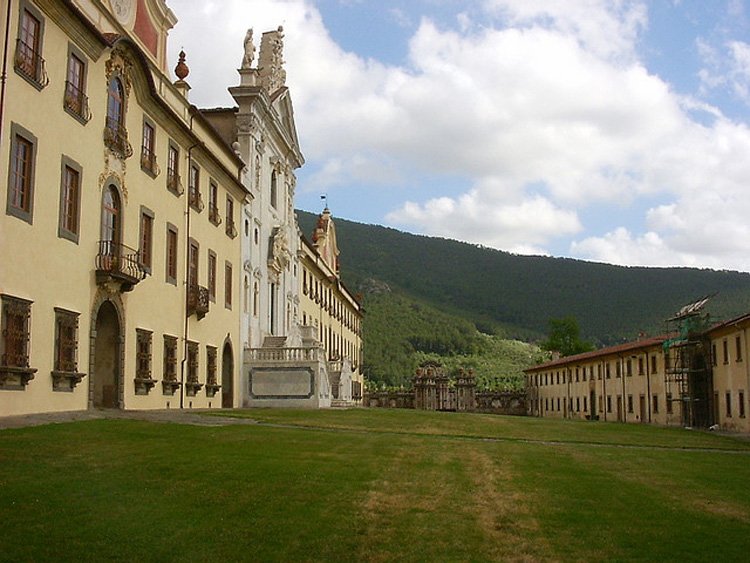 (Photo by marco83)
If you happen to be in the area in the fall, the town of Buti is famous for its olive oil and olive oil festival.  The festival is usually at the end of November or in early December. You can reach Buti by bus n.142 from Pontedera. Pontedera can be reached by train (it's on the Pisa – Florence line) or bus (n. 2).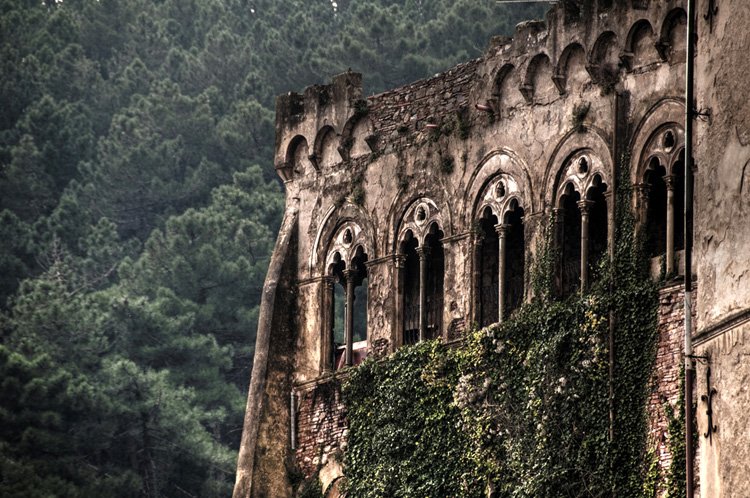 (Photo by ste 71)
Valdarno Pisano
The Valdarno Pisano boasts pretty towns and villages such as San Miniato and Santa Maria a Monte, and is the heart of the leather trade in Tuscany.
San Miniato has a fabulous cathedral and is home to one of the most prestigious truffle festivals in the country.  From Pisa, you can reach the town by train. The train station is in San Miniato Basso, the newest part of the town. It is a stop on the Pisa – Florence railway line. There are buses leaving regularly from the station to San Miniato Alto, the old town (bus n. 320). Alternatively, you can reach the town by bus from Pontedera (bus n.210), which is also a stop on the Pisa-Florence railway line.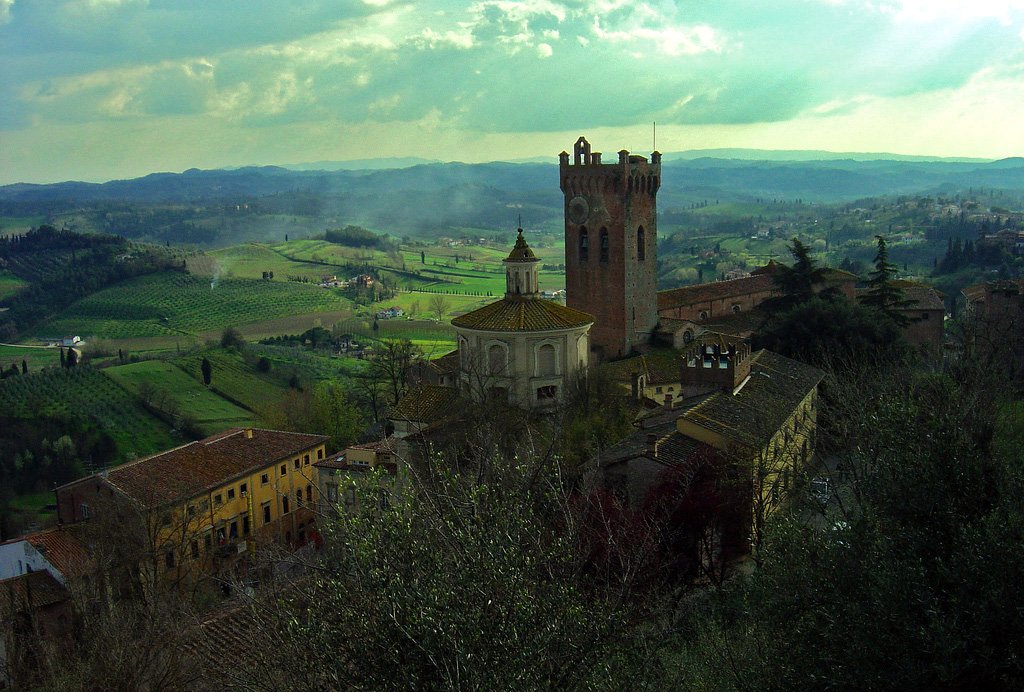 (Photo by Light Blue Photo)
Bientina is another neat medieval town in the Valdarno Pisano. It features a lovely church and an interesting Etruscan museum. It can be reached by bus going from Pisa to Cascina (n.140) and then from Cascina to Bientina (n.141), or from Pisa to Calcinaia (n.140) and then from the latter to Bientina (n.142). Alternatively, you can reach Pontedera by train and from there, go to Bientina by bus (n.420).
Castelfranco, Montopoli and Santa Croce are famous for the many leather factories. They have medieval roots and make for a nice day trip. Castelfranco can be reached by train (it is on the Pisa-Florence line) and Montopoli can be reached by bus from Castelfranco (bus n.880). Santa Croce can be reached by bus n.880 from San Miniato Basso which is a stop on the Pisa-Florence railway line.
(Photo by gnu1742)
Santa Maria a Monte is a lovely village perched on the top of a hill. It can be reached by buses n. 240, 250 or 260 from Pontedera, which is on the Pisa-Florence railway line.
Valdera and the Pisan Hills
The Valdera and the area of the "colline pisane" are two of the most overlooked areas of Tuscany, yet they are as beautiful as the enormously more popular and better known Val d'Orcia, south of Siena. The landscape is in fact very similar, with gentle rolling hills and the wide open countryside. As any unspoilt areas, the Valdera and the Pisan Hills are quite far from the city, and reaching the smaller places by public transportation can be challenging and time consuming (1h30-2h30). However, since the route is really scenic, if your heart is set on exploring this beautiful corner of Tuscany without a car, here is how you can reach the main destinations in the area.
Pontedera is a larger town, and a central transportation hub. Most of the smaller places in the Pisa province can be reached by bus from here, rather than from the city of Pisa. Pontedera is a major stop on the Pisa-Florence railway line. The town is home to Piaggio, the brand made famous by the Vespa scooter. The city itself is quite modern, but it hosts the very interesting Piaggio Museum, a contemporary art gallery (Centro Espositivo Otello Cirri) and a very active theater, Teatro d'Era, that stages numerous contemporary plays. Just outside the town, the hamlets of Treggiaia and Montecastello might be worth a visit. From Pontedera, the former can be reached by bus n.230 and the latter by bus n.220.
Santa Luce is home to a nature park managed by LIPU, the association which protects endangered bird species. It can be reached by bus n.50 to Collesalvetti, and from there by bus n.170.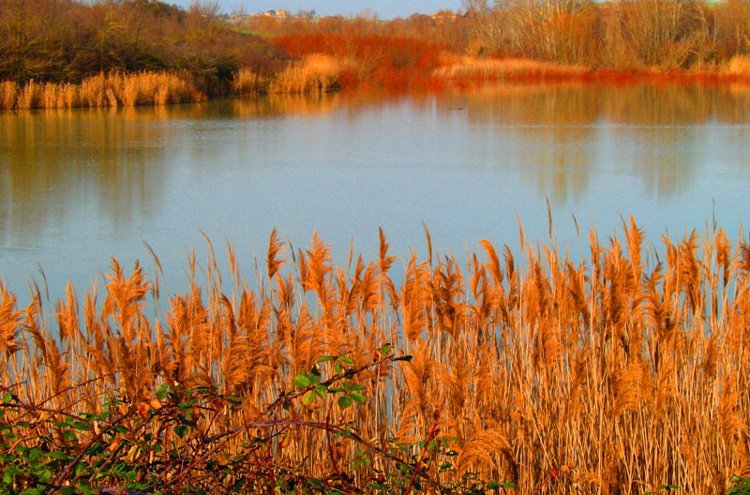 (Photo by LivornoQueen)
Lari is a lovely small town with a nice castle and famous for its cherries. There is a popular festival held every year at the end of May. Lari can be reached by bus n. 400 from Pontedera.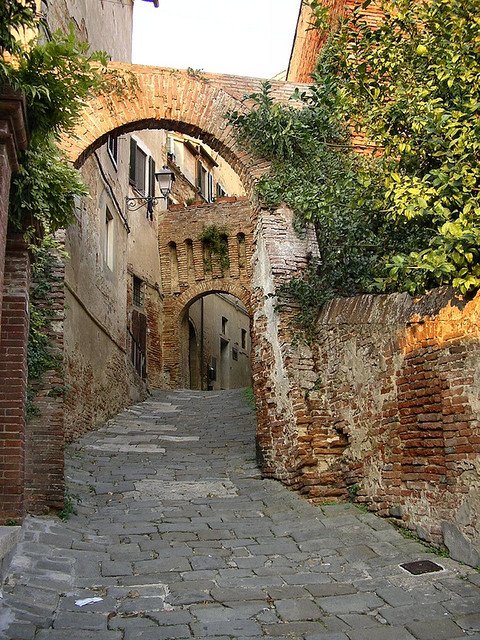 (Photo by Marco83)
Casciana Terme is a popular spa town, and can be reached by bus n.410 from Pontedera.
Palaia is a village in a great panoramic position. It is home to a popular medieval festival held on the third Sunday of September and it is in an area rich in truffles. It can be reached by bus n.230 from Pontedera.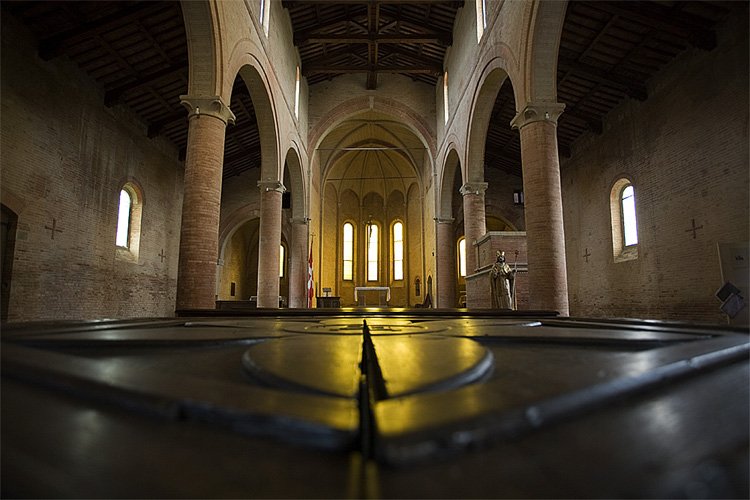 (Photo by cedsarlette)
Lajatico is in one of the most beautiful corners of Tuscany in the middle of a breathtaking landscape. It is home to the Theater of Silence (Teatro del Silenzio), famous for its connection to Andrea Bocelli. Lajatico can be reached by bus n. 500 from Pontedera.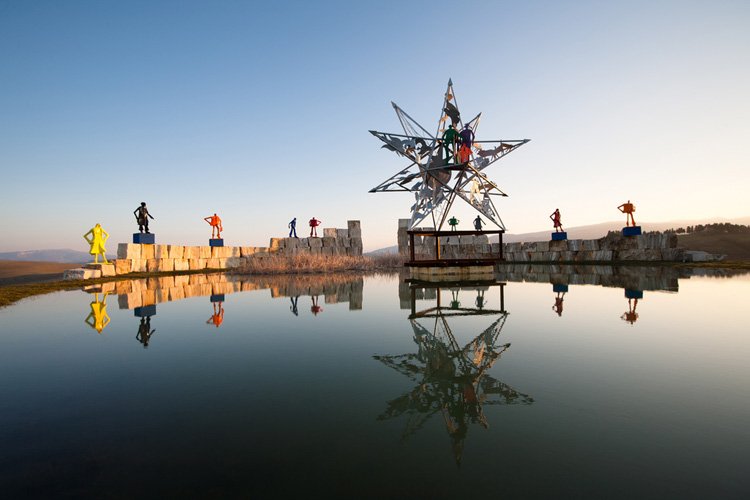 (Photo by hippydream)
Terricciola is a rural town in the heart of a wine region. There are many excellent wineries in the area and if you are interested in a wine tour in the Pisa area, this is the place to go. Reaching Terricciola by public transport means reaching Pontedera by train first, then from there going to Capannoli by bus n. 500 or n.460 and getting on bus n.450 in Capannoli.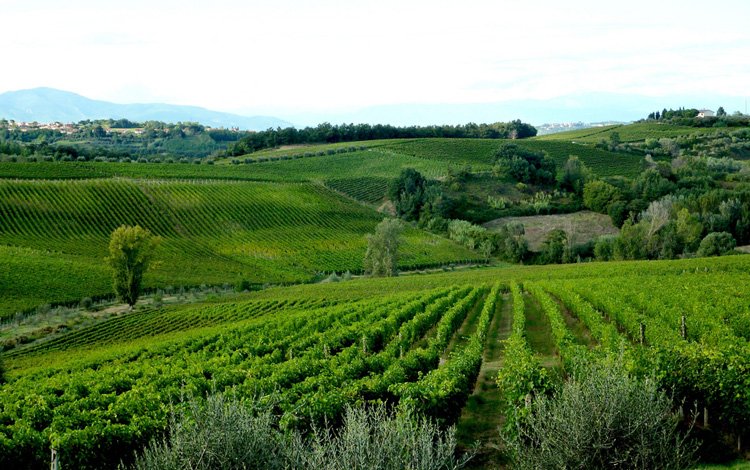 (Photo by letterio1)
Capannoli itself is a nice little village where an interesting fair is held every year on the second Sunday of September specializing in birds. Capannoli is located on the Wine Trail of the Pisan Hills. It can be reached from Pontedera by bus n. 500 or n. 460.
Chianni and the Sanctuary of the Madonna del Carmine are in a spectacular panoramic position. The village is famous for its chestnuts. It can be reached by bus n.410 from Pontedera.

(Photo by Eric Perrone)
Val di Cecina
The Val di Cecina is another spectacular area, home to the beautiful town of Volterra.
Volterra needs no introductions. It can be reached from Pontedera by bus n.500. Alternatively, it can be reached from Cecina (which is a stop on the Pisa-Rome railway line) by bus n.790.  Volterra definitely deserves a visit, but the journey takes over 2 hours from Pisa because it's in a very remote (yet beautiful) location.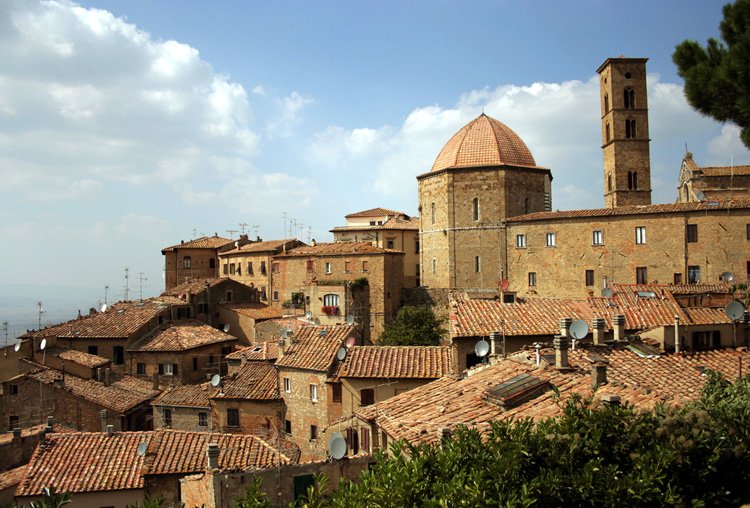 (Photo by Divina Toscana)
Castelnuovo Val di Cecina and Montecatini in Val di Cecina are also well worth a visit. The former can be reached from Volterra by bus n.780. The latter can be reached from Volterra by bus n.800.
Casale Marittimo is another neat village, which can be reached from Cecina by bus n. 110. From there, the view over the Costa degli Etruschi is incredible.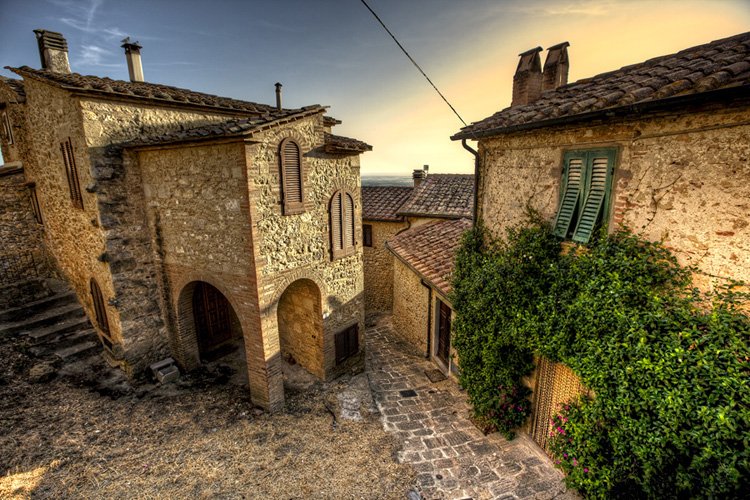 (Photo by pynomoscato)
Going to the beach
Pisa is near the coast so it is a great base to go to the beach. The closest beach towns are Marina di Pisa and Tirrenia, both easily reachable by bus n.110.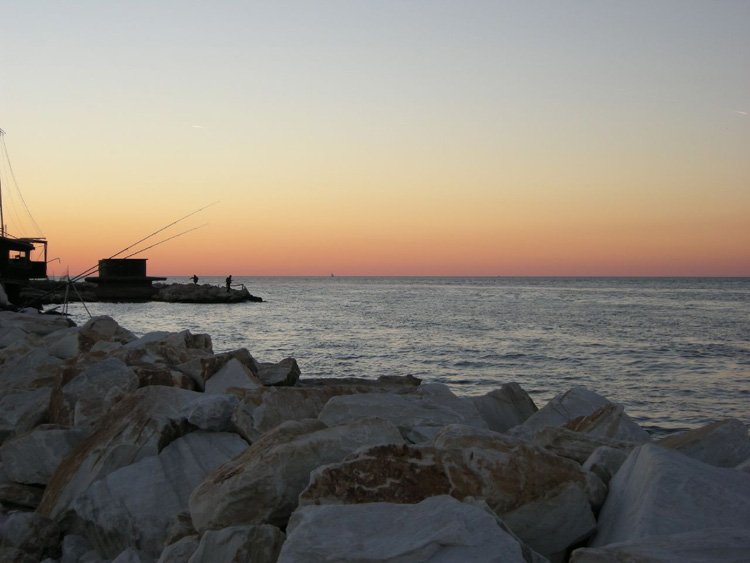 (Photo by mstefano80)
The Versilia is also easy to reach by train, with popular towns such as Viareggio, home to a famous carnival, Marina di Pietrasanta (Pietrasanta itsef is a lovely town), Lido di Camaiore, and Forte dei Marmi. They are also convenient by bus: bus n.546 links Pisa, Viareggio and Pietrasanta; bus n. 472 links Viareggio and Lido di Camaiore; bus P528 links Viareggio and Forte dei Marmi.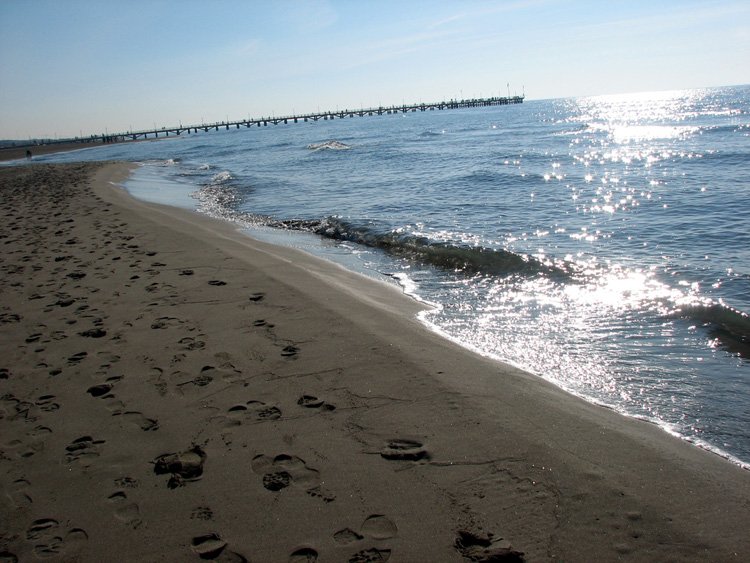 (Photo by effexeffe)
The Garfagnana
The Garfagnana is a beautiful hilly area north of Lucca. The major sites such as Barga (bus n.702), and Bagni di Lucca (bus n.P538) – can all be reached by bus from Lucca.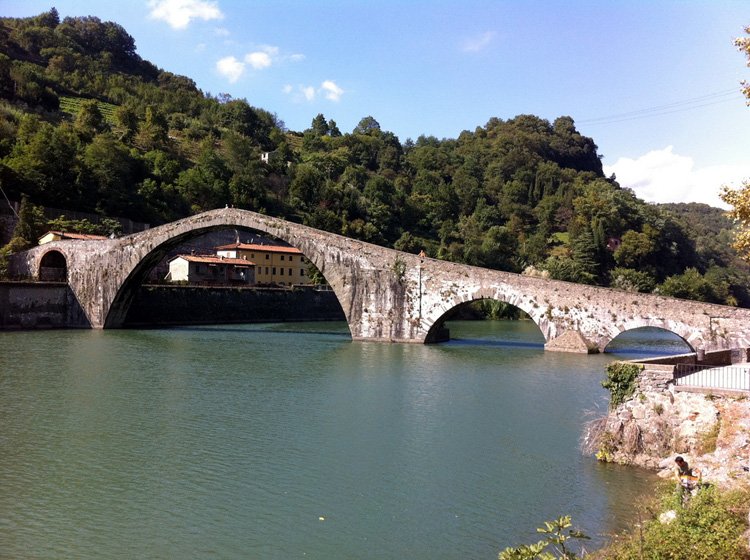 (Photo by Jim Fye)
Usefu links
And of course, if you need a place to stay… our vacation apartment near the Leaning Tower!