This month the Italy Blogging Roundtable welcomes a new member, Kate! And, given that this is a new beginning for us, it is dedicated to "spring"!  Since I have already written about this season a lot over the past few weeks, I decided to interpret the topic a bit more freely, and to focus on a different type of "spring": hot springs in Southern Tuscany. However, this post is not totally disconnected from the idea of "spring-as-in-the-season".
These first few days of glorious good weather (well, it was high time!), made me think of days like this back when I was a teenager (not too long ago, right?!). Sunday (…here schools are open on Saturday too…) was typically the day for day trips either with the family or with friends. In small villages like mine, Civitella Marittima, where there are only few kids of the same age, you tend to hang out both with people that are a few years younger and a few years older than you. As you can imagine, the first time that your parents give you permission to get in some friend's car and go on a daytrip on your own, you feel like that is the very first day of your life! And now that I have a child, I can understand how my parents must have felt the exact opposite!
I was lucky enough that some of the "older kids with cars" were my cousins, so I started joining these "Sunday escapades" quite early. Among the most popular destinations, as soon as the weather was mild enough that our mums did not feel the need to make sure we have a wool scarf on at all times (that is, late April or May – Italian mothers are famous for this kind of stuff after all…), we would go to some hot spring.
Tuscany is rich in hot springs (or "terme" as we call them in Italian), which are scattered throughout its territory. And until not long ago, most of them were freely accessible, and safety was not an issue. I would often go to the nearest hot springs on my own when I was in my last year of high school and still living with my parents in the area: the woods along the river were the ideal place to read and prepare my graduation exam. Now I would certainly not deem wise for an 18 or 19 year old girl to sit all alone by the river in the middle of the woods… Too bad. Anyway, most certainly, they are still a fabulous destination for a day trip if you are travelling with friends or with your "better half", and even if you are travelling alone, provided you avoid isolated spots (which is hardly difficult since they are now very popular and often crowded).
Including all the hot springs in Tuscany in just one blog post would be too much, but here are a few ones I like and which I highly recommend. They are all located in Southern Tuscany and are a gift of Monte Amiata, once a very active volcano, now a beautiful mountain covered in thick beech woods and chestnut groves.
Terme di Petriolo
Terme di Petriolo are the closest hot springs to my home village.
The Petriolo's thermal baths are very ancient. The Romans knew and appreciated them. Recently, Roman tombs have been found in the area, proof of a long time recognition of the beneficial effects of this water.
It is without doubt that these hot springs were highly appreciated in the Middle age and during the Renaissance period and many important people are known to have frequented the Petriolo thermal baths: the Medici, Lords of Florence, the Gonzaga, Lords of Manuta and leading exponents of the Church including Pope Pious II Piccolomini.
Also of note are the remains of the ancient walls built in 1404 in the typical Sienese architectural style, which are the only existing example of fortifies thermae (fortified thermal baths).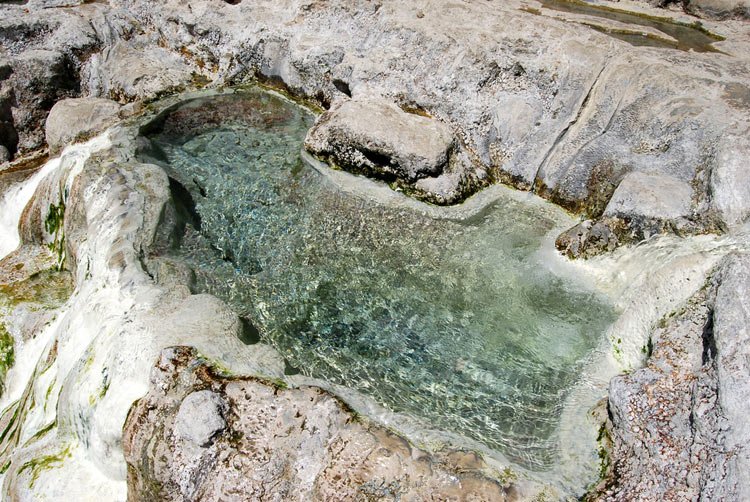 (Photo by Raymond Barlow)
One room of the original baths still exists. It opens onto the river Farma with arches built on octagonal pillars. Besides the hot springs, the Farma river is perfect for bathing and swimming, and the surrounding woods offer many nice spots for a picnic.
At Petriolo it is possible to relax in the natural pools (freely accessible when the river Farma does not cover them) or to spend some time at one of the two spa centers. Terme di Petriolo Spa Center is more modest and inexpensive. Hotel Terme di Petriolo, on the other hand, is a luxury spa center, ideal if you feel like being pampered.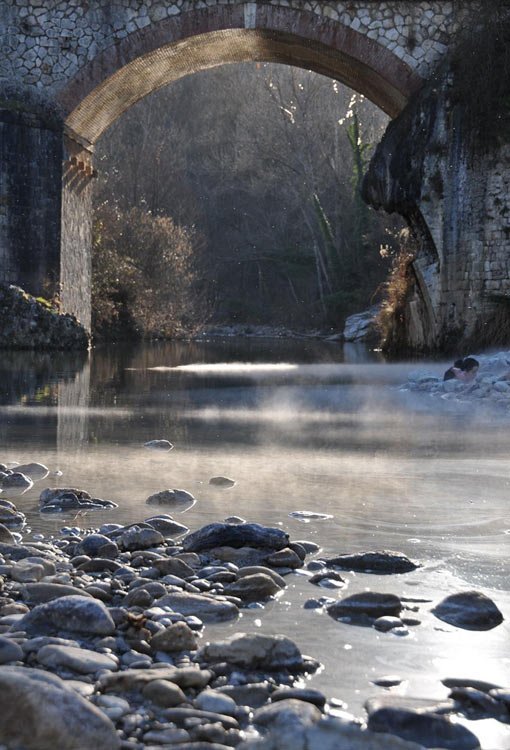 (Borrowing this from Alexandra – arttrav!)
If you decide to visit Petriolo, pay a visit to the medieval hamlet of Pari too, which is only a couple of kilometers (1 mile) away from the springs and it is really neat.
Terme di Saturnia
Terme di Saturnia are the most popular hot springs in the Maremma area of Tuscany. They are located near Manciano and the eponymous village of Saturnia, in the Etruscan hills in Southern Tuscany.
A lengend narrates that the springs originated from lightning bolts thrown by Jupiter during a violent argument with Saturn.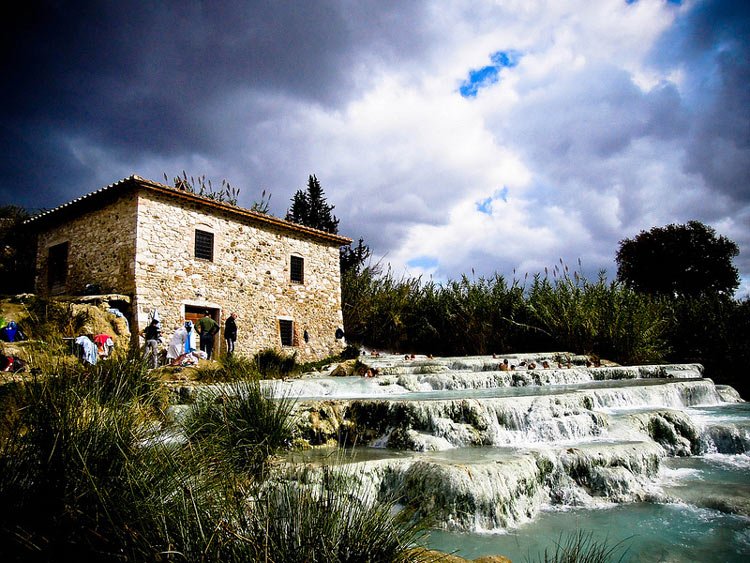 (Photo by ludik)
The most popular part of the springs are Cascate del Mulino (literally the thermal waterfalls by the mill) and Cascate del Gorello the waterfalls of Gorello, which in the local dialects means "little stream". And as a matter of fact, like in Petriolo, it is possible to enjoy the hot water by the thermal waterfalls and also take a bath in the nearby "river".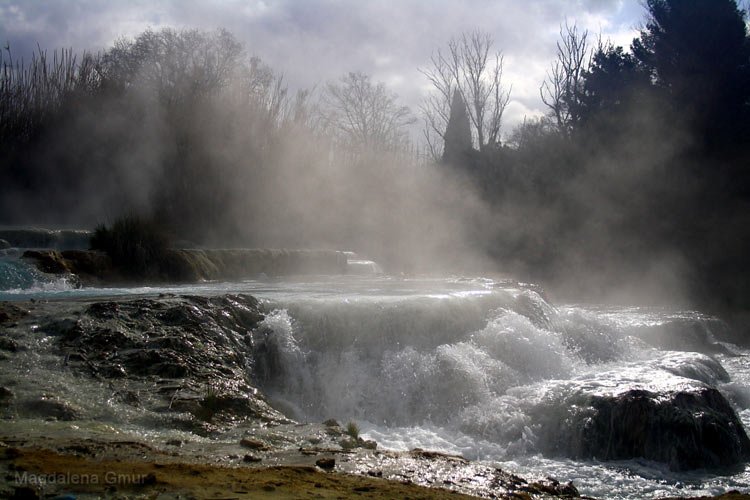 (Photo by Magdalena Gmur)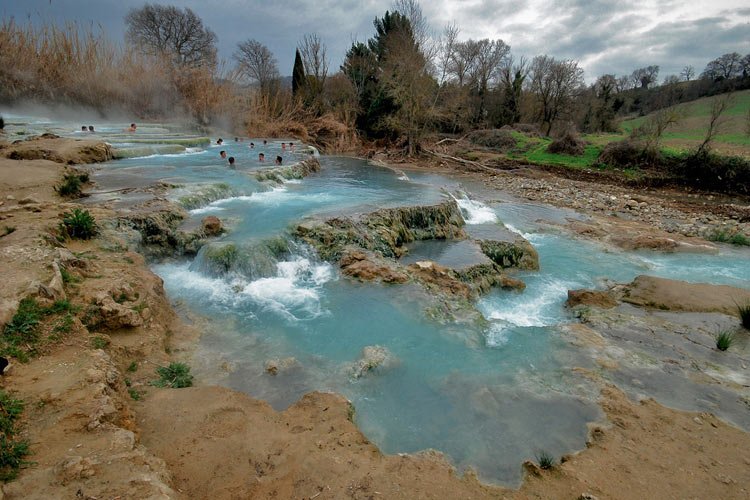 (Photo by Marano Marco)
At Saturnia, you can also choose to spend a few relaxing days at the beautiful spa center Terme di Saturnia.
Bagni San Filippo
The thermal waters at Bagni San Filippo have been popular since the 13th century, when St. Phillip Benizzi chose a grotto by the hot springs as his dwelling.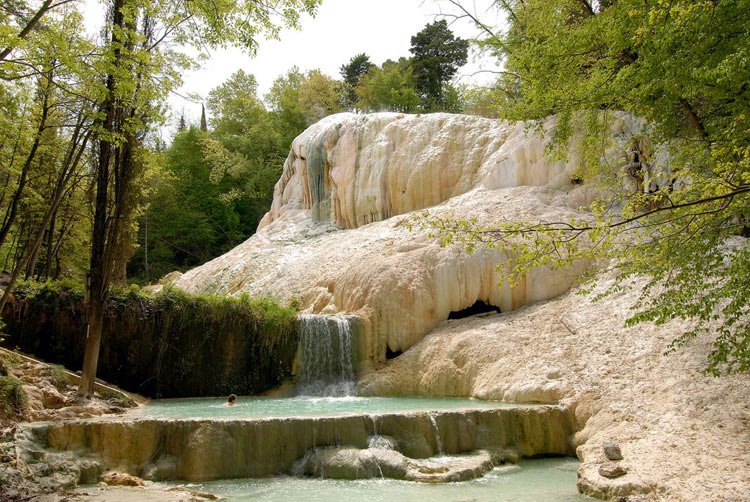 (Photo by Paolo Pizzetti)
These are probably my favourite hot springs in Southern Tuscany. Besides the charming pool in the village of Bagni San Filippo, the best part is the amazing thermal waterfall in the woods just outside the hamlet.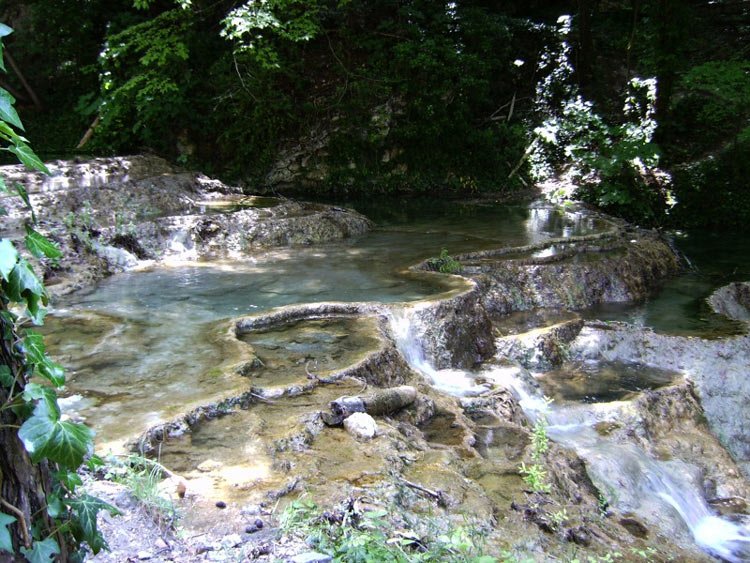 (Photo by risotto al caviale)
And the beautiful countryside of the Val d'Orcia which surrounds them is a big plus.
Bagno Vignoni
Bagno Vignoni is certainly unique. Instead of a typical central square, the village buildings encircle a large thermal pool where water reaches 52°C.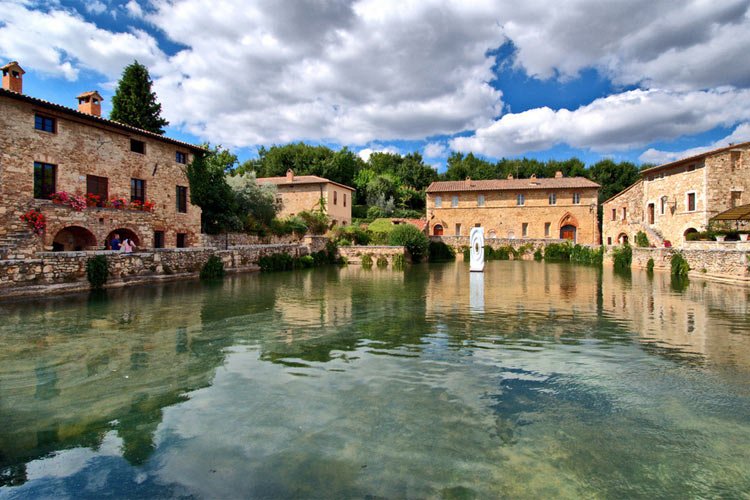 (Photo by klausthebest)
The hot springs at Bagno Vignoni were popular among the pilgrims who walked the Via Francigena. Lorenzo de' Medici and Pope Pio II Piccolomini loved the place too, and St. Catherine of Siena spent quite some time here before becoming a nun. Her mother apparently used to bring her here in an attempt to distract her from her purpose of choosing monastic life, obviously without any success.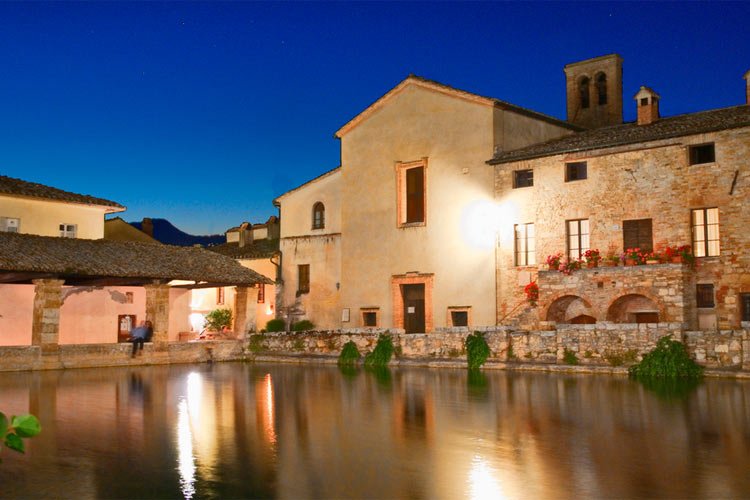 (Photo by klausthebest)
Besides the thermal baths, Bagno Vignoni boasts a lovely chapel and a portico dedicated to St. Catherine of Siena and a beautiful church.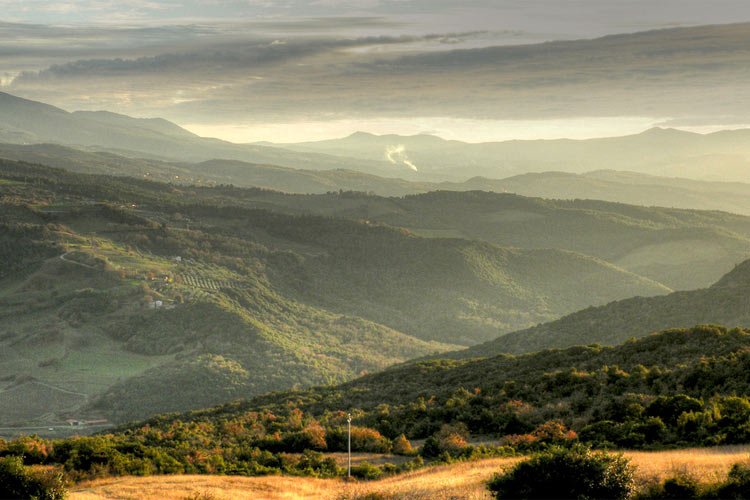 (Photo by anto_gal)
A visit to the village of Vignoni Alto, not far from Bagno Vignoni, is a must. The view over the Val d'Orcia is breathtaking.
The "other" hot springs
There are a few other popular hot springs in southern Tuscany, which are quite popular even though not my favourite ones, so I will just mention them quite quickly.
Terme di Chianciano are extremely popular. The life of the entire town of Chianciano revolves around its thermal baths (just like Montecatini Terme in Nothern Tuscany). They were already known back in the middle ages, but their mass-popularity is a recent affair (20th century). The spa center is famous among people who need treatments, so they are more popular among elderly visitors, but there are plenty of spas that offer cosmetic treatments that are most certainly appealing to a younger crowd as well.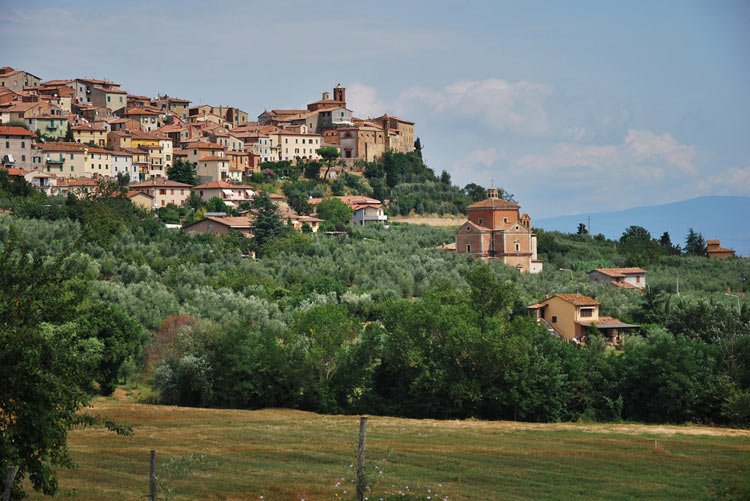 (Photo by kharmel)
Rapolano Terme has two nice thermal parks too, with large pools and modern spa centers: Terme Antica Querciaiola and the more popular Terme San Giovanni. The view over the Crete Senesi from the latter is quite remarkable.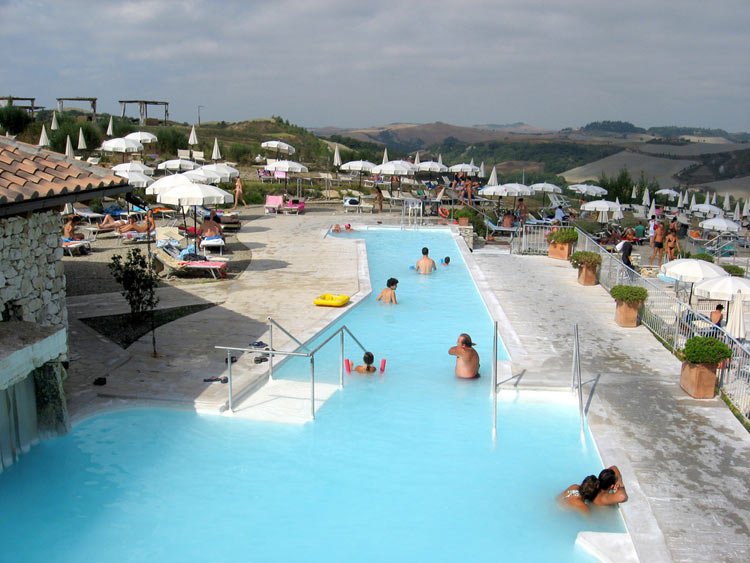 (Photo by Daniele Brandi)
Montepulciano and San Casciano dei Bagni have their own hot springs too. Both though, but especially Montepulciano, are beautiful hill towns that deserve a visit more for their architectural beauty and for the views than for their hot springs.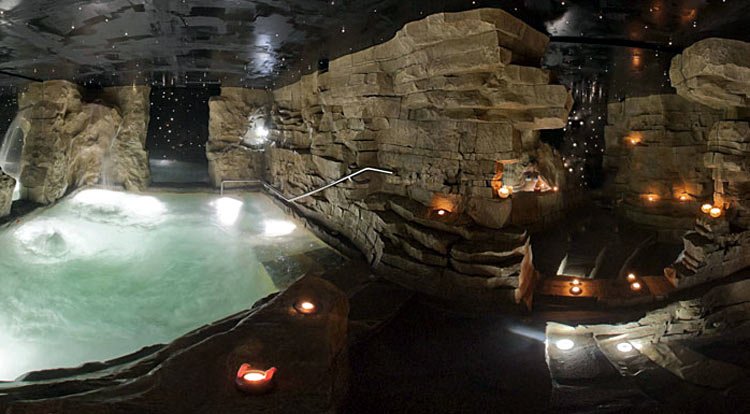 (Photo by intoscana.it)
Finally, I should mention the peculiar Acqua Borra: nothing more than a farmhouse perched on a crazy travertine stone wall with a pool fed by a hot spring. Really peculiar.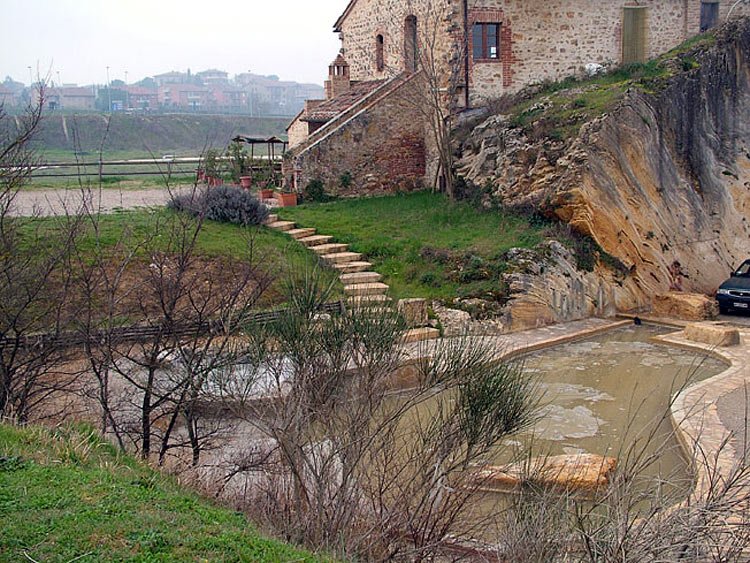 If you need a base to explore the many hot springs of southern Tuscany, don't forget to check our vacation rental between Siena and the Maremma, Casina di Rosa!
Italy Blogging Roundtable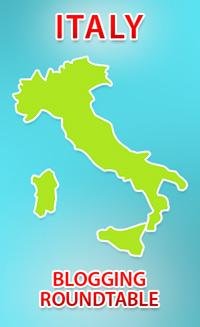 This is the 19th post in a monthly series called The Italy Blogging Roundtable. Here you can find the posts of the other bloggers who participate in the roundtable. Our topic this month was "hills or mountains":