This is the 18th post of a guest series. We ask friends and colleagues to share with us what the expression to "feel at home" means to them. We believe that to truly enjoy a place, you need to really experience it, to make yourself at home. This means different things for different people, but it is an essential part of our lives, both as travelers and travel professionals. The idea came from a post I published in March 2010 and that you can read here.
Feeling at Home in a Tuscan Spa
My love for Italy was born at a dining room table in Newark, New Jersey. It was my maternal grandparent's dining room, they were immigrants from Molise and Potenza. At delicious, long, Sunday dinners, I came to know Italy as one big, abundant heart.
From the first time I landed in Italy in 1976, I felt as if I'd come home. I was embraced by my cousins in Rome, I blended in—all 4-feet-11-inches-curvy-bod-dark-haired me! There were the flavors that reminded me of home, art and architecture I'd dreamed about seeing all my life. Landscapes brought on euphoria, the whole sensual mix of the country seemed to correspond exactly to my desires. It was as if Italy knew me before I even got there, and welcomed me with open arms.
Over my years of traveling in Itay, there have been many surprises. For example, how At Home I Feel in an Italian Spa. Spa, as in Salus Per Aqum=water for health…Spa as in aahhh, feels so good. Though I knew "taking the waters" was an old Roman tradition, and that there were fabulous natural thermal springs in every region of Italy, I'd stayed away from them. Spending time there felt too indulgent. But recently, I've taken a turn. I've found that "doing as the Romans did" is an excellent boost to any time spent in Italy.
Tuscany, in particular, has heavenly spas. Here's an excerpt from my book, 100 Places in Italy Every Woman Should Go

(www.susanvanallen.com).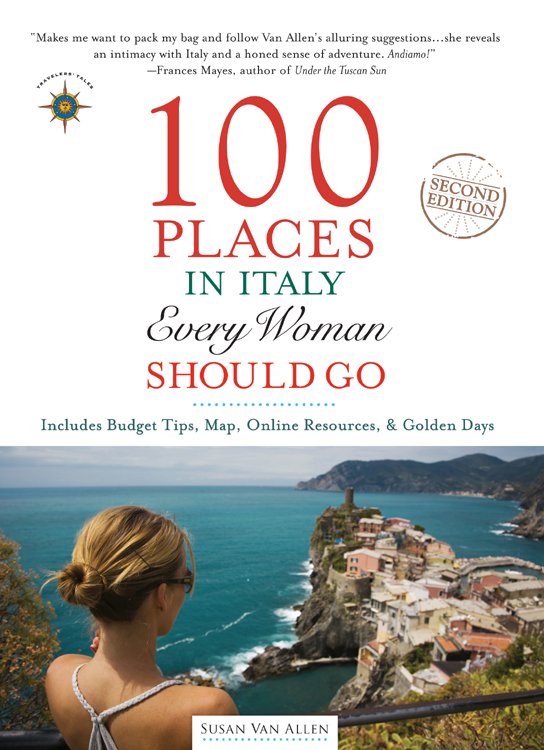 Fonteverde Spa and Resort
(San Casciano dei Bagni, southern Tuscany)
A marble throne doesn't sound very comfy. But try sitting on one submerged in a pool of warm healing water, with hydro-massage jets soothing your back and the soles of your feet. Throw in a quintessential Tuscan view of vineyards and olive trees. It's good to be Queen.
The throne is part of Fonteverde Spa's bioaqum pool. It's beautifully designed, all curvy with a sky-lit, glass-enclosed indoor section connected to an outdoor area where you'll find those thrones and marble beds to stretch out on Roman style. All over are jets designed to hit different parts of you from the waist down. According to the brochure, this reactivates your energy. All I know is it feels real good.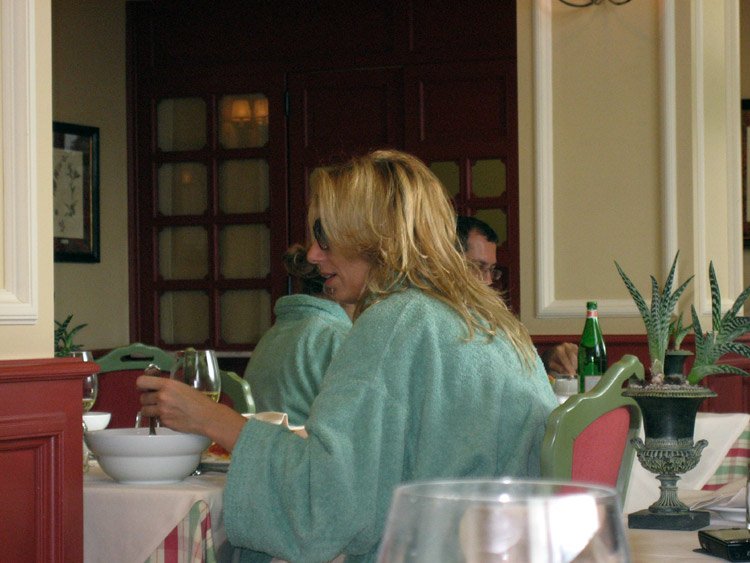 The idea here is to take ye olde Roman bath social scene and give it a modern twist with the hydro-massagers. My friend Kristin and I are in recovery from a five-hour drive from Parma, complete with traffic-jammed autostrada. We sit on our thrones and stare off at the beautiful view of San Casciano dei Bagni.
The Etruscans, who came before the Romans, discovered the forty-two springs in this southern Tuscany spot. Industrious nature-worshippers that they were, they built baths. They were also a mysterious sort who performed sheep sacrifices to their gods, then tore out the sheep's liver and studied it, believing the gods put prophecies in that organ. As in: Long bile duct, the king will reign for many years!
Reminders of Fonteverde's history are all around, to enhance its Grand Tuscan Villa ambience. There are Etruscan and Roman sculptures, a seventeenth-century portico built by Grand Duke Ferdinando I, and portraits of Medici family members who frolicked here.
Most of all, this place is focused on the healing waters those Etruscans discovered. There are seven pools that connect to the springs. Some have waterfalls and there's even one for pets who may need relief from arthritis or whatever is ailing them.
"All my life I grew up drinking this water to cure everything," the very beautiful spa employee, Federica Damiani, told me. "And my ninety-eight-year-old grandmother, she's cured her cataracts and arthritis with it."
Every morning of our stay, Kristin and I down a cup of the rotten egg smelling water from a spa fountain. It's the only thing here that doesn't taste heavenly. The fancy dining room does a fantastic job with Tuscan classics like Chianina steaks or tagliatelle with porcini mushrooms. There's even a wine-tasting room to try samples of the best vintages of the region.
We eat and drink guilt-free because we are detoxing with all this water! After an hour of our bioaquam therapy, we leave our thrones and head to a dimly lit room with a star-painted ceiling for thalaquam, where we float in a saline pool for twenty minutes. Then it's salidarium time: we lay down on a bed of salt crystals with a warm heavy blanket over us. Oh so sublime.
I was skeptical over all the talk about the reactivating energy these waters and treatments would give me. That is, until I left and landed in Florence. For an entire week after my Fonteverde Spa time, I was on the run. There was no way to tire me out. The Italian spa tradition had worked its invigorating magic. Now I'm a believer.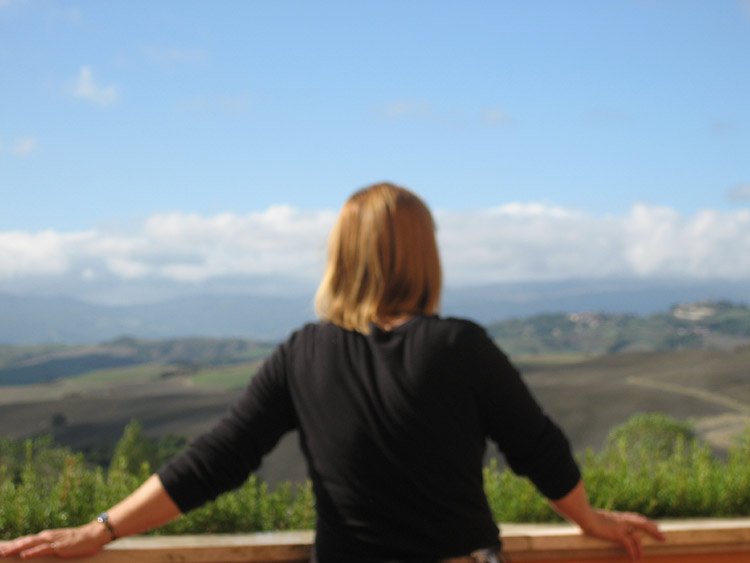 And so my Feeling At Home in Italy stretches out…to places beyond my imaginings…
Fonteverde Natural Spa Resort is also available as a day spa, so if you're in the area, go take the waters and have a fabulous lunch.