This is the 11th post of a guest series. We ask friends and colleagues to share with us what the expression to "feel at home" means to them. We believe that to truly enjoy a place, you need to really experience it, to make yourself at home. This means different things for different people, but it is an essential part of our lives, both as travelers and travel professionals. The idea came from a post I published in March and that you can read here.
My Home and What to Do There
For my first couple of years of living in Italy, people would ask me where I live in Italy and I respond Lerici, I usually receive a "WHERE?" back.  That's starting to change a bit, partly in thanks to a recent article in the New York Times, but also because people are eager to "discover" new destinations on the Italian Riviera. Now I am often asked "What's there to do in Lerici"?  And I have to laugh, as I can easily respond back with one week isn't enough.
Let's start with the basics:  Lerici is not in the Cinque Terre, but in the gorgeous Gulf of Poets nearby. Secondly, there is so much beyond the Cinque Terre (and the other famous Riviera hotspot, Portofino) that you could actually skip these two and still have a fabulous time. BUT I don't actually recommend that. Instead, I believe they are a part of what could be one incredibly fun and enriching week while staying in Lerici.
So here is my suggested "itinerary" for the week (based on a Saturday to Saturday stay but it's not imperative!):
Day 1 – Saturday
Arrive settle in to you accommodations and take a "passegiata" along the lungomare of Lerici. Don't forget to enjoy a glass of Prosecco at sunset from Bar Pontile or better yet the tree house-like Vertigo in nearby San Terenzo, followed by a delicious Ligurian meal at either Bonta Nasconte or Il Frantoio.
Day 2 – Sunday
Board the 25 minute ferry across the bay to the gem of a place called Portovenere. Explore it's 1000-year old carruggi (little alleyways), the commanding Castle Doria, the calata boardwalk and the colorful facades of the palazzi, take a swim in Byron's Bay and don't miss the breathtaking views from the porch of San Pietro. All this and a good meal at Da Iseo or Bacicio, and then head back by ferry to Lerici.
Day 3 – Monday
Assuming you have a car, drive to the Sarzana train station only 12 minutes away (non-car people can take the bus which runs every 20 minutes) where you can catch the train to Le Cinque Terre. Spend the day hiking between villages as well as swimming in the sapphire blue Med. I suggest lunch at one of my all time favorite restaurants in the area, La Lanterna in Riomaggiore. Trains run back to Sarzana until early evening.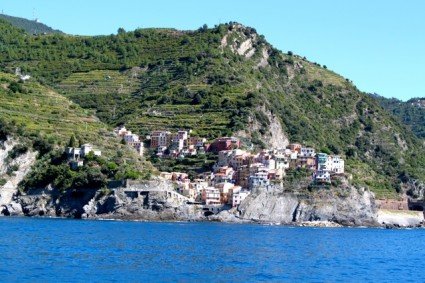 Day 4 – Tuesday
You can either drive or take the train from La Spezia to the truly fascinating and underrated city of Genoa. The architecture is unbelievable and the old city center is the largest in Italy, full of history and color! Make sure to stop at the port as well, maybe even the aquarium (especially with kids).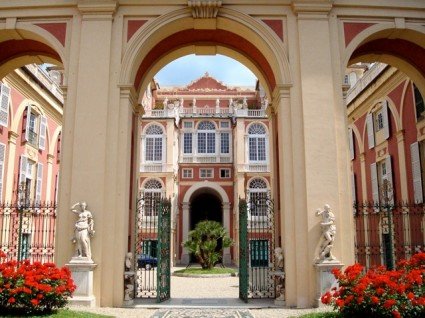 Day 5 – Wednesday
30 minutes south is the Tuscan resort town of Forte dei Marmi which holds its famous flea market every Wednesday. Go and scout out some deals, but be prepared for some hefty prices as well – this is the only flea market I know of where you can actually buy real designer stuff!
Afterward, head 20 minutes east into the marble mountains of Carrara where you can tour inside a quarry at Fantiscritti.
If you're still raring to go, make a stop in the medieval walled village of Sarzana for an aperitivo and passegiata, one of the best in Liguria.
Day 6 – Thursday
Living la Dolce Vita can be found in Portofino just an hour north by car and slightly longer by train (due to stops). There is not a whole to see in Portofino but it does provide for some of the best people watching around, especially in the summer when the uber-yachts arrive. You can also hike to or take the ferry boat to beautiful San Fruttuoso.
If Portofino proves to "high roller" for your taste, head 15 minutes north to the seaside village of Camogli which oozes old world charm.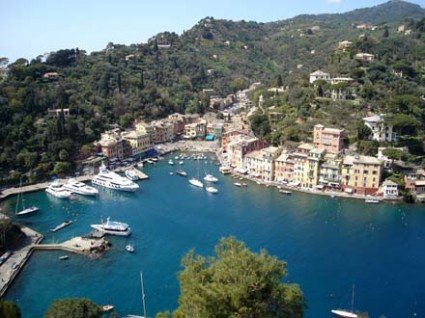 Day 7 – Friday
One of the most authentic and enjoyable outdoor markets I have experienced in Italy happens to be in La Spezia. The city gets a bad rap for being just another ugly port town, it's truly not! They have really clean up the place over the past 5 years and now you can enjoy some beautiful Liberty style architecture, a lovely port side promenade, a brand new tourist port (featuring a few uber-yachts that could go head to head with those of Portofino), excellent restaurants for a fraction of the cost of the neighboring tourist areas and on Friday, the always fun flea market on Via Garibaldi, the deals are really deals here!
In afternoon, I say enjoy it at one of Lerici's 5 sand beaches. There are some nice beach clubs where you can rent chairs and umbrellas such as Lido di Lerici and Colombo, or you can go free to Venere Azzura and San Terenzo beaches.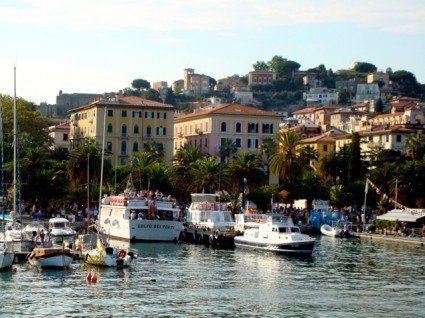 Day 8 – Saturday
Bid arrivederci to Lerici knowing with another week you could visit: Lunigiana, Lucca, Pisa, Versilia and more in one hour or less (heck, you could even lunch in Monte Carlo, only 2 1/2 hours away!).  Needless to say, you touch the surface with one week in Lerici.
As you can see, there is plenty to do in and around my adopted hometown.  I am never bored living here. In fact, there is always something to do and see.  Yet of course my favorite place is right here in my home, sitting on my terrace and overlooking the bustling village below.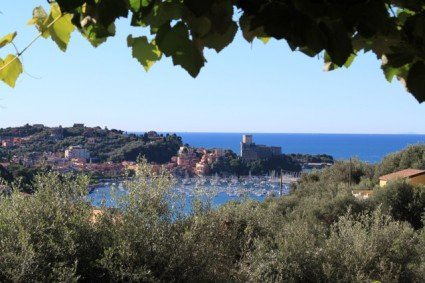 Hope to see you here soon!