This is the fourth post of a guest series. We ask friends and colleagues to share with us what the expression to "feel at home" means to them. We believe that to truly enjoy a place, you need to really experience it, to make yourself at home. This means different things for different people, but it is an essential part of our lives, both as travelers and travel professionals. The idea came from a post I published in March and that you can read here.
A house is made of walls and beams; a home is built with love and dreams.
So, you know when you're at a cocktail party with your significant other of the past twenty years, and he's over at one side of the room holding forth with a group of friends and you're at the other side of the room hunkered down by the hors d'oeuvres drowning your social awkwardness in a glass of merlot and hoping no one notices as you toss numerous apricot and brie tartletts down the hatch, and this very put together woman comes sidling up to you and with just one look you have her typed and her type is not your type because your type is the type that began the evening with a five year old who managed to smash a full glass jar of honey all over the kitchen floor, the noise of which startled you so badly while you were rushing to get ready to leave that you poked your eye with the mascara brush and then you spent 20 minutes kneeling in your dress and stockings on the floor cleaning up the mess and somehow managed to get a tiny hole in the heel of your only pair of hose which in the car on the way to the party you dabbed with clear nail polish in the hopes that the damn thing won't spread into a run all the way up the back of your leg during the evening?
She's not that type.
Then she purrs at you, "Your significant other is so charming.  And he has gorgeous blue eyes." And your first reaction is to freeze mid-chew, tilt your head slightly to the left, and cut your eyes at her with a look that says, "Girl.  Back away from the man slowly, and no one will get hurt." (At least, that is my first reaction, because I grew up in a neighborhood where menfolk were loudly and publicly contested on street corners and front porches by screeching women with toddlers on their hips.)  And your second reaction is to glance over at your significant other, who is absorbed in animatedly telling his favorite joke which you have heard at least 500 times over the past 20 years but the way he tells it still manages to crack you up, and think "Damn.  He is charming.  And he does have gorgeous blue eyes."
And right then he catches your eye and smiles you over, and when you get there he rests his hand on the nape of your neck in silent recognition of how he loves when you wear your hair pulled up and says, "Here she is…what was the name of that restaurant in Barcellona?  She's always the one who remembers these things."  And your shoulders relax and by some miracle, out of the depths of your harried mind, you call up the name of the restaurant and a funny anecdote about your dinner there because suddenly you aren't the you who hides out by the buffet and forgets people's names and has a run in her stocking creeping up the back of her leg but you're the you who wears sexy black dresses and her hair in a chignon and can tell funny stories about her world travels at cocktail parties.
You know all that?  Well, that is what feeling at home is to me.  Not a physical place, per se, but an existential one which, like one of those newly discovered dimensions in astrophysics, can be both round and square, both flat and curved, both comfortable and demanding.
I feel most at home in that mental place where I am so at ease and my psyche is so absorbed with kicking off its shoes, tossing its car keys on the table, and sticking its head in the fridge to see if there is any leftover pizza still around to snack on that I get complacent and forget how lucky I am to be living this life in this place.  This amazing life. This amazing place.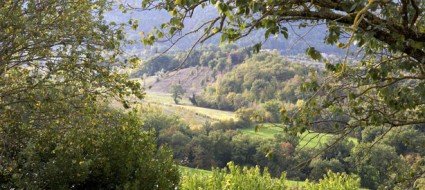 I'm fortunate to have the kind of business I do, where I am jarred out of my buffet insouciance by a constant stream of guests who are in that process of newly discovering Umbria, Italy, travel.  They show me what I am so familiar with through fresh eyes and force me to glance across the room, pull my head out of the fridge, and see for myself the wonders hiding in plain sight all around me.  They remind me of the first time I had to navigate a new language and culture and how gratifying it can be, and of the first time I had fresh truffles grated over linguine and what an epiphany that was, and of the first time I saw Assisi awash in the pink light of sunset and the thought that real people lived here seemed impossible to me.  Now I do all of those things almost daily, and the comfort of that routine feels like home.
Feeling at home is also, paradoxically, the demanding opposite of that familiar complacent comfort–that challenging mental place which expects the best of you because it sees the best in you and knows the best in you and won't settle for you settling for less than that.  In Italy I am the me who runs a business, not the me who has a hard time with balancing the checkbook.  I am the me who is a competent parent, not the me who rages and frets about my own family baggage.  I am the me who recognizes the value of serenity and connection, not the me who salivates over the latest shoes and celebrity gossip (though that me rears its ugly head disconcertingly often).
Part of this is undeniably linked to the timing of my move to Italy…I got here when I was a 23 year old girl and am now a 40 year old woman.  Ok, 39.  Which means, of course, I have all the hang-ups and insecurities of that 23 year old but with the side benefit now of wrinkles and cellulite to fuel them.  It also means that it has been these years in Italy which have coincided with that universal human process of seeking home in an external place or with an external person but finally, comfortable in my own skin, finding it within myself.
I love my house… I have poured my heart and soul into it.  I love my family… my sons are the only truly important and beautiful thing I have ever done.  I love Umbria… every day I discover something new and marvelous here.  But home is, ultimately, something bigger than all that. Something so vast that the only place it can fit is inside me:  the comfort–and the challenge–that come from loving myself.