More personal post today, after a few days of "e-silence". Email has been piling up in my inbox, so this is especially meant for all the friends who have been waiting for a reply for a while now… sorry!
Halloween and the All Saints' Day Weekend are here already!
I've just realized it's that time of the year already… Halloween or the All Saints' Day long weekend! To me, it usually marks the first holiday of the holiday season and the beginning of the olive harvest, but this year it has arrived so quickly upon us that I am somewhat disoriented.
First of all, I am on my maternity leave: this means that I didn't go back to teaching in September, so I was not counting days to the first long weekend as I usually do. It also means that we have spent over two months in Civitella, except for this past week when we came back to Pisa and time has literally flown by since we've been here.
Second, because I am so pregnant, I can't help with the olive harvest anyway this year, so I didn't need to organize my schedule so as to be able to participate. Plus, this year the fall has been so warm (it was still 25°C/77°F in Pisa yesterday…) and dry that we my parents had to start picking early, because olives are just falling from the trees.
Third, I had a big job interview last week (that's why we are in Pisa) and I didn't really think of much else up until then… And when I finally had the time and energy to start thinking about something else… well, we realized our baby was supposed to arrive in a month and we hadn't bought anything yet!!! So we dedicated this past weekend to baby shopping… and we were shocked by the outrageous prices of baby stuff!!! People are out of their minds!!! Being our first child, we have nothing… and we also had no idea what we might need (I know… we must be the worst parents-to-be ever!!). So we did a lot of window shopping and then went and bought the most expensive stuff online, where you can really get great deals…
On presents for our baby and other generous thoughts…
To all those of you who have generously asked us about presents, we would like to say that we really don't want anybody to feel obliged to send anything. Presents are neither required nor expected. Your loving thoughts are more than enough for us.
However, since some friends and family members have asked repeatedly, we have created a wish list online which is more of a "memorandum" for us than a true wishlist. You can find it here (the name is "gloriamarcel"). We would like to thank you all in advance, and to repeat once again that you don't need to send us anything, really. And that we are just as happy if you contribute something to the fund for the people who suffered the terrible flood in Cinque Terre and Northern Tuscany last week. Their children are certainly in more need than ours at the moment.
A traditional Tuscan recipe for an alternative "treat"
Anyway, this morning I suddenly realized that it was Halloween when I saw lots of pumpkins outside the local food stores. That's funny because pumpkins are certainly in season (and we have already eaten an enormous amount – I also need to thank Alexandra and Tommaso for the delicious one they gave us last week!), but the habit of decorating with pumpkins is not really in our tradition. I certainly remember carving pumpkins as a child, but not necessarily on Halloween.
What really reminded me that it's the All Saints' Weekend was a phone call from my mother asking me if I wanted some of the Schiaccia dei Santi that my grandmother has made. Of course!!! That is the typical dessert we celebrate with. We make  Schiaccia dei Santi (a type of focaccia)  and Pane dei Santi (a type of bread). They are typical of Siena and some areas of  the province of Grosseto.
They both include more or less the same ingredients but the "schiaccia" is thin, crispy and a bit greasier, whereas the "pane" has the consistency of a loaf of bread, even though it's much sweeter. The peculiarity is that the dough is enhanced with walnuts, raisins and dry figs: essentially all the "poor" ingredients that are usually available at the end of the summer.
Now I can't wait to be back home to have some!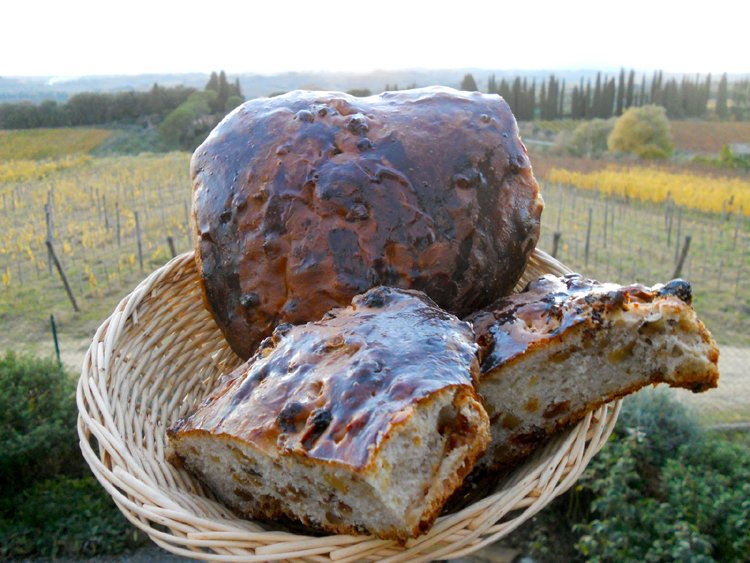 If you want to try the traditional recipe of the Pane dei Santi (All Saints' Day Bread – also known as Pane co' Santi in Siena) here it is!
Ingredients
400g  walnuts
250g olive oil
50g brewer's yeast
400g warm water
1kg all purpose flour
250g raisins
200g of dry figs
10tbs sugar
3tsp salt
3tsp pepper
1 egg yolk (to brush the surface of the loaf)
Sauté the walnuts with some olive oil in a small pan for a couple of minutes and let them cool down. Melt the brewer's yeast in warm water.
In a large bowl, mix flour, sugar, salt, raisins, walnuts, olive oil and pepper. Add the yeast mix. Mix until you can make a ball with the dough. Cover and let it sit in the bowl for at least 6 hours.
When the dough has risen, cut it in 4 to 6 parts and shape them as you like (either as a ball or in an elliptical shape). Make a cross-shaped cut on the top of each one and let them rise for one more hour.
Brush with whipped egg yolk and bake for 30/35 minutes at 180°C (350°F).
Let the loaves cool down and enjoy!  You can store them in paper bread bags and they last for days.
You can eat them on All Saint's Day or give your Halloween a Tuscan flavour!
Happy Halloween and Happy All Saints' Day!