I have always wanted to write a post about what Tuscany is like at different times of the year. I get the question a lot from possible guests of our vacation rentals. So, I have decided this is my new "pet project" for the next 12 months, 1 month in Tuscany at a time! With a word of caution: every year things are slightly different and vary across Tuscany (no need to remind you that Tuscany is a big place, right? If so… please check my post about the various regions of Tuscany, thanks!). See all the posts in this series.
What is Tuscany like in September?
September is usually one of the most pleasant months of the year to be in Tuscany. It is still warm, with summer-like weather, but not hot. This year (2011), we have had an exceptionally hot September, but this is highly unusual.
Usually, the first half of the month is hotter than the second half. In early September, most people are still going to the beach regularly. It is warm enough that you can comfortably wear your summer clothes from dawn to dusk, and it is still great weather for dining outdoors and using swimming pools.

(Photo by Been Around)
In hilly areas like ours, you might already need a light, long-sleeve shirt in the mornings and evenings. Air-conditioning is not necessary anymore, because temperatures rarely go above 25°C and the humidity is low because of the cool September breeze.

(Photo by Around Tuscany)
There is usually a real change in the air. The sky becomes clearer, the air crispy. The first late summer showers bring about that great smell of wet hay that announces that fall is just around the corner.
By mid September, temperatures are usually lower, around 22-23°C. A light jacket might be necessary in the mornings and evenings. Sometimes the wind is quite cool. It is still pleasant enough to have dinner "al fresco" (but it is usually too cold for short sleeves at night), go to the beach and use swimming pools, at least during the warmest time of the day (between 11am and 4pm).
The real change in the air happens at this point, both physically and metaphorically. It gets cooler, of course, and the mornings are characterized by beautiful misty views and pink dawns. Showers and storms become more frequent, but they are still occasional.

School starts again and life goes back to its normal rhythms after the summer holidays (see the latest round of posts of the Italy Blogging Roundtable about going "back to school"). The positive side of this is that everything is open and thriving. The negative side is that, in cities, traffic goes back to evil.
The Grape Harvest
September is the time of the year when grapes are harvested. Well, when I was a kid my grandfather insisted that grapes should not be picked before October, but over the years the climate has changed so much that October is just too late now. The large wine estates start picking at the end of August. My family harvests grapes in September.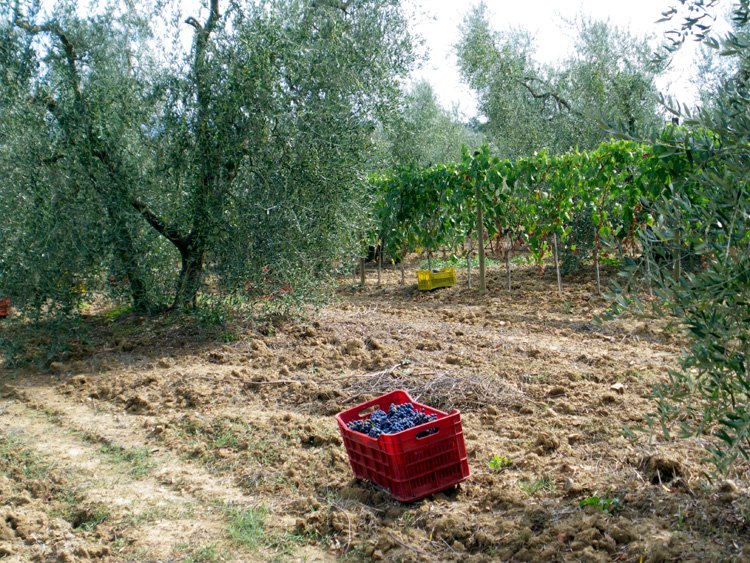 This is a good time of the year to go visit wineries. Remember to call ahead if you don't join a wine tour, because it is a very busy time of the year and some wineries might not accept unexpected visitors. (Here is a link to a nice Wine Tour in Maremma. We went in August, but you can get an idea of places to go to in the area. And for more information on wine trails in our area, check this page about the wines of Tuscany).
If you decide to stick to cities, you won't "feel" the grape harvest much. But if you go to any village in the countryside of Tuscany, you can really feel it in the air… or rather… smell it! Everybody has a little patch of land with a few vines, and you will see plenty of people unloading crates of grapes in front of their cellars in the village, washing the machine you use to press grapes, etc. The smell of must is intoxicating!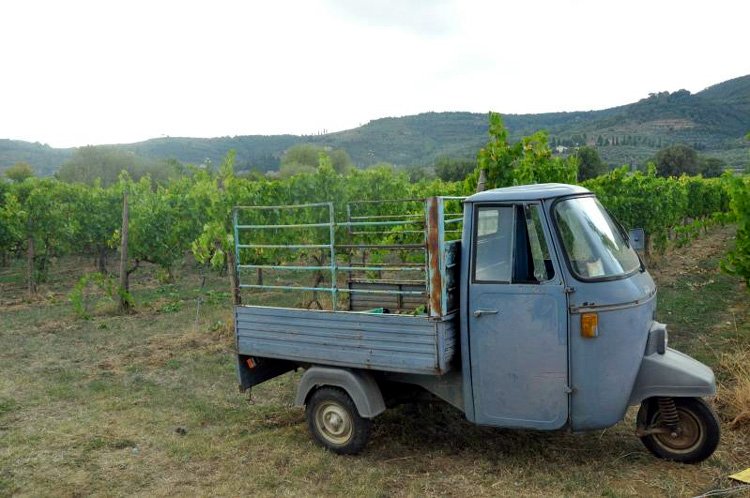 (Photo by mahlisuh)
Many people ask whether it is possible to participate in the grape harvest. Unfortunately, by law, only contracted and insured workers can work in the fields, so it likely won't be possible to actively participate in the grape harvest. However, if you participate in a wine tour, wineries might let you pick a few grapes just to let you experience how it's done. It depends on the wine estate and how flexible they are.
What is in season in September?
Nowadays you find all kind of fruit and vegetables all year round. In Italy however, we still tend to stick to what is in season, and believe me seasonal fruit and vegetables taste so much better!
(Photo by jo mclure)
So, if you happen to be in Tuscany in September, you can still find the last peaches and plums of the season, although they are not very good, but most importantly you can eat grapes and figs, which are in full swing in September. The first pears and apples are available, but they are not commonly grown in Tuscany, especially apples. The vegetable garden still offers decent tomatoes, carrots, green beans, egg plants, new potatoes, and bell peppers. The first fennels, leeks, broccoli, pumpkins, Brussel sprouts, cabbages of different types and cauliflowers usually make their appearance in mid to late September. Last but not least, mushrooms could be available if the weather is right and truffles are in season!
You might be able to taste fresh game meat: September is the month when the hunting season starts. Only certain birds can be hunted, and the most appreciated of all, the pheasant, can be hunted only after the third Sunday of September. If you go for a walk in the woods, make sure to wear something in bright colours.
Sagre or Village Festivals
September is a popular month for village festivals, so if you want to experience joining in the celebrations this is a good month. They are usually festivals dedicated to seasonal products.
Some festivals and fairs in our area are:
Sagra della Granocchia (dedicated to frogs) in Paganico – first weekend of September
Sagra della Salsiccia (dedicated to sausage) in Pari – last weekend of September
Other popular festivals and fairs which might be worth being incorporated in your travel plans are:
Festa dell'Uva (dedicated to the grape harvest) in Scansano, home to the Morellino DOC Wine – mid to late September
Festa dell'Uva (dedicated to the grape harvest) in Cinigiano, home to the Montecucco DOC Wine – last weekend of September
Maremma Food Shire – Braccagni,organized for the first time this year, this promises to be an interesting yearly event about the products of the Maremma.
Sagra del Vinsanto e del Ciambello (dedicated to vinsanto and a type of traditional biscuits) in Montepulciano – usually the second last weekend of September
Festa della Bistecca e del Fungo Porcino (dedicated to T-bone steaks and porcini mushrooms) in Certaldo, usually every weekend in September
Mostra mercato del tartufo e del fungo (dedicated to truffles and mushrooms) in Palaia – last weekend of September
Sagra del tartufo bianco e del fungo porcino (dedicated to white truffle and porcini mushrooms) in San Miniato, near Pisa – one of the most popular – late September.
What tourist season is September?
The first week of September is usually still considered high-season. But most hotels, vacation rentals etc. will consider Septemer mid-season. This means that travelling in September you can get great weather, lower prices, smaller crowds and a more authentic experience of life in Italy.
Moreover, you might be able to get some nice last minute deals because the tourist demand decreases.
Planning to get married in Tuscany?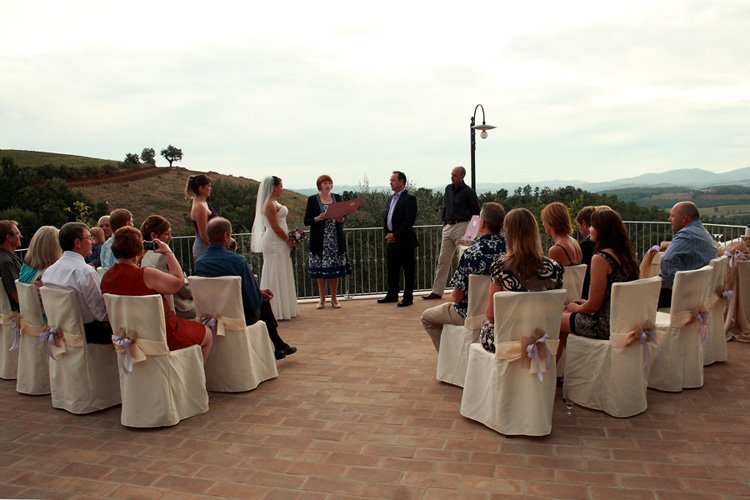 September is a popular month for weddings. It is still warm enough to have an outdoor wedding ceremony and reception. If you plan on getting married in Tuscany in September, you need to start planning at least 9 months in advance, possibly a full year, because wedding venues book up early. If you need help planning your September wedding in Tuscany, we recommend you get in touch with Boutique Events.
Looking for accommodation in Tuscany? Maybe for your honeymoon?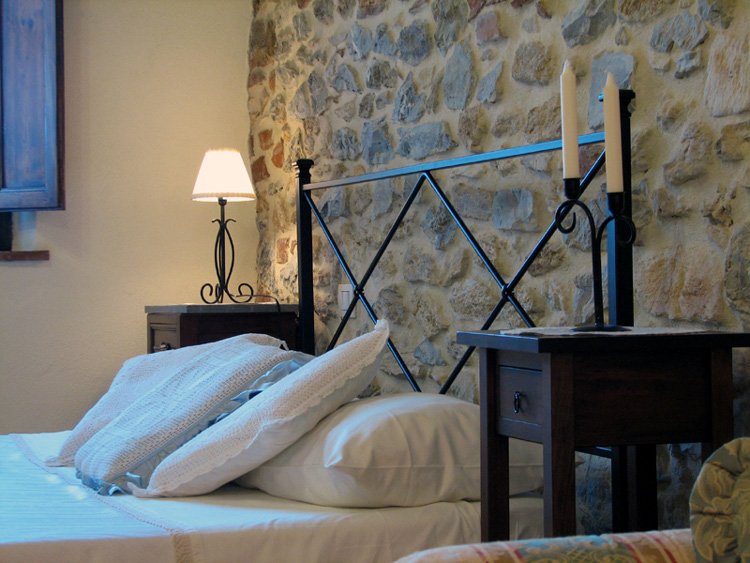 Look no further: check out our vacation house in Tuscany between Siena and the coast of the Maremma. Ideal base to explore southern Tuscany and a great deal! Top reviews available online!