This month's Italy Blogging Roundtable is going to be really interesting, for two reasons. First, we are sharing our topic with the COSI group folks (Crazy Observations by Stranieri in Italy). Second, we are talking about "authenticity", one of my favourite topics ever.
In fact, it was one of the first topics I wrote about. Some of my posts were controversial… and ended up in a real fight! But I felt the need to speak up for some of the things I was truly passionate about.
The third reason why I think this month is especially interesting for me is that I am "la mosca bianca" (literally, the white fly) of the group, the odd woman out. I am the only Italian to participate in our "enhanced roundtable". Let's see how it goes then!
I started writing about what "authentic Tuscany/Italy" means 6 years ago. A simple question by a lovely foreign lady got me thinking. She was visiting my village and she was truly surprised that people could survive in such a small community. And then I wrote The place you call a destination for some people is home. We tend to forget this way too often.
Of course, any serious reflection about the authenticity of a destination cannot but go hand in hand with the issues connected with local travel, sustainability and gentle travel. Gentle travel is the way to go, I wrote in 2009, and I still believe it. Just like back then, I still believe
in travelling slow, so that we can properly enjoy what is local, and actually learn from it. We do all we can to offer our guests this very same experience when we are the hosts rather than the travellers: we believe in offering a true and authentic local experience, in allowing people to see Italy and our life as it really is by helping them to take advantage of what the areas in which we are located have to offer.

I believe in promoting a type of travel experience which does not change the area in which I operate, but rather touches the people who come here. I don't want to exploit, but to enrich, both my homeland and the travelers who come see it.
And that is not a small thing. Tuscany, Italy and every place reached by mass tourism tend to change under the pressure of the tourist demand. You slowly start to morph into the object people expect to see. People stop coming to discover what Tuscany is like and start coming to see what they think it is like, and if it is not like what they had imagined (or had been led to imagine), they are disappointed and leave a thread of negative feedback behind them. And nobody wants that, so the destination "adjusts" so that it can be what people want it to be.
That is not healthy. That is like the plastic surgery you had to satisfy the aesthetic needs of your partner. It never ends well. And when the interest shifts from you to "the new you" (how many "new Tuscany" are out there?!), you are left changed, void of your identity, an icon, a set, an empty theme park.
We, the locals, should take responsibility for our choices, for our words, for the way we choose to promote our territory.
Like back in 2009, I still believe that words matter ("tourism is grounded in discourse" brilliantly wrote Graham Dann in 1996), and "local travel" should not be just a catch phrase.
I still hate the way movies/books like "Under the Tuscan Sun" or "Letters to Juliet" or "Eat, Pray, Love" depict Italy (see Letters to Juliet: here we go again) and huge commercial campaigns like the Gran Tourismo Project which pretend to discover hidden gems and only look into the big diamonds (please, please, read the comments to Hidden gems and popular spots, because they say it all). In so doing, they simply help those who don't need help and push into the background those who are already in the background. See Because it's not Florence everywhere… (aka the luck of the Irish).
I am still offended by the tendency of foreign groups to come teach us how you do things right, to bring along their own people, to exploit the area without giving anything back to the local communities (see Luxury travel and local communities). If you have to bring it from outside, it's not authentic. Period.
Authentic travel is about accepting things as they are. Sometimes they are not as pretty as you think they are, but that is why you should travel and demand to see Italy as it really is. Travel should take you out of your comfort zone, show you things you are not familiar with, different things from what you are used to. A destination should surprise you, it should teach you that life as you know it is not all there is out there, and people can live differently and just as happily.
Expecting the unexpected, Maledetti Toscani, and The survival of the fittest – aka living in Italy are three posts about what you can really expect when you come to Italy.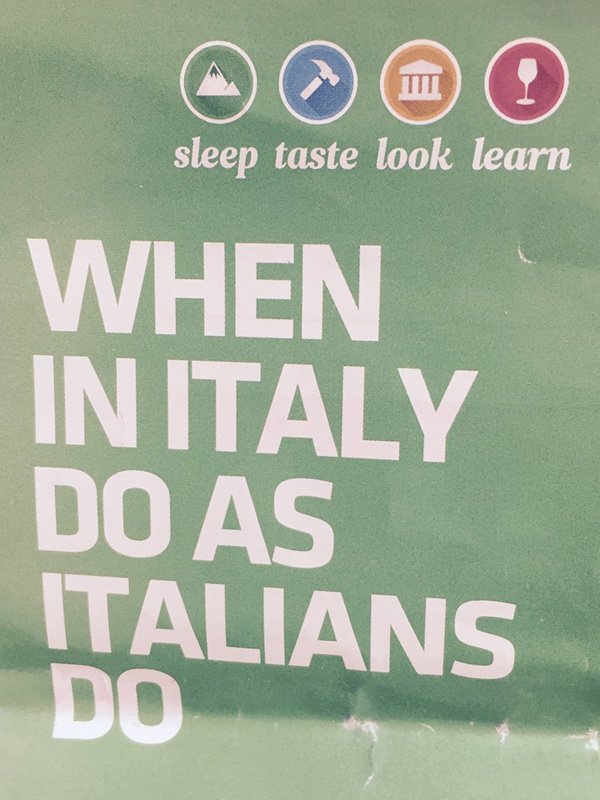 10 more things about authentic Italian living
Don't expect everybody to have a relaxed pace, spend hours drinking coffee or playing cards at the bar and be friendly and ready to entertain tourists. Most people will keep to themselves, work long hours and will not want to mix and mingle with tourists.
Don't expect to be served a bowl of olive oil and bread to dip it in. We do not do that.
Don't expect to be able to try an authentic plate of fettuccine Alfredo or spaghetti and meatballs. Those are not Italian dishes. They are Italian-American recipes.
Don't expect lavender fields in Tuscany. Lavender is only used in private gardens. People growing it extensively are growing it because tourists wanted to see lavender fields in Tuscany. It's exceptional.
Don't expect everybody to invite you over to share their meal. Italians have very little sense of privacy, but they do not open their homes to perfect strangers easily. If somebody does invite you over, it's a privilege, not the norm.
Don't expect people to whistle at you when you walk by. If that happens, it's not normal and it's not acceptable. Ordinary Italian men will not dare whistle or comment on a woman passing by (they haven't since the 60's).
Don't expect all women to live in terrible conditions subjected to male power… Some women choose to be housewives and to look after their children and husband. It is not a crime, it's a choice. The condition of women in Italy is the same as that of women in most western countries.
Don't expect people to raise their children like you would at home. Every country has its own style. We do rely heavily on the grandparents and the grandparents love it and expect nothing different, if you are lucky enough to have them close-by. We are overprotective of our children, and we do not like for them to run around half-naked in January and covered in dirt. That's right… Italian mothers!
Don't expect people to accept your dietary choices without rolling their eyes. Most people are starting to eat in an alternative way and to be familiar with different dietary styles but vegetarianism, gluten-free diets, and veganism are still looked at as something bizarre. Just ignore the comments (including those by my-absolutely-omnivore-self) and keep eating as you would at home (if you can…).
Don't expect to get in a relationship with an Italian man/woman and not enter in a relationship with his/her entire family. We come with a baggage. That's right: mums, dads, granparents, uncles, aunts and lots of cousins. But don't expect all Italians to have a large family with close ties either. More and more families are starting to be nuclear, with no close ties to relatives.
Italy Blogging Roundtable
This is a post in a monthly series called The Italy Blogging Roundtable. Here you can find the posts of the other bloggers who participate in the roundtable. Our topic this month was "Authenticity":