I have always wanted to write a post about what Tuscany is like at different times of the year. I get the question a lot from possible guests of our vacation rentals. So, I have decided this is my new "pet project" for the next 12 months, 1 month in Tuscany at a time! With a word of caution: every year things are slightly different and vary across Tuscany (no need to remind you that Tuscany is a big place, right? If so… please check my post about the various regions of Tuscany, thanks!). See all the posts in this series.
What is Tuscany like in January?
January is usually one of the coldest months of the year with February. However, there are usually a few days of winter sun, which are perfect for walks in the countryside or for visiting cities and towns!
Average temperatures range between 3°C and 10°C (37.4°F – 50°F) during the warmest hours of the day and between 0°C and 5°C (32°F – 41°F) at night. Occasionally, temperatures drop to -5°C – 0°C (23°-32°F) or below at night if we get a cold wave, like the one we have been experiencing for the past few days.
Days are still short: the sun goes down around 5pm. Trees are leafless (except for olive trees, cypres trees and some oaks) and so are vines.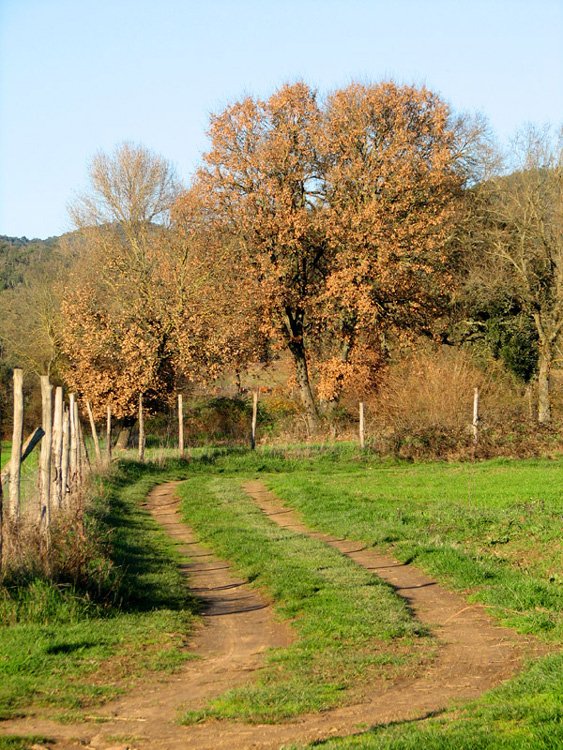 Some restaurants and other tourism-related businesses might be closed after January 6th, because the second half of January is traditionlly a very slow time of the year. Of course this also means that you can get great deals, so if you decide to travel in winter, January might be a good time of the year to visit Tuscany without breaking the bank!
Once again, we would like to remind you to beware of the slippery icey roads after dark. Snow chains and winter tires are mandatory from November 1st on, so make sure your rental car is equipped if you decide to visit Tuscany in January.
Weather-related legends and popular beliefs
The coldest days of the month are usually the so-called "giorni della merla" (literally, the blackbird days), that is, January 29, 30 and 31. Snowfalls or cold waves are in fact quite common at the end of the month.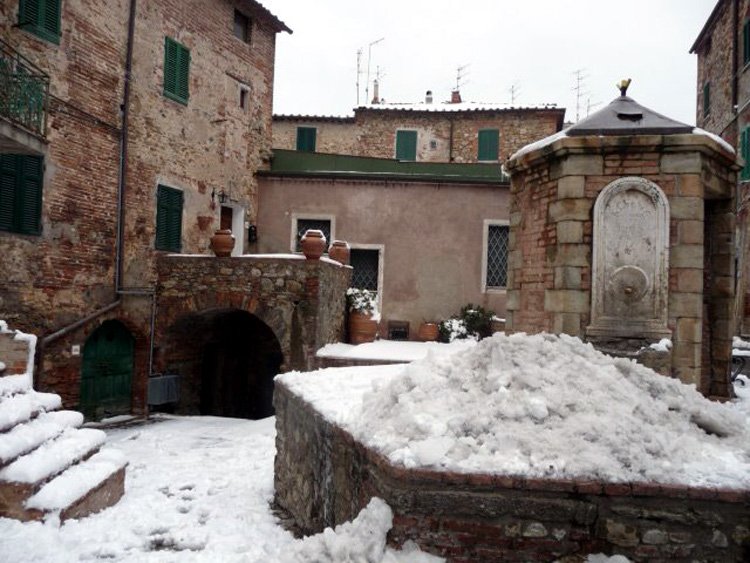 (Photo of our village under the snow by Alice Rossi)
The name of these three days comes from a legend.
The tale goes that a long time ago, January only had 28 days. Blackbirds were white then. They lived happily among the trees, and every winter they impatiently waited for the cold days to come to an end. One January, on the 28th day, a bold blackbird rejoiced and shouted to January, " Lord, I don't care about you anymore, winter is over!". January was enraged by this disrespectful outburst and asked February to lend him three of its days and made them the harshest and coldest days of all! The blackbird scared and worried moved its family away from the trees to a stone chimney on the top of an old farmhouse. For three days of terrible ice and cold they hid in the chimney and when February 1st arrived with a warm sunshine, the blackbird and its family emerged no longer white, but black and sooty. This is why blackbirds are born black and February only has 28 days instead of 31!
This is not the only weather-related story as far as January is concerned, though. The first 12 days of the month are called the Calends. According to a popular belief going back to the Roman era and possibly earlier than that, you can predict what the weather will be like over the following months by looking at the weather of the first days of January. Each day corresponds to one month, so January 1st corresponds to January itself, January 2nd corresponds to February, January 3rd corresponds to March and so on. If the weather on that day is good, the weather in the corresponding month will be bad, and viceversa. I remember my great-grandmother used to mark these things down on her Frate Indovino calendar!
If you forget to keep track of the weather during the Calends, you can observe the weather on St. Paul's Day (January 25th). There is another old saying which says "delle calende non mi curo, se a San Paolo non fa scuro", that is, "I am not worried about the forecasts of the Calends, if the weather is good on St. Paul's Day". It means that if the weather is good on St. Paul's Day, the year will be a good year.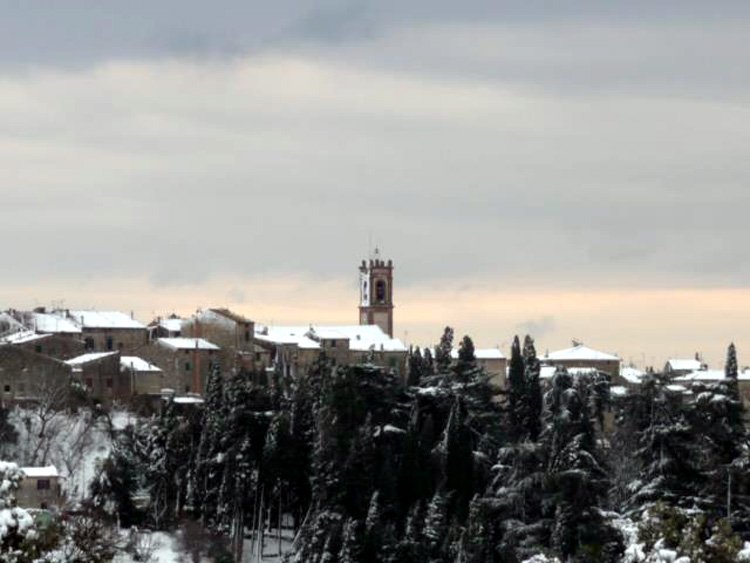 (Photo of our village under the snow by Alice Rossi)
Another ancient tradition consists in placing 12 half walnut-shells filled with a pinch of salt on your window sill on the night between January 24th and 25th. Each shell corresponds to a month. The shell which, on the following morning, contains melted salt will indicate that the corresponding month will be dry and hot. The shells still containing salt will indicate humid, rainy months.
What is in season in January?
Not much I am afraid. If you like oranges and clementines, however, this is the best time of the year to find delicious citrus fruit, even though they are not produced in Tuscany.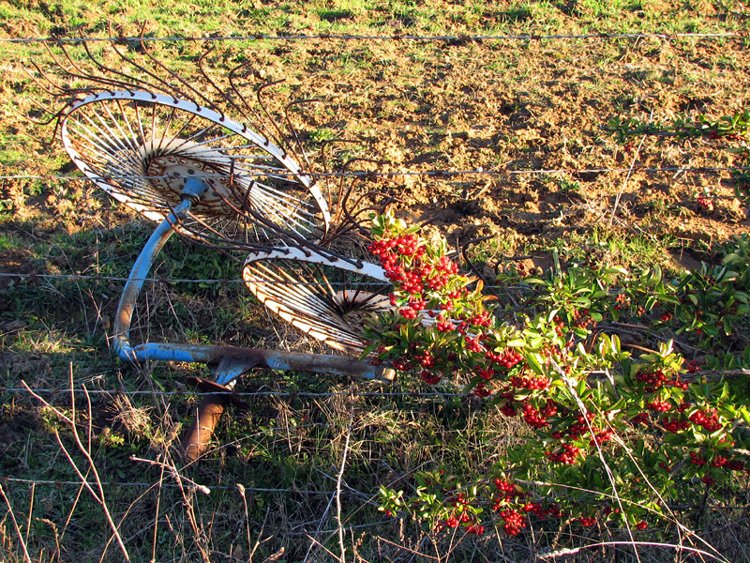 As for vegetables, broccoli, cauliflowers, seakale beets, fennels, radicchio, spinach, artichokes and cardoons are all seasonal products. If you have a chance, make sure you try deep fried artichokes and cardoons or a cardoon pie (sformato di carducci).
The end of the Holidays
The first six days of the month are still festive: the Holidays officially end on January 6th, the Epiphany, which is a very important religious holiday in Italy. Traditionally, it was more "important" than Christmas Day itself. The characters of three Wise Kings were added to the Nativity Scene and presents were exchanged.
Stockings were hung by the fireplace and at night parents… no sorry… the Befana… would fill them with treats and small presents for the children. If they had been naughty, they would also get garlic and coal! I still remember the sugar coal that my mum used to place in my stocking…!
The beginning of Carnival
Soon after the Christmas holidays are over, the Carnival celebrations start. It depends on Easter of course: the earlier Easter Sunday falls, the earlier Carnival begins.
The towns and cities celebrating Carnival with pageant parades like Viareggio will start organizing events.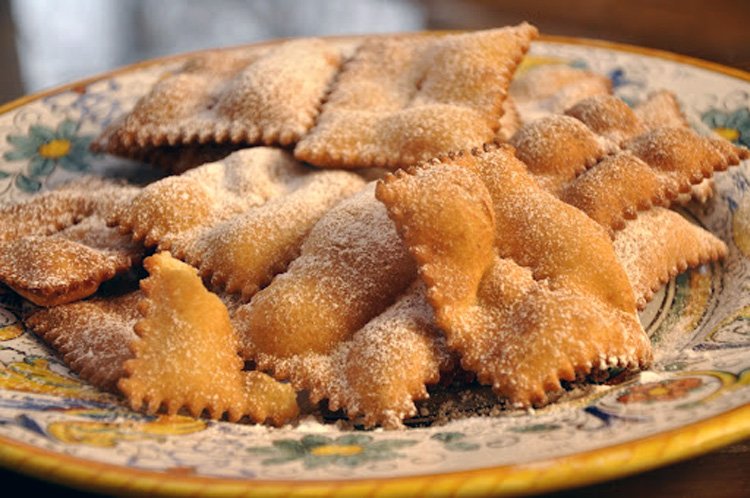 Bakeries and pastry shops will start selling the traditional Carnival sweets such as cenci (or crogetti as we call them in our area), fritters, and bomboloni! Watch out for "naughty kids" celebrating because you could find yourselves covered in spray foam and confetti!
Looking for accommodation?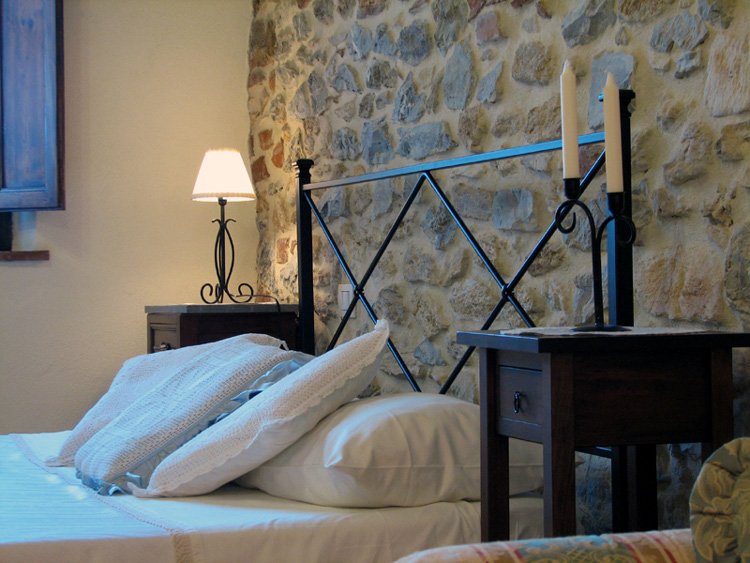 Look no further: check out our vacation house in Tuscany between Siena and the coast of the Maremma. Ideal base to explore southern Tuscany and a great deal! Top reviews available online!