Civitella Marittima is a rural village. Most people here own land. At least a patch of land, where they grow their vegetables or keep a couple of chickens.
My family owns land, always has, for generations. My great-grandparents inherited it from their parents, and passed it on to my grandparents. They handed it down to my parents and I guess, one day, hopefully in the distant future, they will pass it on to me and I to my kids.
I cannot imagine selling my family land. All my fondest memories are associated with it. If I think of my grandparents, I remember them sitting under an olive tree or feeding the chicken or making tomato sauce for the winter.
Most of what we eat comes from my parents' land. They make their own olive oil, wine, fruit and vegetables. And their own poultry and eggs, like most people in the village. My father's cousins have cows and pigs. They make milk and cheese and butcher meat. I have never bought chicken or an egg until I went to University. It sounds crazy, I know.
Now, this is all beautiful, even though home grown apples and plums are not as pretty as those you buy in the supermarket. And pretty much of all them have some "guest" living in their core! And of course I am happy that my kids get to eat organic food most of the time.
However, not having to buy fruit and vegetables also means that we only get to enjoy strawberries, apricots, plums and peaches for a very short time every year. But that is true pretty much everywhere in Italy, even if you have to buy produce at the supermarket.
Our diet is very seasonal and very local (although finding products from different parts of the world and culinary traditions is getting easier). People who come from places where you can find everything pretty much all year round, with very few exceptions, do not realize that here you can only buy what is in season and usually Italian, if not local.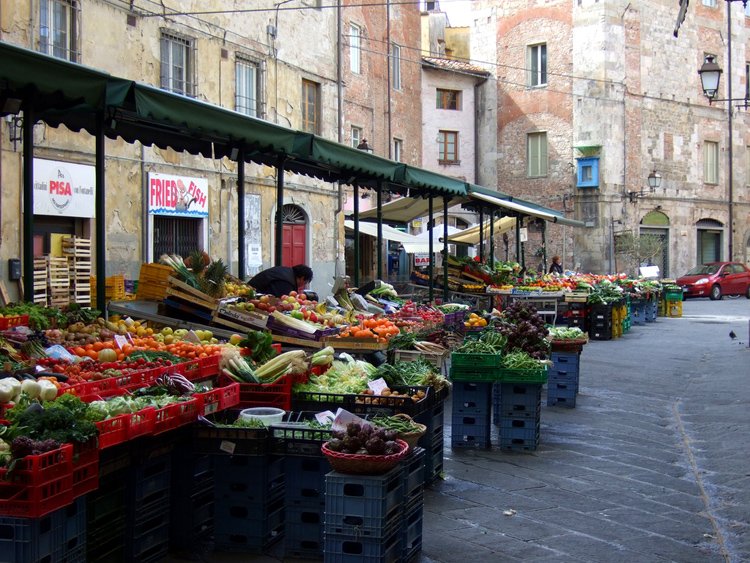 [Photo by Scott Brenner]
The advantage is that everything is fresh and tastes great. And every season comes with something special you haven't had in a while and really feel like eating. The disadvantage is that you are going to miss that special thing for months, especially fruit! Vegetables are in fact easier to get year round, because they are produced in green houses. But a the taste of July tomatoes are a whole different thing compared to January tomatoes.
If you aren't as lucky as we are and do not grow your own vegetables, most cities now have "botteghe a km0" or "filiera corta". These are specialty shops which sell products of the farms in the immediate surroundings, usually organic products.
In Pisa, the local farmers' association has open a market in Via delle Cascine. And downtown, I recommend you pay a visit to La Bottega della Leopolda. And the fruit and vegetable market in Piazza delle Vettovaglie is really pretty!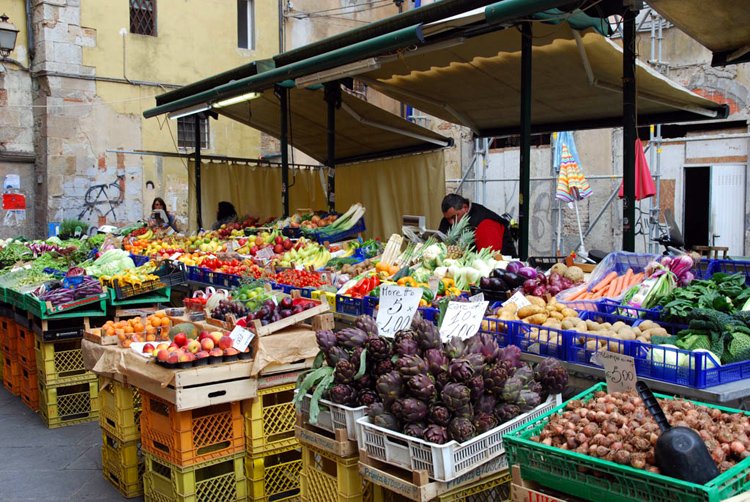 [Photo by drakulina_ak]
If you come to Pisa, check our our vacation rental apartment near the Leaning Tower.
If you wish to experience life in rural Tuscany, then you can't do better than Casina di Rosa.
Italy Blogging Roundtable
This is a post in a monthly series called The Italy Blogging Roundtable. Here you can find the posts of the other bloggers who participate in the roundtable. Our topic this month was "bugs":