So here we are again… it's World Nutella Day (we have to thank the two amazing ladies of Ms Adventures in Italy and Bleeding Espresso for this event)!!! Last year I missed it for some reason… I must have been in a coma or something just as serious because there is never a good reason to forget about Nutella! Two years ago I was on a diet, and I still managed to squeeze some Nutella into my food plan anyway: here you can read about my Nutella diet! This year I am not officially on a diet… I simply can't find the time to cook or eat since our baby Liam has arrived! Anyway… a girl can dream… and this girl is dreaming both of Nutella and of Carnival sweets today… And you know what? Put together they seem like the perfect match!
Crogetti: the Carnival sweets in my home village
There are many sweets that are traditionally made during the Carnival weeks in Tuscany: crogetti (elsewhere known as cenci or chiacchiere), zeppole (small deep fried dough balls), bomboloni (doughnuts), rice fritters (not in my area), and frati (deep fried dough rings – traditional of the Maremma area and named for the fact that they have the shape of a fiar's belt). But crogetti are certainly the carnival sweets.
They can be covered in icing sugar or honey and icing sugar, but around here many people aso put pastry cream on them.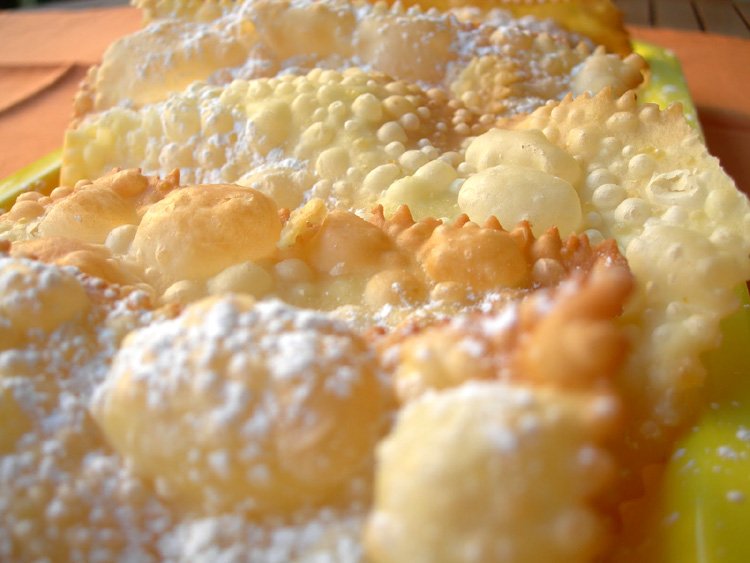 However, on World Nutella Day, they would be perfect with Nutella on top; so, if you feel like trying your hand at this traditional recipe, here you go!
Ingredients
300gr of all-purpose flour
10gr of baking powder
a pinch of salt
50gr of sugar
orange peel
30gr of butter
2 eggs
half a glass of vinsanto
olive oil
icing sugar
honey, custard or… Nutella!
Mix the flour with baking powder, salt, sugar, finely shredded orange peel and melted butter first and then add the eggs. Slowly add the vinsanto and some more flour if necessary (i.e. if the dough is too soft), and knead until the dough is smooth and not sticky.
Let the dough rest for at least 30 minutes under a cloth, and then slice it. Roll out each slice until it is very thin (I use the machine I use to roll out fresh pasta dough). Make as many crogetti as you wish from each strip by cutting it horizontally.
Deep fry the crogetti in hot olive oil and pour icing sugar or honey and then icing sugar on top. On World Nutella Day, forget about honey and cover them in delicious Nutella!!!
Zeppole: the Carnival sweets in Pisa
As most of you know, my "second home" is Pisa, the city where we work and where we live from Monday to Friday. Northern Tuscany dffers significantly from Southern Tuscany, not only in the landscape but also in its traditions. In Pisa around Carnival time you will find cenci (if you ask for crogetti they will have no idea what you are talking about), but you will also first and foremost find rice fritters (which in my home village are traditionally served on March 19, St. Joseph's Day and Father's Day and not at Carnival) and zeppole.
Zeppole are usually filled with pastry cream (custard) and would be perfect filled with Nutella on World Nutella Day!
So here is the recipe!
Ingredients
 3 eggs
200gr of all-purpose flour
75gr of sugar
a pinch of salt
vanilla extract
lemon peel
olive oil
icing sugar (or more regular sugar)
frying oil
Beat the eggs and slowly add sugar, salt, vanilla extract, the lemon peel (finely shredded), and three tablespoons of olive oil.  Add baking powder and flour and keep mixing until smooth. Heat the frying oil and pour small balls of dough into it  using a tea spoon. Fry until golden. Drain dry and fill them with Nutella using a piping bag or a pastry syringe. Roll the zeppole in icing or regular sugar and enjoy!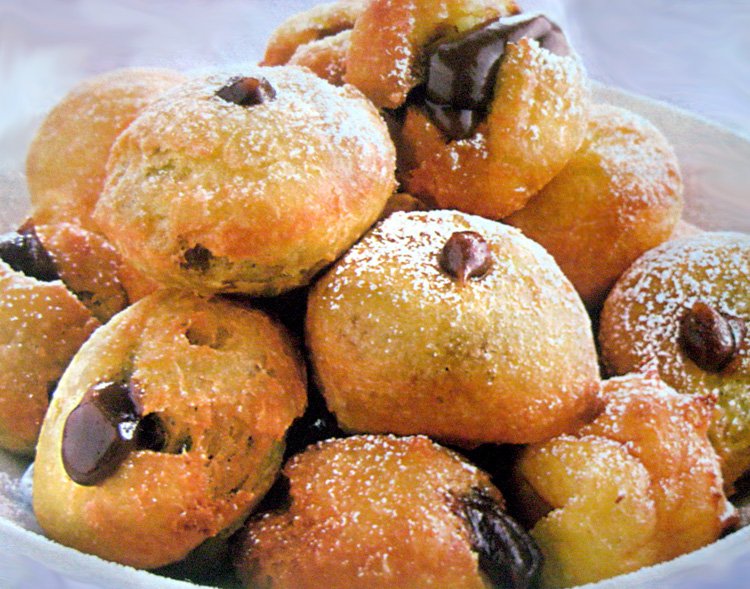 (From Manuale di Cucina)
Happy Nutella Day!