I have always wanted to write a post about what Tuscany is like at different times of the year. I get the question a lot from possible guests of our vacation rentals. So, I have decided this is my new "pet project" for the next 12 months, 1 month in Tuscany at a time! With a word of caution: every year things are slightly different and vary across Tuscany (no need to remind you that Tuscany is a big place, right? If so… please check my post about the various regions of Tuscany, thanks!). See all the posts in this series.
What is Tuscany like in December?
December is one of my favourite months of the year. It is essentially a festive month, with the holidays, the markets, the decorations, the delicious Christmas desserts!
It marks the passage from fall to winter, and can be either relatively mild or very cold. Average temperatures range between 7°C and 13°C (44°F – 55°F) during the warmest hours of the day and between 2°C and 4°C (35°F – 39°F) at night. Occasionally, temperatures drop to 0°C (32°F) or below at night if we get a cold wave, which is not a rare event in December.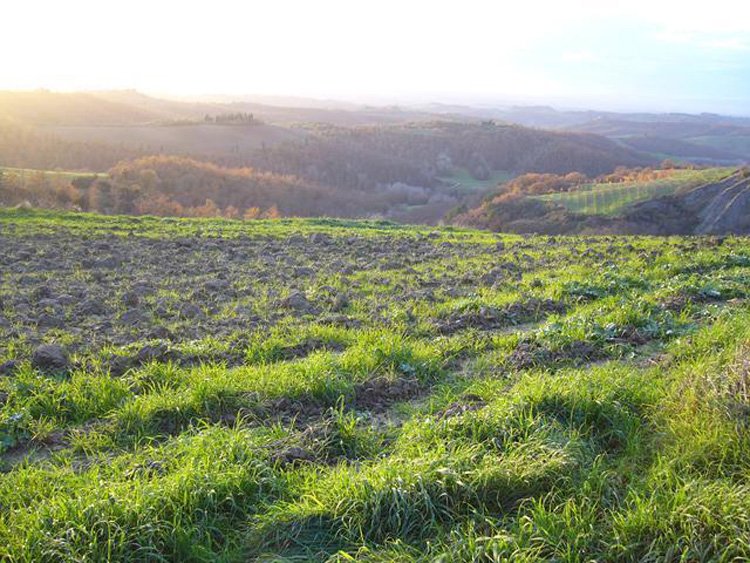 (Photo by fuyunam)
December is usually not the rainiest or coldest month of the winter, but occasional bad weather is to be expected. Snowfalls are rare, and snow rarely sticks for more than a day or two. Ice is much more common and people planning on driving should be very careful in the early morning and in the evening.
Last year (2010), we had a very very cold December, with 10 days of temperatures below 0°C (32°F) and several snowfalls, but in general, you should not expect a white Christmas. In fact, most Christmas days I can remember were sunny and mild.
Something to keep in mind if you are planning on visiting Tuscany in December is that days are very short: the sun doesn't rise until 7:30 am and by 4:30 pm it is already dark. So if you are planning a daytrip you should make sure to leave indoor visits for the late afternoon.
You will need to dress warmly and to wear waterproof footwear as well as a warm scarf at least, especially if you come from a place where winters are mild. If you come from a very cold country you will probably find the weather very pleasant.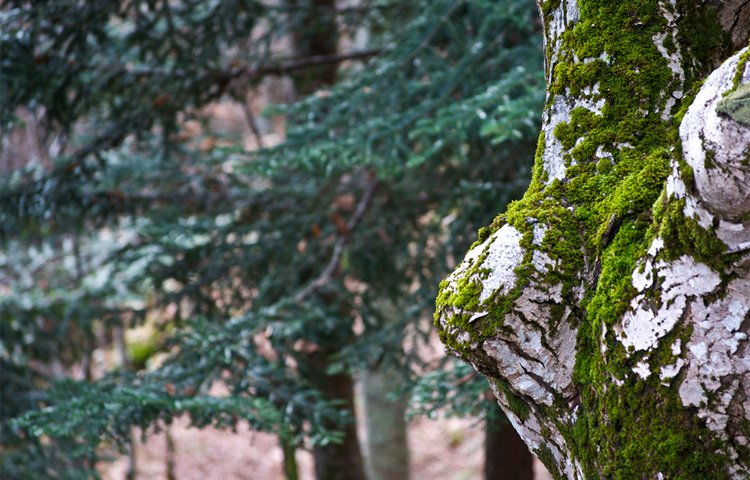 (Photo by TomStardust)
Everywhere it will be too cold to eat or sit outside, so when you choose your accommodation, make sure to opt for a place that is cosy and warm indoors rather than for a place which has nice outdoor spaces, because they will be wasted.
A very important thing to be aware of is that Italian homes are generally colder than North European or North American homes. Temperatures in the houses rarely go above 18°C – 20°C (64°F – 68°F; by law, every year a maximum temperature is allowed so as to reduce pollution and conserve energy). Do not expect a temperature at your accommodation which will allow you to go barefoot and short-sleeved in the house: you will have to dress warmly indoors as well as outdoors (please check our post about Hot and cold…life without a/c and heated floors).
In terms of landscapes, in December most trees will have lost their leaves. Olive trees, some types of oaks and cypress trees of course will still be green. Actually, with the cold, olive trees turn to silver, which is so pretty! If the olive harvest is particularly good, some people might still be picking olives.
Vineyards will be bare, and vines will have been pruned already, so not much to see there. But you can still visit wineries and enjoy the first vino novello of the season!
(Photo by evan.chakroff)
If you are "lucky" enough to be in Tuscany during a snow fall, you will have the chance to see the region in a very unusual way!
(Photo by silviabe)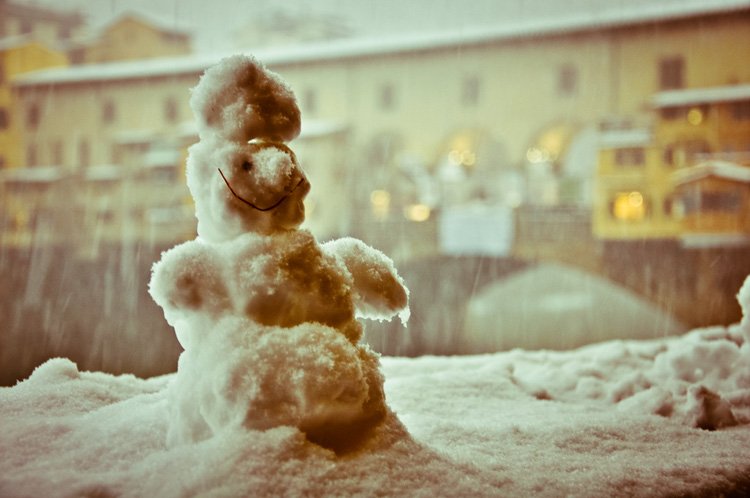 (Photo by pietromoleti)
It is not infrequent to see the countryside covered in a white layer of frost in the morning.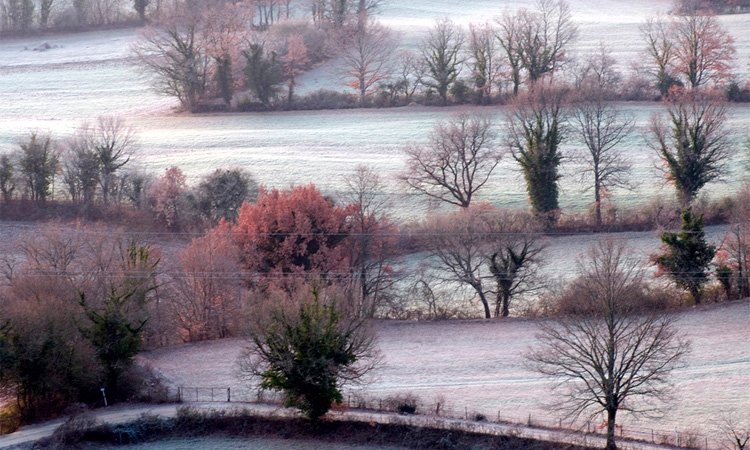 (Photo by Carlo Micheloni)
Once again, we would like to remind you to beware of the slippery icey roads after dark. Snow chains and winter tires are mandatory from November 1st on, so make sure your rental car is equipped.
What is in season in December?
In terms of fruit, December is a very poor month. You will find oranges, grapefruits, kiwis, apples and pears, which, however, are not typically produced in Tuscany.
As for vegetables, broccoli, cauliflower, artichokes, cardoons, turnip tops, fennel, leeks, radicchio, and spinach are in season.
You might still be able to find chestnuts and mushrooms if the season has been good.
Persimmons will also be ready and hanging from their pretty leafless trees.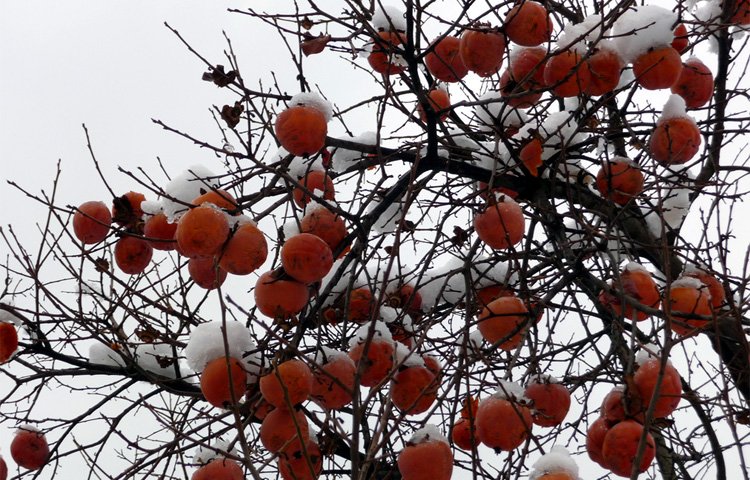 (Photo by blackit)
Don't be surprised if you find white grapes in the supermarket: it's traditional to have grapes and nuts at Christmas for good luck! Actually the tradition would require for everybody to have 7 different types of fruit on Christmas day, which is always a challenge, especially after an enormous meal!
The hunting season is in full swing so restaurant menus will be rich in game meat dishes, especially wild boar and pheasant.
The holidays
December is a festive month. The first holiday of the month is on December 8th: we celebrate the Immaculate Conception of the Blessed Virgin Mary. Schools are closed, and if the holiday falls on a Tuesday or on a Friday, there might be a long weekend for everybody.
December 8th traditionally marks the time when people start decorating the house for the Christmas holidays and the opening of most Christmas markets!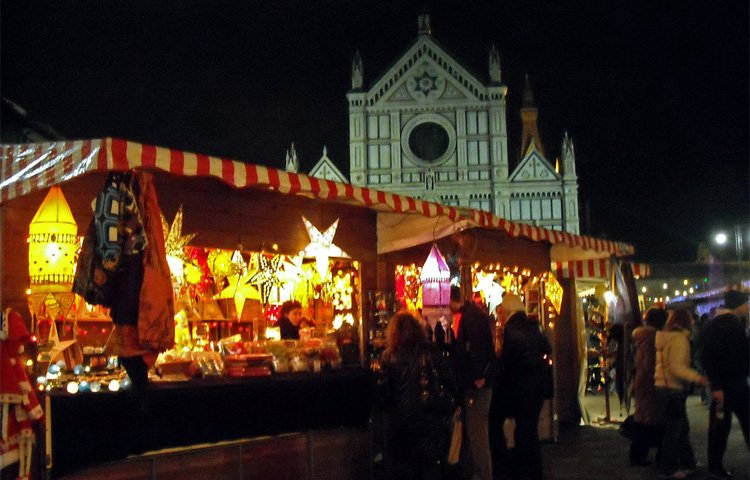 (Photo by Babj)
Some Christmas markets you might not want to miss:
Natale alle Logge in Montepulciano
Mercatino di Natale in Pisa
Mercatini di Natale in Siena
Florence Noel, the German Christmas Market and the traditional Fierucola di Natale in Florence
In December, the cities and their stores will be decorated with Christmas trees and other ornaments. They are very beautiful after dark! Don't expect the rich North American decorations, though: they are more modest but still magical!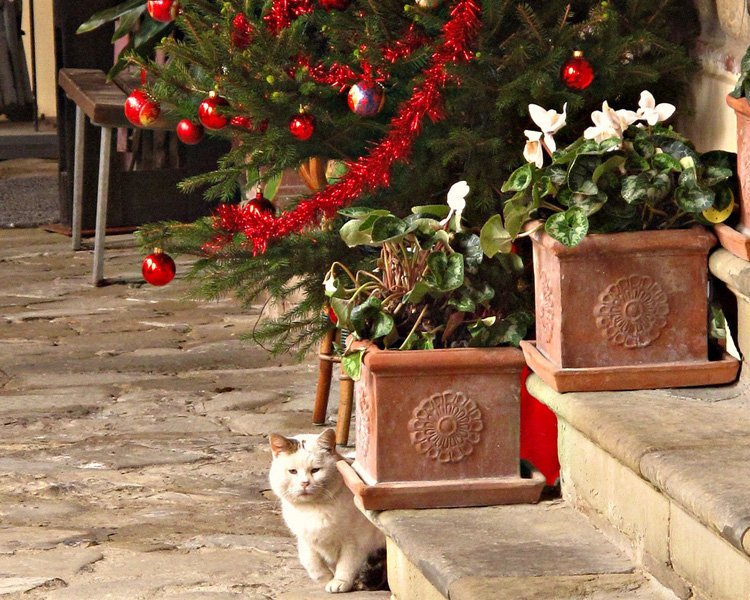 (Photo by andangio)
Christmas in Tuscany is the most popular holiday of the year and is traditionally spent with family. We even have a saying: "Natale con i tuoi, Pasqua con chi vuoi", meaning spend Christmas with your family, Easter with whomever you want.
A common misconception is that, on Christmas Day and St. Stephen's Day, restaurants will be closed. Museums, stores, and most attractions will be, but many families will choose to go to a restaurant so most of them, at least the least touristy ones, will be open and busy. If you plan on spending Christmas in Tuscany and having your big Christmas lunch at the restaurant, make sure you book ahead of time.
Depending on the area where you choose to be, restaurants might organize a big dinner on Dec. 24th and be closed for lunch on Christmas day. It depends on what is traditional in the area.
(Photo by davide – diploD)
In our area, we celebrate Christmas at lunchtime on the 25th with a huge home-made meal, usually made of 8 or more courses! You can read about Christmas in my family here: Christmas is almost here!
Something you should absolutely not miss are the traditional Christmas sweets, especially those from the Siena area: ricciarelli, cavallucci, panforte and panpepato. They are to die for!!!
If you happen to be in Tuscany around Christmas time, you should not miss the nativity scenes. There are some live re-enactments which are really beautiful.
For a long time, the Nativity Scene, called Presepe, was the only decoration in Italian homes. Now it is not so common anymore because it takes up some space, but every home will probably at least have a small one. You can read about presepe here: It's Not Christmas Without a "Presepe".
(Photo by Pteropus)
The last holiday of December is of course New Year's Eve, or as we call it here "l'ultimo dell'anno". Traditionally, New Year's Eve is either spent at home with friends and family gathered around the table for the "cenone" (literally big dinner) or celebrating in a square, where concerts and other events are organized in every major city and town.
Every restaurant will organize a "cenone", and you need to book well ahead of time. The prices are usually higher than normal, but the meal is made up of many more courses than usual. You will certainly be served cotechino or zampone and lentils, which is the traditional dish to bring good luck for the new year!
A special Advent Calendar
Last year I had fun creating this very special Tuscan Advent Calendar! It's just for fun… and it has a nice surprise at the end! But hey! Don't rush to open the last "window" though! Have fun!
Spending Christmas and the New Year in Tuscany
Every year we post some special offers for Christmas and the New Year in Tuscany. Check our vacation rentals websites for further information: links are in the side bar! Thanks!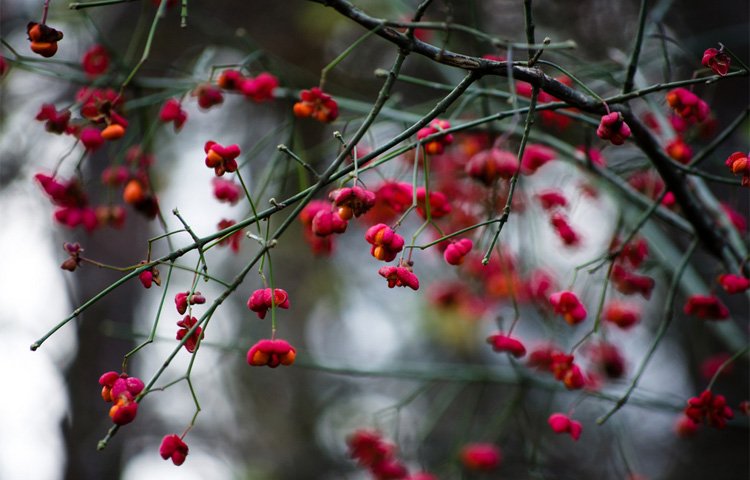 (Photo by TomStardust)
And if you want to know more about the holidays in Tuscany, you might find these pages interesting:
Looking for accommodation in Tuscany?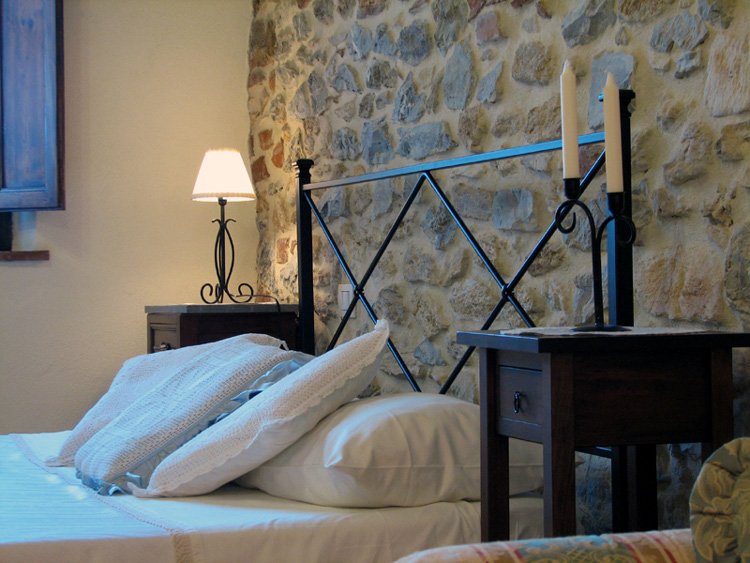 Look no further: come spend the Holidays vacation house in Tuscany between Siena and the coast of the Maremma. Ideal base to explore southern Tuscany and a great deal! Top reviews available online!