Today I had a very stressful morning so, when I went out to go to work, I was very pleasantly surprised to find out that it was a sunny spring-like day.
I don't think I totally realized it until I arrived in Piazza dei Miracoli. In Pisa, the unmistakable sign that the spring has finally arrived are the students having lunch and relaxing on the lawn by the Baptistery. Today there was even a group of school kids playing football in a corner of the square, by the city walls.

As usual these days, I felt a bit jealous of all the people on holiday, so I started looking at things around me trying to focus on things I might take for granted and leave unnoticed.
I loved the contrast of the white marble of the monuments of the Piazza and the blue sky.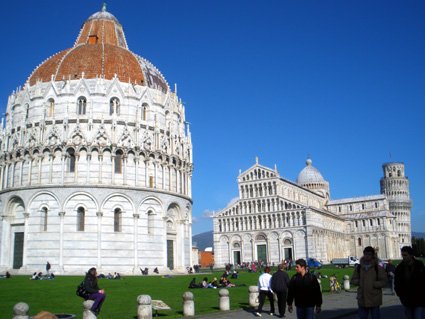 I also loved the distinctive  medieval features of the back of the buildings on Via Santa Maria. Their façades are less interesting in my opinion. They have been renovated, polished and often covered in signs, shop windows, gadgets on display and restaurant tables and menus.
Seen from behind though, they are "more real", and I like to guess what sort of people live or used to live in there.
My favourite building looks really old. You can see the bricks under the crumbling plaster. It has a small backyard hidden behind a high wall. From the street, I can see a very tall pine tree, and through a small, rusty gate, a semi-abandoned garden, with some junk and an old swing. I guess a family with children once lived there, and that a long, long time ago they planted a Christmas tree in their garden, next to the swing. Now the swing is covered in rust and weeds and the tree is at least 5 meters tall.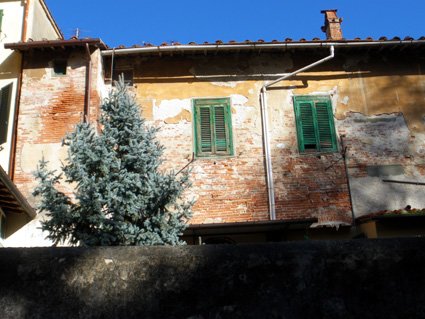 I loved coming out of the office after dark and walking in semi-deserted Piazza dei Cavalieri and Piazza dei Miracoli. I have always loved the square after dark: so peaceful, so quiet.
What I didn't like though, is the fact that it was much darker than usual. I think they are trying to save a few euros by reducing the lights.