I have just noticed that I published my last post more than 2 weeks ago. Bad Gloria. I have decided to write a more "personal" post today. One of those posts that I should probably include in the "feeling at home series"…
The thing is that I have been very, very busy at work and I have had very little time to do much else.
First of all, the tourist season in Pisa slows down but never really stops, so we have had guests checking in and out of our Pisa holiday apartment. Not complaining: quite the opposite! Living and working in such a popular destination is a great thing but it means doing several loads of laundry, cleaning, ironing and solving the usual problems that inevitably happen when you try to get out of town to enjoy those few free hours you have decided to take to recharge the batteries.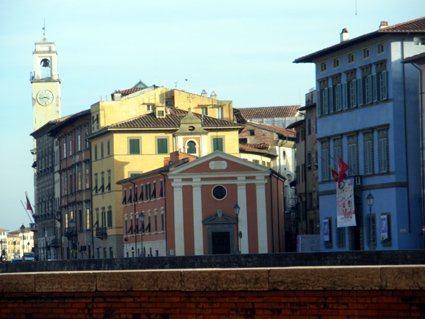 Secondly, it's exam time at the university and I always teach my courses during the fall term, which means that in January and February I have hordes of  students taking my exams. This is the part I like the least… when you have to read, correct and grade a test… 160 times. Or more. Yes, that's right. Between January 18th and today I have been reading, correcting, grading, listening, meeting students who didn't pass the test and need to retake it, meeting with students I am helping with their final thesis because they need to graduate NOW, preparing tests, photocopying tests, spending hours in the classroom while students take their tests, listening to complaining students, etc. I hate exams.
The thing most people don't know about the Italian education system is that students attend lectures (if they want) for a course at a certain point in time and they then have 3 years to take the exam for that course. They have 6 to 9 chances every year to take the same test over and over again, until they pass. Yes, that's how it works. Most teachers let them retake the test if they are not happy with the result. I only allow that once. On top of all of this, I have an eye infection that slows me down quite a bit, but I can't stop so it's taking forever to heal properly. So here you have an image of my life in Tuscany in January and February… not too appealing is it?!
Well, it hasn't been all bad. The weather over the past few weeks was fantastic. I could go out for long, long walks with my dog almost every day. We had a real taste of spring.
I dragged my husband on a "wedding planner" mission with me the other day (I am helping Lorella of Boutique Events more and more often when she has foreign clients, and I am enjoying it a lot!). We went to San Miniato, Certaldo and to a couple of pretty churches in between the two places. Believe it or not, in 16 years of living in Pisa I had never wandered in the countryside of the inland hills. It's beautiful! The San Miniato area is stunning.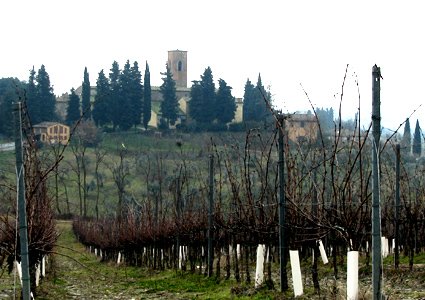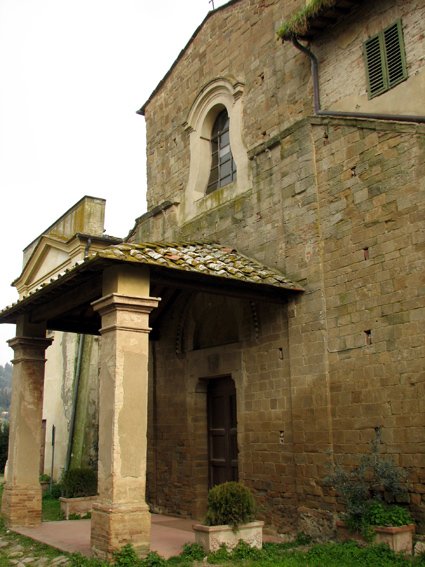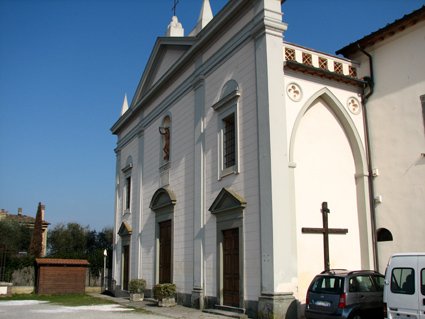 Over the past 5 weeks, we have spent most of the time in Pisa, because I needed to be here for some engagements at the university but also because we had guests checking in on Sundays so it didn't make sense to go back to Civitella for less than 24 hours.
I have to say that when I am away from home for more than 2 weeks I really miss it. For most people that's hard to understand but it's the small little things that I miss. This time it was the carnival sweets that made me homesick!! It's that time of the year when my mother and grandmother spend quite some time frying "crogetti" (here's something I wrote last year about Carnival in Tuscany). Of course I could buy carnival sweets in Pisa, or make them. We did buy some rice fritters (which are typical carnival sweets in Pisa, but not in southern Tuscany – we make those for Father's Day in March), some cenci, a zeppola (sort of miniature doughnut) but the point was not to have something to eat… it's the ritual. You know… smells and tastes that make a place your home, that bring back memories of a lifetime. That kind of things is what I missed.
I guess there are some smells and sounds that are the essence of living in a place, of a culture even. For me it's the kitchen smells of the Sunday morning or of the Saturday morning (which is when we go over for lunch at their place now). Lasagne, wild boar stew, various seasonal sweets. It is also the sounds. I grew up with my mum either taking me to church or having me watch mass on TV with her, so church bells or the mass on TV are also some of the sounds that mean "home" to me.
And then there is that funny feeling of "missing" things. Today my entire family is gathering at one of my father's cousins' home for lunch. It's that sad time of the year for pigs… They butchered theirs (they're farmers) so they have invited the whole family over for a "preview" of the products they will be selling soon.We are in Pisa, so we'll miss that.
My parents have two new puppies. We saw them being born but they are almost a month old now… I missed that too!
It's also the time of the year when the garden is prepared for the spring… my balcony in Civitella is a desert!!!
So… bottom line: tomorrow is my students' last exam day for this term and on Tuesday off we go to Civitella. And we will be there for a full week! It will be almost like taking a holiday!