A crazy beginning to March this year. Yesterday, Civitella was covered in 20cm of snow. Pisa was freezing and windy, and it sleeted all day.
While going back home from work, in the strong wind, something my grandfather used to say when I was a child came to my mind. He used to talk about the best time for his pigeons' brooding. He always said that even when spring seemed to have arrived and the last days of February are warm, the beginning of March is generally very cold. Apparently, age old wisdom works better than any present-day weather forecast!
This morning Pisa was very quiet. I walked through Piazza dei Miracoli at 9 am and there was nobody around. I guess many people got the day off because of the terrible condition of the roads between Florence and Pisa, where most commuters live.
The monuments in the square had funny colours against the low, dark sky. But the thing that caught my attention was a practically deserted Piazza dei Miracoli. Nobody climbing up the Tower, or looking at the merchandise in the many stalls. No street vendors by the city gate, no groups wandering around the cathedral.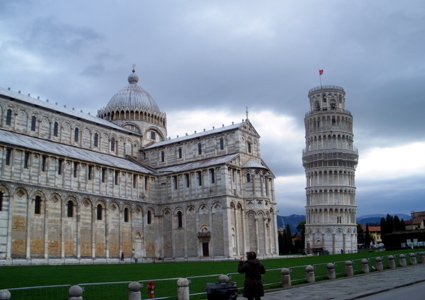 I looked up, and I saw the two guardians of the Tower sitting at the top, chatting and watching the few people walking around in the square. It seemed a funny image.
In the end, if you have to kill time and you are so lucky as to to work in such a beautiful place, you might as well take advantage of a slow day and enjoy it! Quite a privilege, though!!