When we woke up this morning, after a few days spent indoors trying to escape the massive heat wave that has hit Tuscany at the end of this crazy summer, our kitchen cupboards and fridge looked very very sad… A wasteland, basically! All we had was a couple of stale loaves of bread, some fresh tomatoes that thanks to my father's vegetable garden are always available, and not much else…
My husband was brave enough to venture to the Coop supermarket in the nearest village, while I was left contemplating the sad state of our provisions. And then it is when I realized I had very little, but I had everything I needed to prepare pappa al pomodoro!
Pappa al pomodoro is a bread and tomato "minestra", that is, a thick soup, and one of the oldest and most typical dishes of the Siena area. It is definitely one of the most representative dishes of the Tuscan cucina povera, the poor people's culinary tradition.
I hadn't made pappa al pomodoro in a long time, and it seemed the perfect choice to really get to the bottom of whatever was left of the food we had in the house before my husband came back with two large bags of fresh supplies from the supermarket.
So here is my recipe for a very authentic pappa col pomodoro, handed down to me by my grandmother!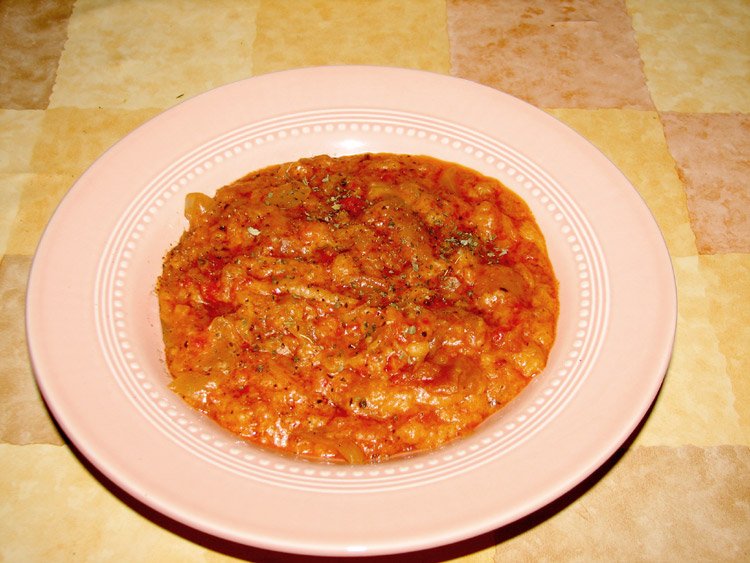 Ingredients for 2 people
abundant extra-virgin olive oil
3 cloves of garlic
1 small onion
pepper or red pepper
fresh or canned tomatoes
200 gr of stale unsalted bread
750 ml of broth or hot water
salt and sugar
fresh basil
Slice the garlic and the onion coarsely and sauté in abundant olive oil. Add pepper (or red pepper). Chop the tomatoes and add to the garlic and onions. Cover and cook for at least 10 minutes (fresh tomatoes might need 15 minutes) at medium-low heat, stirring regularly and adding a bit of warm water if the tomatoes start to dry up. Cut the bread into large cubes and add to the tomatoes. Mix and keep stirring for 2 to 3 minutes, or until the bread is well mixed in with the tomato sauce. Add 500 ml of broth or hot water and stir until the bread and tomato mix becomes a "pappa", a mush. Cover and cook for 15 more minutes, adding an extra 250 ml of water if necessary. After 15 minutes,  take the lid off, taste and add some salt if you used hot water instead of broth and a pinch of sugar if the tomato still tastes too acidic. Keep cooking until most of the liquid has evaporated and the pappa is thick. Pappa col pomodoro is ready when all the broth has evaporated and the only liquid left is some olive oil. Add fresh basil leaves and… buon appetito!