Today it's day 3 of the 31 day photo challenge and it's about "lunch". I couldn't think of anything that says "summer" more than prosciutto e melone. It is one of the most typical Italian summer dishes, but not as many people as I thought know about it. If you visit Tuscany in summer, you will certainly find it on the menu of most places serving light lunches.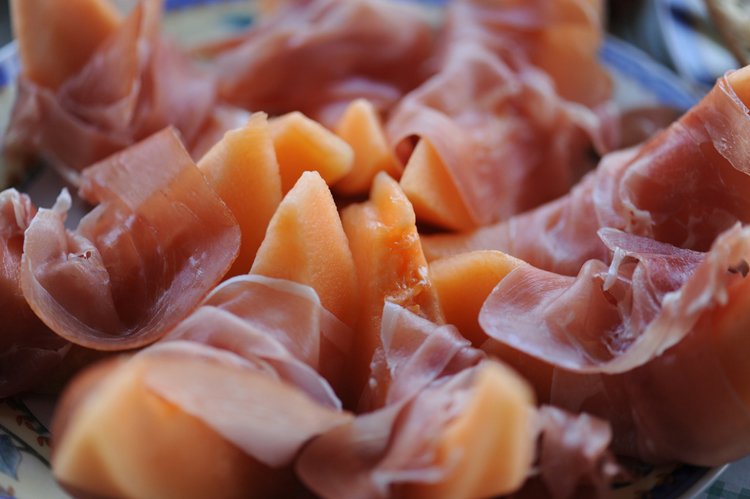 [Photo by Marco Derksen]
You need to like the mix of sweet and savoury food. I find it very interesting. I am not a huge fan of prosciutto per se, but I love the combination with the sweetness of the melon. Here, you will find it mostly in a combination of local melons and Tuscan prosciutto, which is very salty and usually quite seasoned. If you have self-catering accommodation though, you can buy your own ingredients at one of the local shops. This way, you can choose the type you prefer. I usually choose a semi-dolce (semi-sweet) prosciutto, which is not as salty and softer, less seasoned. But you could also choose prosciutto dolce, like San Daniele or prosciutto di Parma.
The tricky part is choosing a good melon. You can usually tell if a melon is ripe from its smell. But it's always partly good luck! That won't be an issue if you order prosciutto and melone at a restaurant, of course.
Prosciutto e melone is a full meal in most bars and restaurants where people go for their lunch break. On the other hand, if you go at dinner time, it might be listed among the aperitivi and served in smaller portions.
Looking for accommodation in Tuscany?
Look no further: check out our vacation house in Tuscany. Ideal base to explore southern Tuscany and a great deal! Top reviews available online!