I owe an apology to the FlipKey team, I believe. They asked me to contribute to their Tuscany  travel guide, which I did, and to share the happy news, which I never did. They have been kind enough to give me a badge as "travel destination expert", which I never had time to post. So here! I am rectifying that mistake!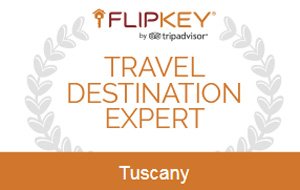 In my effort, I am in excellent company: to name but a few, Alexandra of Arttrav, Georgette Jupe aka Girl in Florence (whom I don't have the pleasure of knowing in person, but I have heard great things about her!), Nelson Carvalheiro, and Francesca Volpe. Well, if one is known by the company one keeps, I am all set!
I should be even more grateful for having been included in this amazing list of the 8 top Tuscany-based bloggers. Again, the company my blog keeps here is humbling: A Dusty Olive Green, ArtTrav, Girl in Florence, Juls' Kitchen, (which by the way has just celebrated its glorious 6th birthday!), Living in Florence, Surviving in Italy, and Tiana's Travels.
If you don't know FlipKey, (seriously?!), it's a vacation rental portal associated with Tripadvisor and the first one to integrate verified Tripadvisor reviews in the rental ads. We have two ads with them for our vacation rentals, Casina di Rosa and Behind the Tower.