My blog has been neglected for quite some time, but I have a good excuse, I believe! O January 14, we welcomed our daughter Emily Rose into our lives and a few days later, into our home.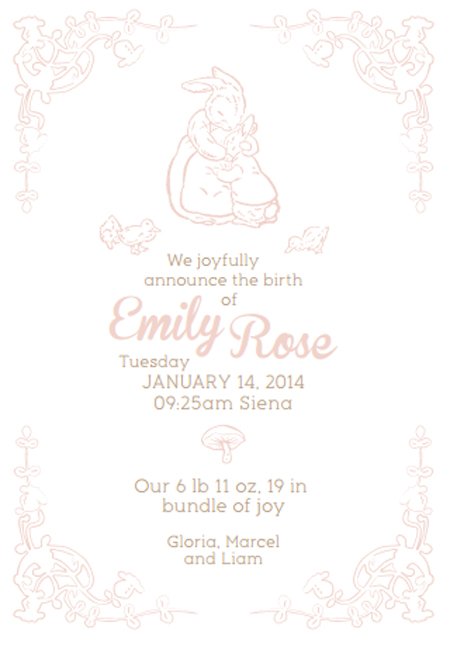 She arrived 3 weeks before my actual due date, and looked really tiny compared to Liam as a newborn. She has been the easiest baby up to now: sleeping, waking up to eat and going back to sleep on her own without needing to be rocked to sleep or anything.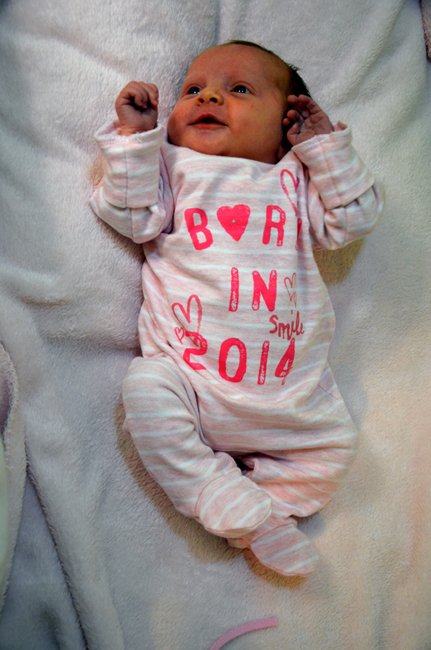 Even so, it has been a remarkable change for our family, because Liam is still very young (26 months) and fully experiencing his terrible twos mood swings.
This has basically meant very little time for blogging. But, since Liam deserves to get just as much time, love and attention as before, I have found the time for some baking! He likes waking up to the smell of a freshly baked cake in the morning, and breakfast is one of those great family moments you hardly get when the day has really started.
So I have been baking pies and cakes. I have been baking the cakes that reminded me of my own childhood breakfasts: crostate alla marmellata di frutta and something I hadn't had in 30 years, torta di riso or rice cake. I had the unstoppable urge to bake one after browsing Giulia's amazing blog Juls' Kitchen and reading about her torta di riso. On more than one occasion, I have told her that when I read her stories, it feels like a déjà-vu, with slight variations. I guess we are simply on two slightly different areas of the same Sienese culinary world, but she cooks better than me, she writes better than me and (wow) she most certainly takes better photos than I do! So if you didn't already know her blog, check it out right away. It doesn't get more authentically Tuscan than this. And she has a book out too, so next time you are looking for a present with a real Tuscan flavour, well, that is definitely it.
I have been posting photos on my Facebook profile and many friends have asked for the recipes, so I thought this would be the perfect opportunity to start blogging again.
Both crostata and torta di riso rely on the same type of pastry: pasta frolla, which is very similar to shortbread.
This is my recipe.
Pasta Frolla
Ingredients for a 24cm (9,5-10 in) pie:
320 gr flour
240 gr butter
80 gr icing sugar
powdered vanilla extract
3 egg yolks
Mix butter and flour quickly with the tips of your fingers, until you end up with a sort of coarse-grained flour. Add the icing sugar and the vanilla extract. Add the three egg yolks and knead the dough until smooth.  Place in the fridge for 15 to 30 minute so that it can reach a consistency suitable for rolling.
Butter and cover in flour a baking tin (or you can use baking paper). Roll the dough, but leave aside some to make "stripes" for the top of the crostata. I use baking paper to roll my dough, and then I place it on the tin upside down, and remove the paper gently. This makes placing the dough in the tin easier and reduces the risk of tearing it.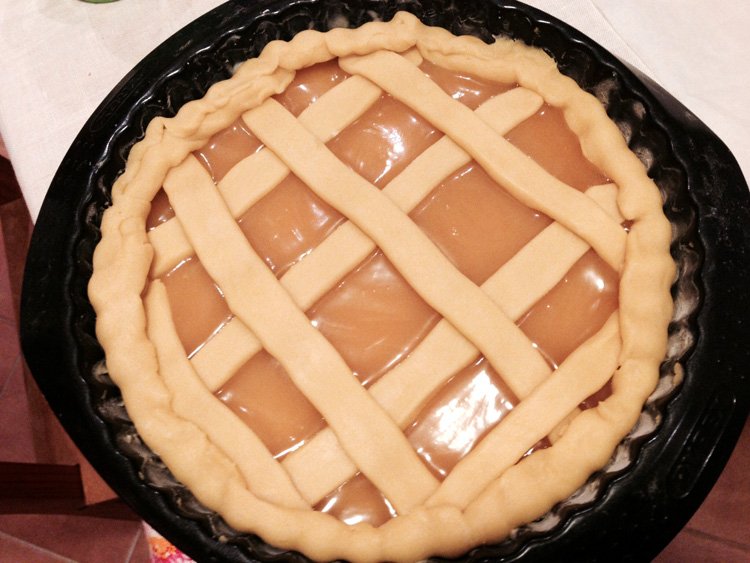 Ingredients for the crostata
If you are baking a crostata, after placing the dough in the tin, spread jam (or chocolate or cream or lemon curd as in the crostata in the photos) evenly on top of it. Use the dough you set aside to make the stripes which give crostata its typical "checkered" look.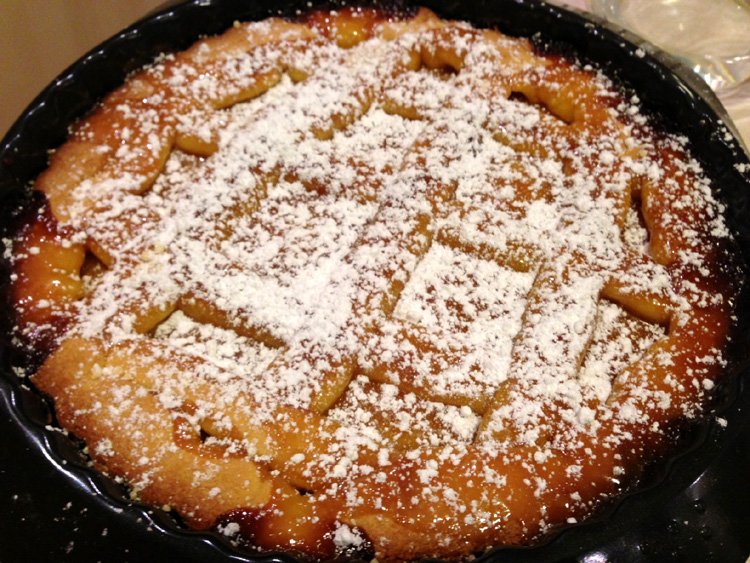 Bake at 180°C (350°F) for 40 minutes. I recommend covering the pie with aluminum foil for the first 20 minutes and bake it uncovered for the remaining 20, so that the jam does not dry up too much.
Ingredients for torta di riso
800 mls milk
lemon zest
200 gr rice
sugar
1 tsp of liqueur
raisins or chocolate chips
2 eggs
icing sugar
Place the milk and the lemon zest in a pot and when it starts to boil add the rice and cook until the rice is slightly overcooked and there is no more milk left. Add 2 tbsp of sugar and let the mix cool down. When the rice has cooled down, add a teaspoon of liqueur (I usually use cointreau, amaretto or brandy, but you can use anything you like) and two more tbsp of sugar or more, to your liking. Add raisins or chocolate chips. Separate the egg yolks from the whites and add the yolks to the mix. Whip up the whites and add stirring gently with a spatula or wooden spoon. Pour the mix on the dough in the tin and spread evenly. Fold the extra dough on top of the filling.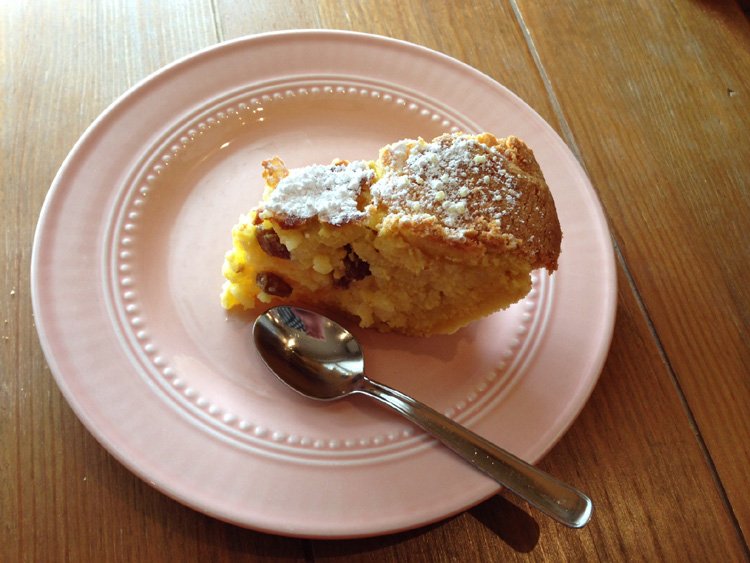 Bake at 170-180°C (340-350°F) for 40 minutes. Take the cake out of the oven and sprinkle icing sugar on it. Let it cool down before serving it.
If you want to learn the basics of the Tuscan cuisine, we are happy to help our guests at Casina di Rosa or Behind the Tower arrange for a cooking lesson.