First in English…
When Silvia, aka Ms Trippando, invited me to participate in her neat "Tombola dell'Avvento" (you can read about this very special Advent Bingo here), I was very happy to accept. I think I am the only one who doesn't have a blog in Italian, so I might have a bilingual post for once (Italian below)!
Most of the other bloggers posted lovely DIY ideas for Christmas decorations, mostly things to do with your kids. I am not very handy, I'll admit, and my son Liam is only 2 and has very little patience for crafts at the moment (unless destroying them is involved of course!). Maybe the new baby girl who is on her way will be more inclined to spending time doing Christmas arts and crafts with mummy! But we will have to wait for a while and see what happens!!!
So, I decided to write about a topic that is more of interest to mum and dad than to kids: the tastes of the holiday season in our Tuscan – British – Canadian household.
I believe multicultural families are becoming more and more common in Italy and I see that as an enrichment and not as a loss for our culture.
We haven't given up on anything which is traditionally Tuscan, neither do we (try to) give up on what is traditionally British-Canadian.
The most interesting thing over the years we have been together has been to try to reproduce as much as possible what you would normally find on a Canadian or British Christmas table. Of course, we have no problems in respecting the local traditions, because we live here, so we can easily find and stuff our face with the typical Christmas sweets of our corner of Tuscany (ricciarelli, cavallucci, panforte, panpepato) and the super-local ciambellini rossi and ciambellini con l'unto. My entire family is here, so we always have Christmas lunch with them, including uncles, aunts, cousins and their kids now that we are all grown up.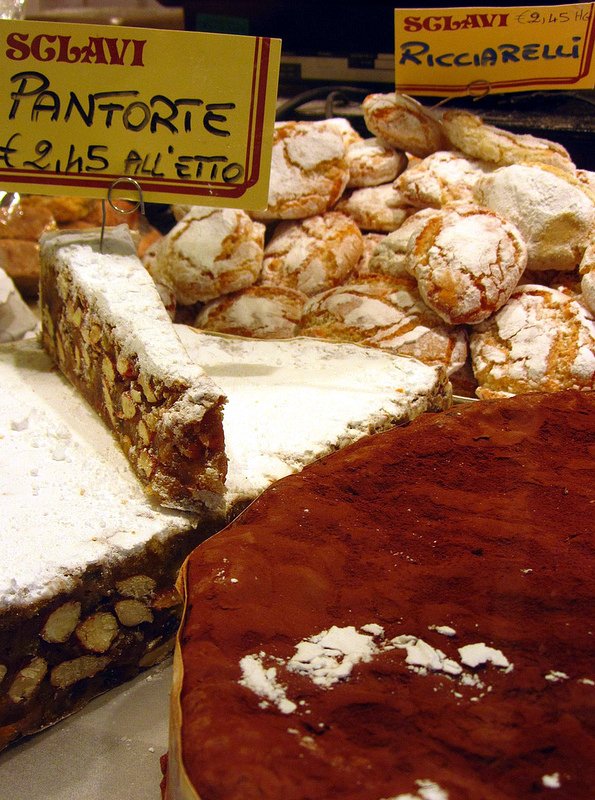 (Photo by Pranav Bhatt)
Our Christmas lunch always includes the typical dishes of the Upper Maremma's culinary tradition (I come from a family of farmers and butchers so it's usually high in proteins!): various entries (antipasti – usually crostini), a home-made pasta dish which varies every year, ranging from tortelli maremmani to lasagne (which we call pasta al forno here), from tagliatelle to gnocchi; a second first course, usually broth with tortellini, followed by boiled meat (including tongue… yes, I know… but we love it!)  with several sauces. Then it's time for some game meat (my dad is a hunter), usually hare, pheasant and wild boar meat with various side dishes and then it is finally time for desserts.
(Photo by Conanil)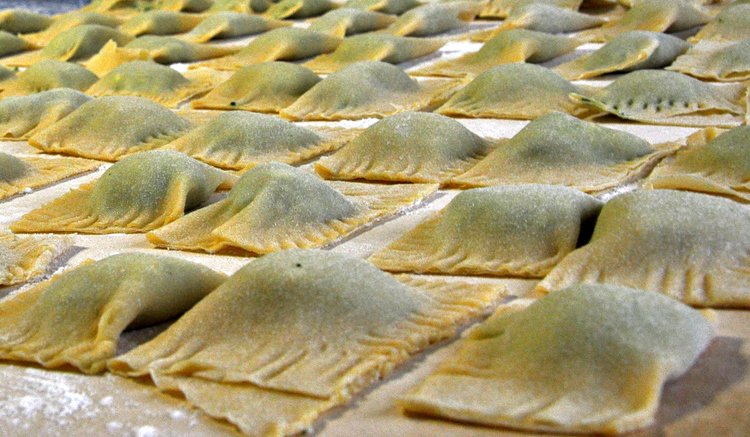 (Photo by Massimo Biondi)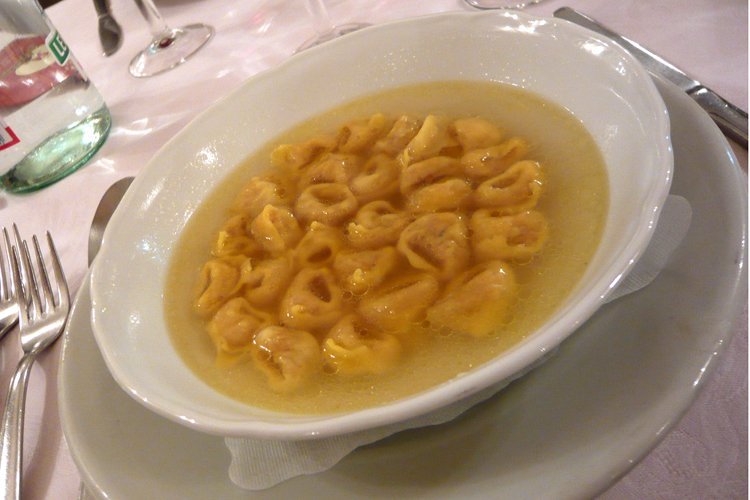 (Photo by Jessica Spengler)
When it comes to dessert, my village is closer to the traditions of the Siena area than to those of the Maremma area. We are right halfway between the two after all. My grandmother spends days preparing ciambellini and cantuccini and crostate and whatever comes to her mind over the holidays! Her "signature dessert" is what she calles "palle di neve", literally "snow balls". It is essentially zuppa inglese (layers of sponge cake and custard) with little balls of egg white which have been cooked in milk (hence the name). She dyes some of them with alchermes too. I need to take a picture this year!
And of course no Christmas lunch can be complete without a slice of panettone or pandoro, or a piece of torrone, which are not traditionally Tuscan, but are now part of the national Christmas food heritage!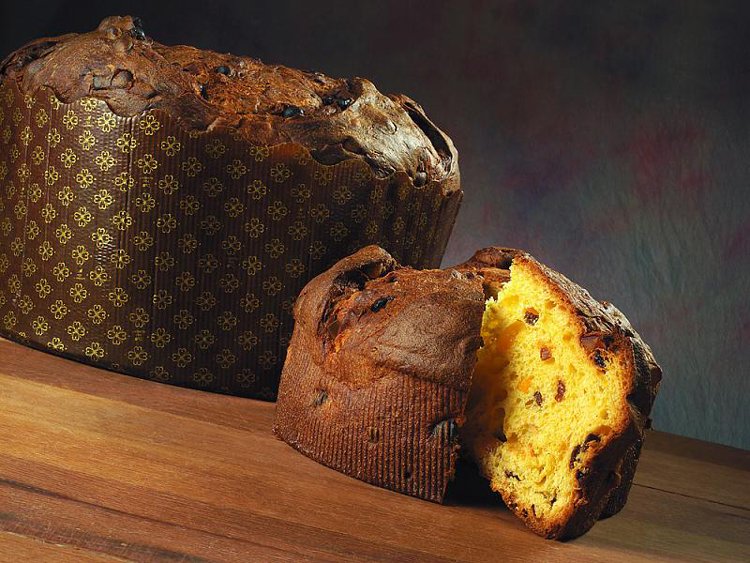 (Photo by Mirko Bonazza)
We are lucky enough that part of my husband's family also lives in the area, so we get to experience the British-Canadian tradition too. We usually leave my family's table with icing sugar from the ricciarelli still on our face and move on to my mother-in-law's table ready for soup and roast turkey!!! Somebody has to make the sacrifice, right?! The timing is perfect. We spend Christmas Eve with my in-laws, Christmas lunch with my family, and Christmas dinner (well, whatever you want to call the meal that starts around 5pm…) at my sister-in-law's place, and then on the 26th we are back at lunch with my family to try and eat some leftovers… We essentially eat for 72 hours straight. And suffer for the next 72 hours, while still munching at left overs…
The quantities and the tastes there are completely different, but our Christmas is a bit like a food tour!  For me, their Christmas meals are essentially ethnic food, and that's the beauty of living with a person from a relatively different culture!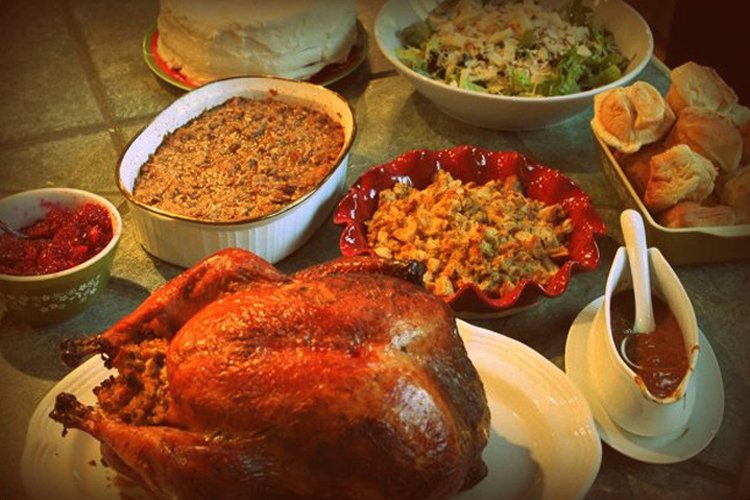 (Photo by Michelle Anderson)
Our panettone is the subject of endless jokes at my in-laws' table. For them, used to much richer desserts, panettone and pandoro are essentially two dry loaves of sweet bread, served for the sole joy of my brother-in-law and myself! Very considerate after all! They serve Christmas pudding, Christmas cake, and then chocolates and maybe trifle (a dessert made with baked fruit covered in custard and cream), ginger bread and short bread. Very different tastes from the ones I am used to, but lovely.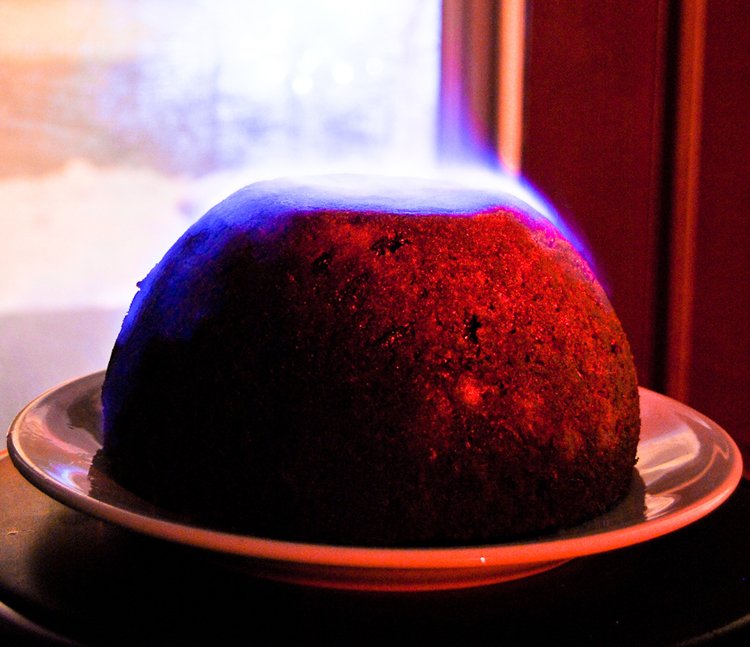 (Christmas pudding – Photo by Steve Johnson)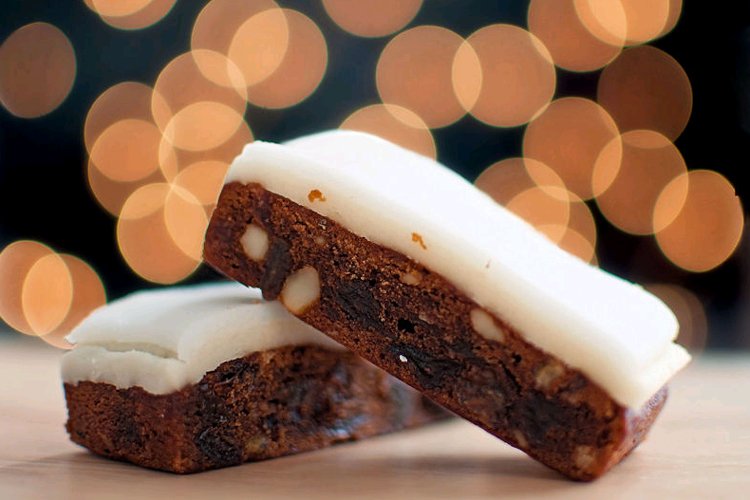 (Christmas cake – Photo by Michelle McMahon)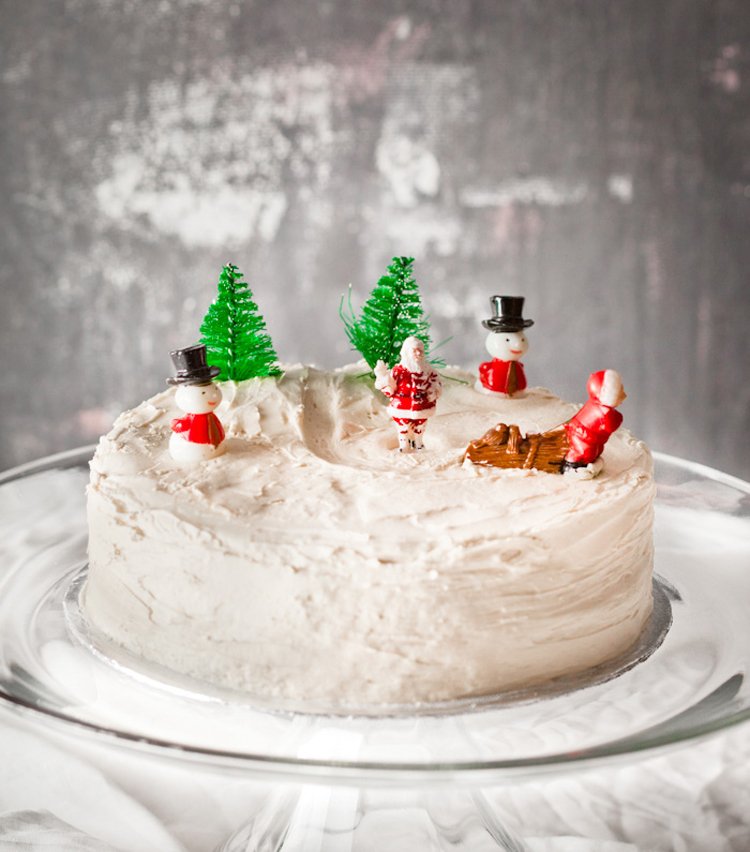 (Christmas Cake – Photo by Matt Wright)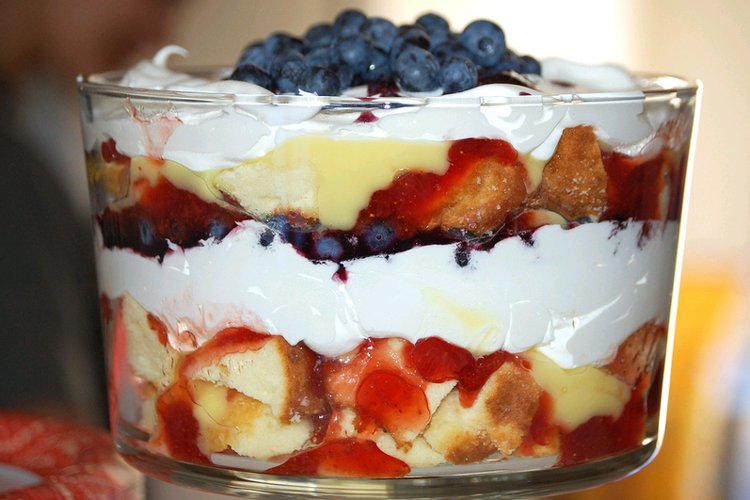 (Trifle – Photo by CiCi Joseph)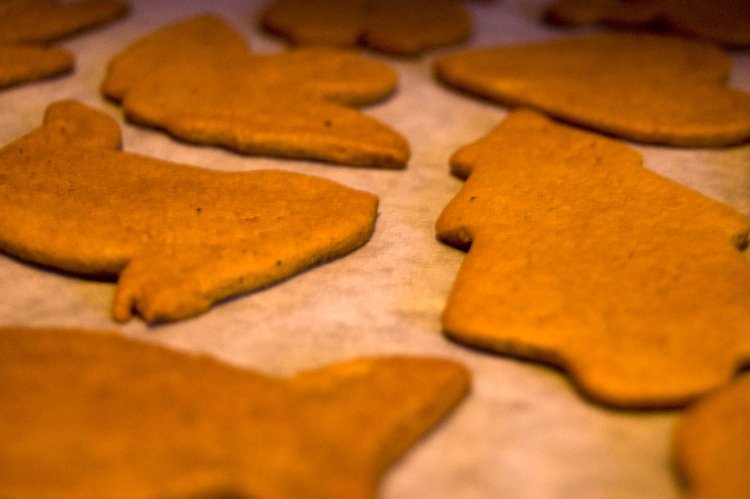 (Gingerbread cookies – Photo by Annette K)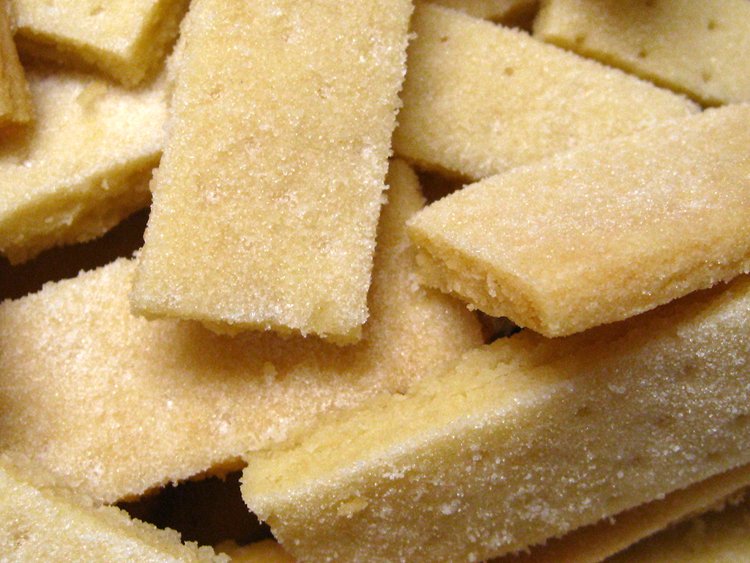 (Shortbread – Photo by Luise McFarlane)
There is one particular drink that I thought was unique of the Anglo-Canadian tradition: eggnog, a dairy-based beverage traditionally made with milk and cream, sugar, and whipped eggs. It is often garnished with a sprinkling of ground cinnamon, nutmeg, or pumpkin spice. In this basic version, it is a perfect Christmas drink for the entire family. But usually, brandy, rum, whiskey, bourbon, vodka, or a combination of liquors are added… which makes it more suited to mum and dad than to the little ones! Finding eggnog in Italy is, at best arduous, for us up to now, impossible.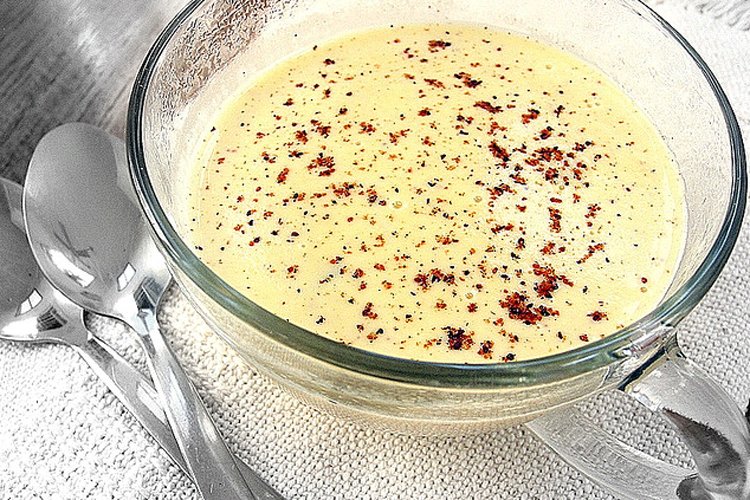 (Eggnog – Photo by Southeast Star)
Last year, I discovered in Northern Italy something similar exists, even though only in the alcoholic version: bombardino. It is essentially eggnog with brandy, Vov (an egg-based liqueur) or rum (in which case it is called "pirates' bombardino").  Problem solved: a new flavour added to our holiday table (even though just for the grown-ups…)!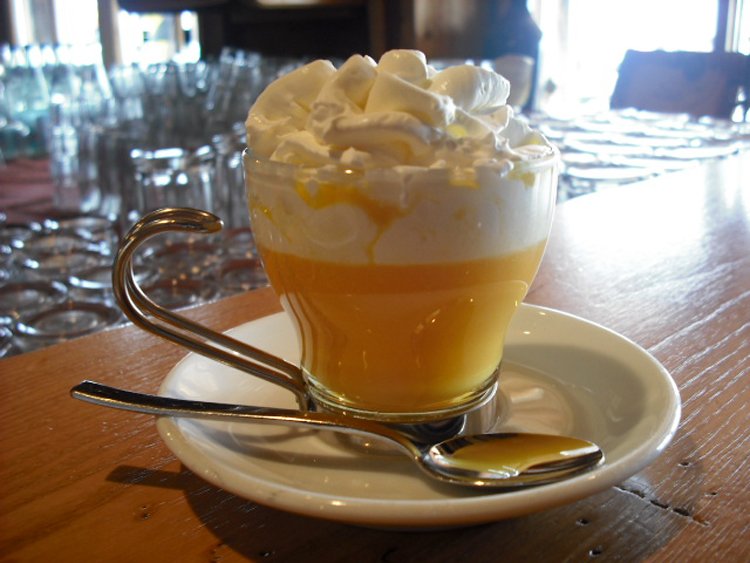 (Bombardino – Photo by Dany Gandi)
Merry Christmas everybody!
…then in Italian…
Quando Silvia, ovvero la sig.ra Trippando, mi ha invitata a partecipare alla sua carinissima "Tombola dell'Avvento, ho aderito con entusiasmo! Penso di essere la sola nel gruppo a tenere un blog in inglese, quindi questa volta mi sono sforzata di fare un post bilingue!
Gli altri bloggers hanno per la maggior parte pubblicato articoli su graziose decorazioni natalizie "fai da te", perlopiù cose da fare con i bimbi. Io non sono molto brava in queste cose, lo ammetto, e mio figlio Liam ha solo due anni e pochissima pazienza per i "lavoretti" (a meno che non si tratti di distruggere qualcosa ovviamente!). Forse la nuova bimba che è in arrivo sarà più propensa ad aiutare la mamma con le decorazioni di Natale! Ma c'è da aspettare per sapere come andrà a finire!!
Ho quindi deciso di scrivere di qualcosa che immagino sarà più interessante per mamma e babbo che non per i bimbi: i sapori delle feste. Più precisamente parlerò dei sapori delle feste nella nostra famiglia toscana-anglo-canadese!
Penso che le famiglie composte da persone di nazionalità diverse stiano diventando sempre più comuni in Italian, e per me questa è una grande ricchezza. Certamente non la vedo come una perdita per la nostra cultura. Noi non abbiamo rinunciato a nulla di tradizionalmente toscano, né ci siamo arresi all'idea di dover rinunciare a qualcosa della tradizione anglo-canadese di mio marito. Ci proviamo il più possibile almeno!
La cosa più interessante in questi anni insieme è stato tentare di riprodurre il più possibile la tavola delle feste canadese o britannica. Naturalmente rispettare la tradizione locale è facilissimo, perché viviamo qui e non abbiamo alcun problema a trovare e ingozzarci dei dolci natalizi tipici della tradizione del nostro angolo di Toscana (ricciarelli, cavallucci, panforte, panpepato) dei localissimi ciambellini rossi and ciambellini con l'unto, tipici del mio paese, Civitella Marittima. Tutta la mia famiglia vive qui, quindi pranziamo sempre con loro il giorno di Natale: un bel gruppone di più di venti persone che include nonni, zii, cugine e figli delle cugine, ora che siamo tutte "grandi".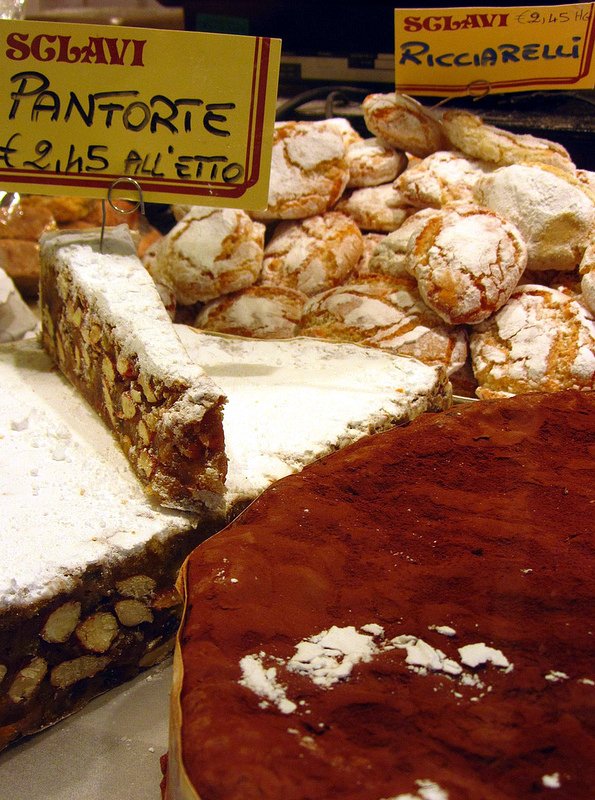 (Photo by Pranav Bhatt)
Il nostro pranzo di Natale comprende sempre i piatti tipici dell'Alta Maremma (vengo da una famiglia di macellai e contadini, quindi il pranzo è a dir poco iperproteico!): non mancano mai gli antipasti misti (solitamente crostini di milza o tipici rossi toscani), un primo "asciutto" che può voler dire tortelli maremmani, lasagne (che noi chiamiamo "pasta al forno", pappardelle o anche gnocchi; si prosegue poi con l'immancabile brodo con i tortellini seguito dall'immancabile bollito misto, lingua compresa, accompagnato da varie salsine (salsa verde, maionese fatta incasa, etc.), e poi arriva il secondo vero e proprio, solitamente cacciagione perché mio padre è un cacciatore (lepre e cinghiale, il fagiano finisce nel brodo!). E alla fine è finalmente l'ora dei dolci!!!
(Photo by Conanil)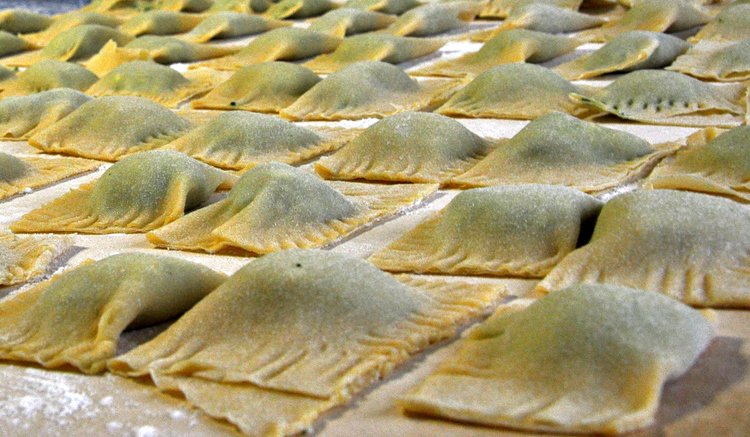 (Photo by Massimo Biondi)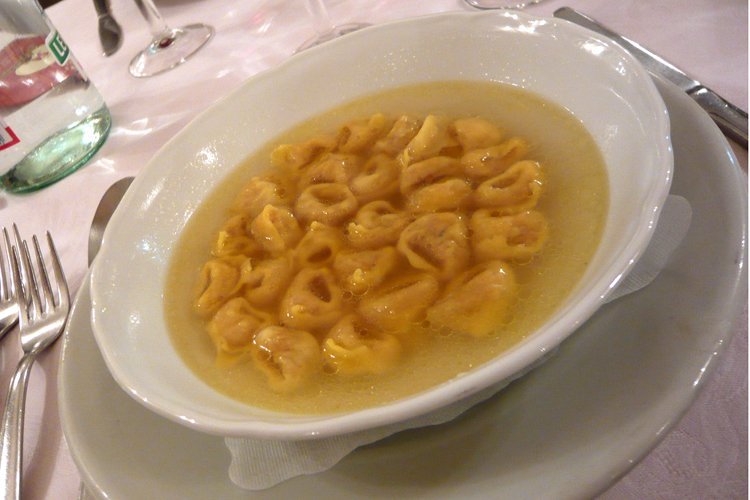 (Photo by Jessica Spengler)
Per quanto riuarda i dolci, il mio paese è più vicino alla tradizione del senese che non della Maremma. In fin dei conti siamo proprio a metà strada. Mia nonna spende giorni e giorni preparando ciambellini e cantuccini, crostate e quant'altro le passi per la mente durante le feste! Il suo "piatto forte" sono sempre state quelle che chiama "palle di neve": una variante della zuppa inglese con strati di pandispagna alternati a crema pasticcera e palline di chiara d'uovo cotta nel latte (ecco perché "palle di neve"), e colorate in parte con l'alchermes (altro sapore delle feste a casa mia). Devo decidermi a fare una foto quest'anno perché credo che più tradizionale e locale non si possa.
E poi naturalmente, anche se non tipici toscani, non possono mancare panettone, pandoro, or torrone: ormai sono un patrimonio della tradizione di Natale di tutti gli italiani no?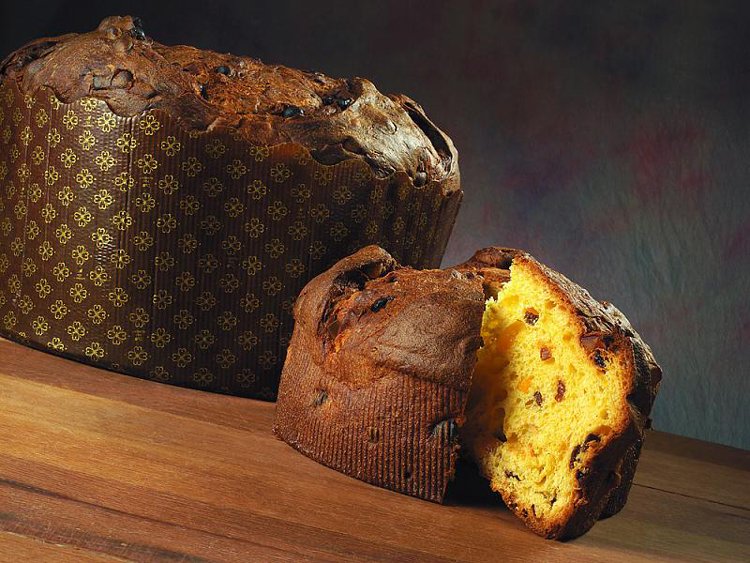 (Photo by Mirko Bonazza)
Noi, in quanto famiglia "mista", siamo fortunati perché parte della famiglia di mio marito vive in zona, quindi riusciamo a godere anche della tradiziona Anglo-Canadese. Solitamente, il giorno di Natale, ci alziamo da tavola ancora con i baffi di zucchero dei ricciarelli sulla faccia per andare a sederci alla tavola di mia suocera e ricominciare da zuppa e tacchino arrosto!! Qualcuno deve pur fare il sacrificio, no?
La tempistica è perfetta. La vigilia di Natale è da mia suocera, il pranzo di Natale con la mia famiglia, e la cena di Natale (o comunque si voglia chiamare il pasto che loro fanno iniziare alle 17…) da mia cognata, e poi il 26 siamo di nuovo con i miei per cercare di "scalfire" gli avanzi… Fondamentalmente si mangia per 72 ore senza smettere mai, e si soffre per le 72 ore seguenti, comunque continuando a smangiucchiare gli avanzi di pranzi e dolci vari!!!
Le quantità e i sapori sulle due tavole sono molto diversi, per cui il nostro Natale è un po' come un tour grastronomico! Per me, il loro Natale è praticamente un'esperienza da "ristorante etnico", e questo è il bello do vivere con una persona che viene da una cultura "relativamente" diversa dalla mia.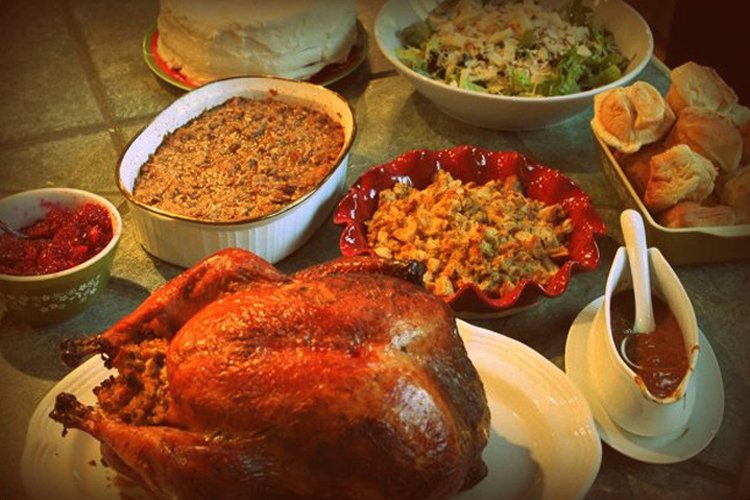 (Photo by Michelle Anderson)
Il nostro panettone è oggetto di infinite battute a casa dei miei suoceri. Per loro, abituati a dolci molto più ricchi, il panettone e il pandoro non sono che pagnotte dolci un po' rinseccolite, e servite per la sola gioia mia e di mio cognato (anche lui italiano). Un bel pensiero, in fin dei conti! Anche se io sono felicissima di mangiare i loro Christmas pudding, Christmas cake, le cioccolate, il trifle (un dessert tipo zuppa inglese fatto con frutta cotta al forno coperta da strati di pandispagna, crema e panna), biscotti di pan di zenzero e quella ricchissima sorta di pasta frolla burrosissima che chiamano "short bread". Gusti e sapori molto diversi da quelli cui siamo abituati noi, ma per me deliziosi.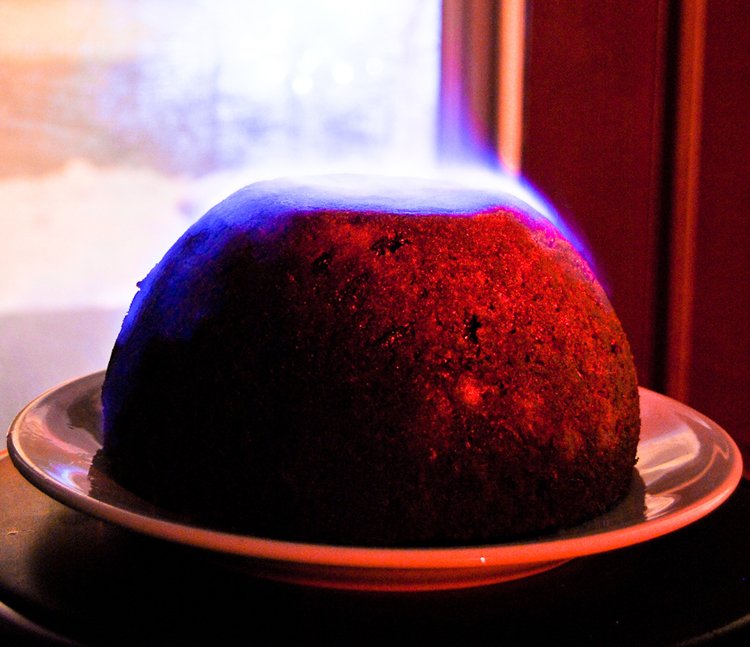 (Christmas pudding – Photo by Steve Johnson)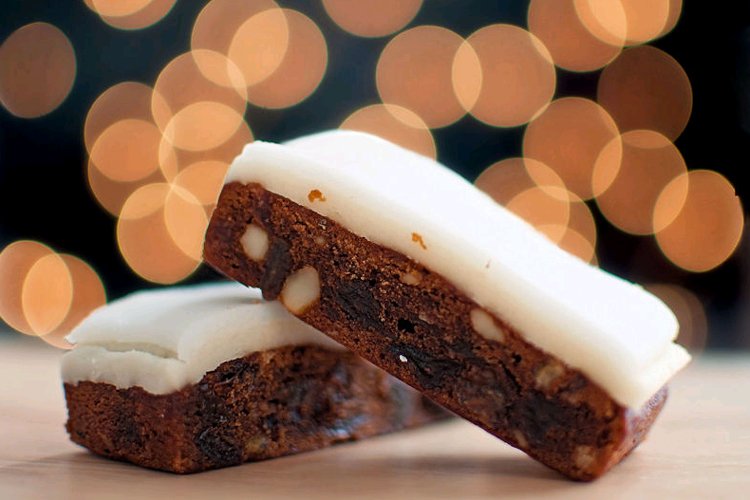 (Christmas cake – Photo by Michelle McMahon)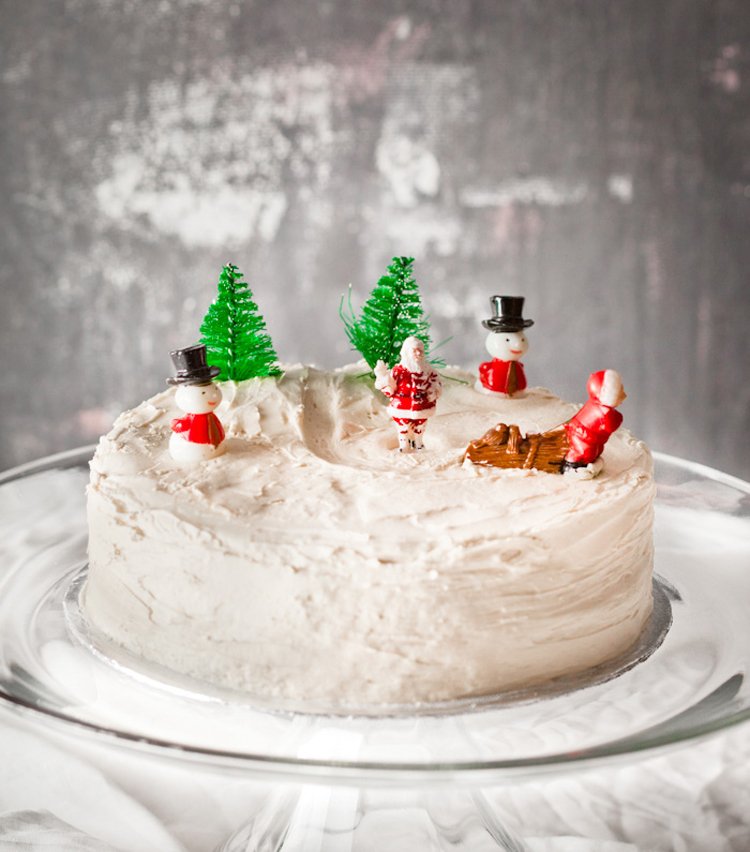 (Christmas Cake – Photo by Matt Wright)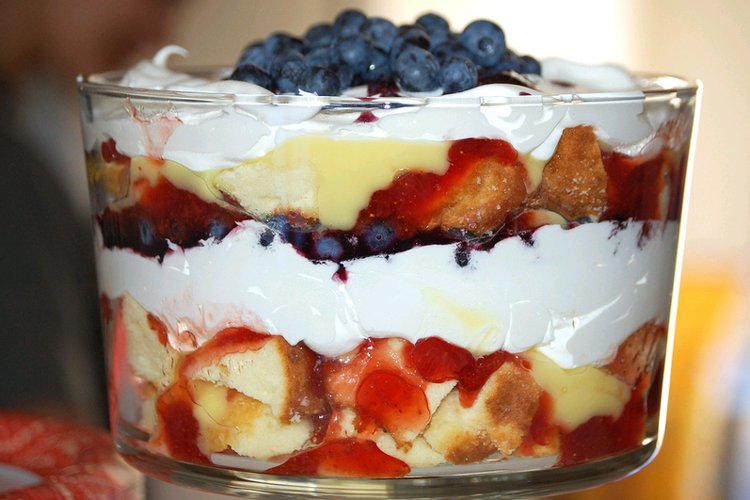 (Trifle – Photo by CiCi Joseph)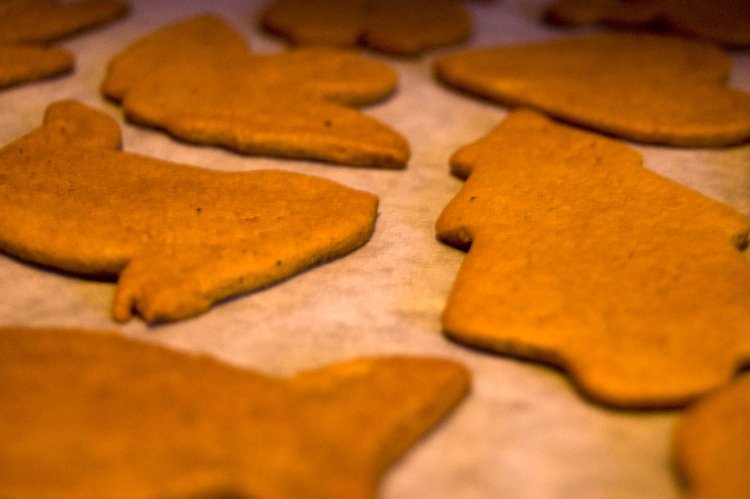 (Gingerbread cookies – Photo by Annette K)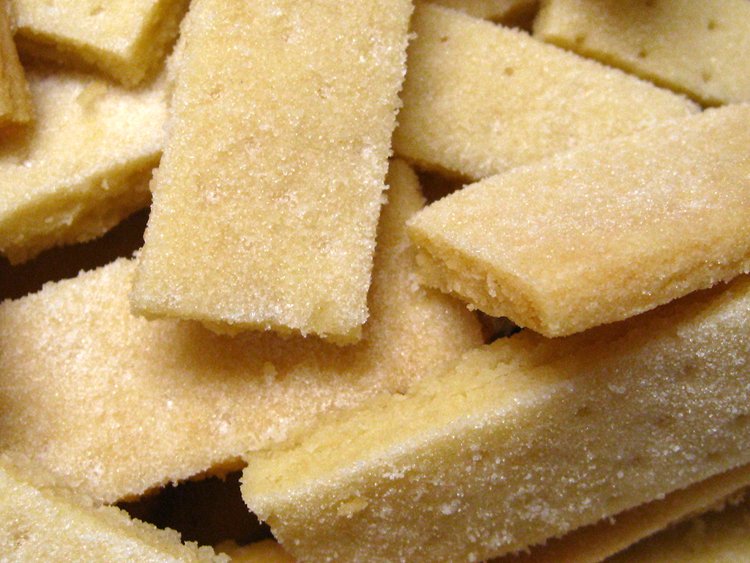 (Shortbread – Photo by Luise McFarlane)
C'è una bevanda in particolare che pensavo fosse esclusiva della tradizione anglo-canadese: l'eggnog, una bevanda a base di latte o panna, zucchero e uova, spesso con una spolverata di cannella, noce moscata o la cosiddetta "pumpkin spice". In questa versione è la bevanda tipica per tutta la famiglia, grandi e piccini. Se non che spesso si aggiunge brandy, rum, whiskey, bourbon, vodka, or una combinazione di questi liquori… il che rende l'eggnog più adatti alla serata di mamma e babbo che non dei bambini!
Trovare l'eggnog in Italia è quantomeno arduo, per noi fino ad ora, impossibile.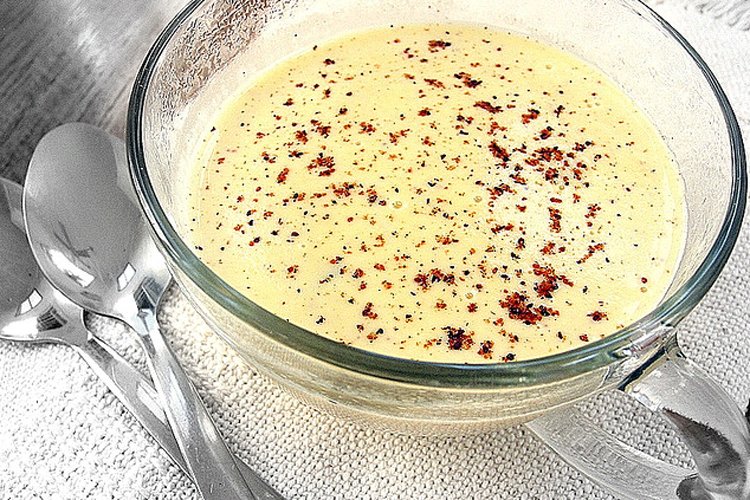 (Eggnog – Photo by Southeast Star)
L'anno scorso però ho scoperto che in nord d'Italia esiste una cosa simile: il bombardino, che però è una bibita squisitamente alcolica. Essenzialmente si tratta di eggnog con il brandy, il Vov o il rum (nel qual caso si chiama bombardino pirata). Problema risolto: e un nuovo sapore aggiunto alla nostra tavola delle feste multiculturale (anche se solo per i grandi, dopo che i piccoli sono andati a nanna!).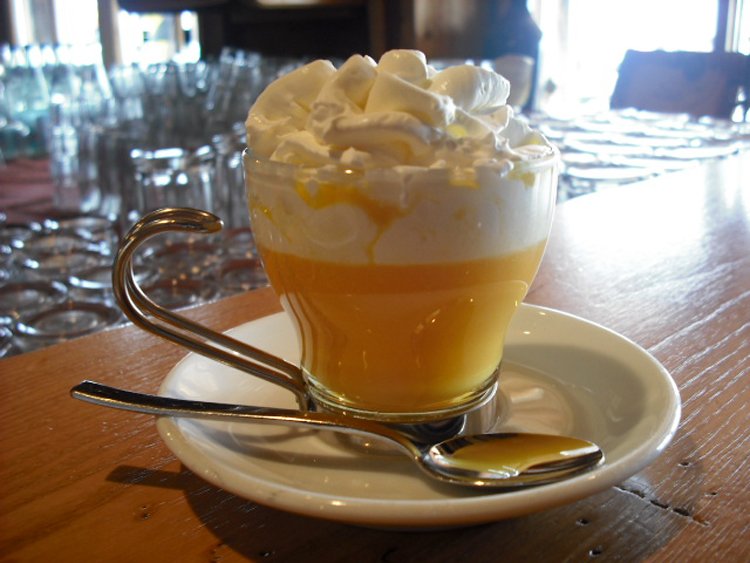 (Bombardino – Photo by Dany Gandi)
Buone feste a tutti!