This month, when we decided to write about women, I first thought that I would write something about famous Tuscan women. I had read this very interesting article "The skin they're in: the uneasy paradox of Italian women – Part 1" and I had already left a long, long (long!) reply and a few more comments later, so I didn't think I had much to add (I was evidently wrong…).
I am late with my Italy Blogging Roundtable post (also nothing new, lately…), but I have been thinking about this topic for weeks, at least since I read that and another couple of articles on the subject and exchanged a few comments with the other ladies in the roundtable.
I am the only Italian in the group (well… "made in Italy", I should say) and reading about the way in which non-Italians see the situation of women in my country has been very interesting. I have to say I was at the same time surprised and not at all surprised.
Many of the "criticisms" were based, I believe, on deep cultural differences. But when one discusses this type of topic and speaks of "change", or need thereof, one should always remember that what makes a culture a culture is exactly this type of cultural-specific aspects. If you are wondering what I am talking about, I invite you again to read the article I mentioned above, which focuses on aspects such as the fact that Italian women are slaves to fashion and the need to appear always at their best even just to run to the nearest shop to buy a loaf of bread (please Elizabeth, forgive me for the extreme simplification…!).
Some other aspects I have seen criticized in various articles are in my opinion universal – not just typical of Italian women (e.g. the need to look good to attract potential partners) or of human beings in general, for that matter… We do not leave in a vacuum: we always wonder what other people think of us. Our brain has even developed dedicated cognitive abilities, and they are exactly what makes human being different from other less developed forms of life.
I will not go over the many points that I have already discussed on Elizabeth's blog, but  I will spend a few words on this gender equality ranking everybody mentions and which sees Italy perform very poorly (not "Africa poorly", but not "Sweden brilliantly" either…). According to the Global Gender Gap Report 2012, Italy ranks 84th in terms of gender equality. The criteria on which the report relies are:
– Economic participation and opportunity – outcomes on salaries, participation levels and access to high-skilled employment
– Educational attainment – outcomes on access to basic and higher level education
– Political empowerment – outcomes on representation in decision-making structures
– Health and survival – outcomes on life expectancy and sex ratio
I should say that living in Tuscany, I have realized that I have a "distorted" idea of many social issues. Let's face it: we have a very good lifestyle here and some matters that are of no concern here might be totally different in other parts of the country. Anyway, looking at the points above, this is what I think.
It is true that in some positions men might be preferred to women. I know for a fact of situations in which women candidates have not been chosen because the employer feared that, once secured the job, they would immediately start a family and leave them to pay benefits and a second salary for a substitute. This is despicable and unfair. But again, I am ready to bet, there are similar situations and concerns everywhere, not just in Italy.
Other than this, I have never witnessed, or heard of discrimination in terms of work positions among my friends and acquaintances. Most of the women I know, as a matter of fact, work, either as employees or as owners of their own businesses. Nobody I know has been discriminated because of their look, but again all my friends are beautiful! LOL And none of them ever applied to jobs where you needed "bella presenza" (on this matter too, see my comments to Elizabeth's post).
In terms of salaries, I am not sure how you can discriminate against women… salaries depend on the job you have, and are determined at the national level. In terms of high-skilled employment, again I am a researcher. Most of the associate and tenured professors in my department are women. Some of my best friends are employed in the Ufficio Comunicazione of the University, one is an air-traffic controller, another is a fabulous lawyer, some are doctors, with managerial roles too, and several others have created and run successful businesses. I might be lucky, or more simply I know a lot of hard working ladies who have University degrees and a great brain.
I am tempted to say that the sectors where you see few women are the sectors where only few women participate to begin with. All you have to do is step in a classroom of any of the scientific (engineering, physics, maths) degree courses: female students are remarkably outnumbered. But the women who do succeed in those degree courses, well, some of them become Vice Councellor first, and Minister of Education later. Women do have the same opportunities in terms of education in this country. And they do generally better than their male colleagues. It is rather than many women decide to study humanities and there are simply no jobs in humanities.
Moreover, it should not be forgotten that many girls decide to dedicate their time to the family instead of dedicating it to career. Also, we Italians do not like to live far from home, and that necessarily reduces opportunities. Choosing to devote time to the family is sometimes a necessity (often), sometimes a choice. And I am sure this aspect of our culture impacts on those numbers quite heavily.
I don't know much about political empowerment (or involvement). In this case too, I think there are more men than women who are genuinely interested in politics. I see student representatives and they are mostly men. And I am talking in terms of candidates and participants too meetings too. You certainly need a certain personality to go into politics and I believe women are usually too honest and practical not to get frustrated after 10 minutes in any political debate! LOL It is certainly striking how good looking all the ladies in Berlusconi's party are. That is suspicious… Also, I will not even comment on Berlusconi and how sexist he is. That and the fact that most Italians (men and women) do not find that unbearable and unacceptable is the real problem, I believe. Not the fact that women dress up to go to the toothless baker's shop.
Finally,  I think in terms of health and survival we are doing pretty well (touching wood now…).
Don't misunderstand me. I am not saying that everything is perfect, that Italian women have no issues to solve. Not at all. What I am saying is that some of these issues are not issues at all for Italian women. And that is not a deadly sin.
Also, I am the least feminist woman out there, so I am very bad at defending gender equality. I do believe in equal rights and responsibilities, of course. But I also believe that in the real world, women should not feel the pressure of having to want to do the same things as men do. I am perfectly happy doing the laundry if I don't have to bother repainting the house or bringing the wood for the stove in.
Moreover, women should not feel ashamed to be glad if a man opens the door for them (right Jessica?). Everybody knows we can open our own door and change our own light-bulbs, but little acts of chivalry are a nice way to acknowledge the fundamental role of women in society.
I do not believe that doing what men do is progress. Being allowed to do that if one wants is, but then women are women and men are men. We are so different and in many ways. Embracing this difference is nothing but natural and rewarding.
Renegotiating responsibilities is right, and I think it is also happening fast. Italian men will get there if women ask them to. But I still know lots of women who would rather die of exhaustion than have their husband organize their kitchen. We must respect this attitude too, and we must respect cultural attitudes when they are a choice and not a burden of course. Having a career that keeps you out of the house all day is not the top priority for all women out there, just like having children is not. Real progress is when a woman can choose the type of role she wants to occupy in society and I believe in Tuscany that is pretty much the case.
Now back to some trivia… this is a cultural/travel blog after all!
There are not many things that women and men did or do differently in Tuscany. They have traditionally shared chores in the countryside. Of course, house chores were carried out by women, but men were in charge of the heavy duty stuff. Here are a few things Tuscan (wonder)women do or used to do differently from men.
Tuscan women do not swear blasphemously. Here people swear a lot, and I am talking blasphemy. Women generally don't. Blasphemy is generally condemned, but people are resigned to hear Tuscan men of all ages swear. That is hardly acceptable in women. We all do have a pretty colourful eloquence though.
Tuscan women do not go hunting. That is the last male territory.
Tuscan women did not get drunk. It is still true of the older generations, but gender equality has reached the younger generations in this concern I am afraid…
Tuscan women used to go to church on Sunday morning, while men went to the bar. And they would fight about it. Now most people go to the bar… both men and women. And they fight over the latest reality show instead.
Tuscan women used to eat last if they had guests: first they had to make sure everybody else was taken care of.
Tuscan women used to not slice bread, cured meat or cheese. That was a man's job, and in most families (like mine), it still is.
Italy Blogging Roundtable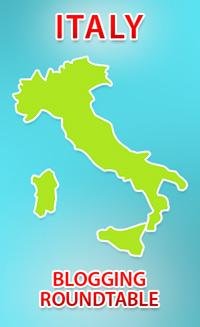 This is the 20th post in a monthly series called The Italy Blogging Roundtable. Here you can find the posts of the other bloggers who participate in the roundtable. Our topic this month was "women":