I have a thing for books. Bookstores with their windows full of colourful covers charm me every single time. I have to make a serious effort not to buy a book a day when I am in Pisa and walk to work, but I do not resist the temptation to pick up the books I would like to read in my hands and read the first few pages.
The section I prefer is the travel section. I look at guidebooks, phrasebooks, calendars featuring gorgeous pictures of the destinations I would like to see. But I am especially attracted to travel novels and journals: that very special type of literature that helps you dream through some other person's fabulous experience.
When I get a chance to go abroad, I tend to do the same and, partly because I am curious, partly because it is also what I do for a living, I always end up reading the beginning of books about Tuscany. I imagine they contribute significantly to shape the dreams and expectations of the people I might meet as guests of our vacation rentals and also the image of my region in the English-speaking world.
Tuscany is often portrayed as mysterious and surprising: a place to discover slowly, or a never-ending discovery even.
"Tuscany is a world; Italy is a universe. "Five lifetimes would not be enough to explore it," I once wrote. Change that to five times five. After ten summers, six winter holidays, a sabbatical year, various quick spring breaks, and this year six months here, I would have predicted, if I'd had telescopic vision, that by now I would not be dazzled by the place – but Tuscany keeps unfolding. I find more to love on every visit. "

(Frances Mayes, In Tuscany, p.23)
The passage goes on to describe some sights that the author found surprising and charming. She describes the landscape of Tuscany almost as a painting, and then goes on to praise the winemaking areas and the people working on them (among other things).
Along the same lines:
"The stone walls encircling Montalcino, first completed in the year 1110, form a defensive band around the village like a stone circle pushed down over the crown of the irregular-shaped hill. It comes to a halt only when it can be pushed no further because the steep slopes begin to creep outwards to the valleys.  To learn the significance of the walls I needed to follow them on foot, inside and outside, over many weeks, each time discovering something new; moving closer to understanding the way of life as it must have unfolded in this village through the centuries."

(Isabella Dusi, Vanilla Beans and Brodo: Real Life in the Hills of Tuscany, p. 3-4)
I guess most people who dream of once visiting Tuscany come expecting exactly that kind of views and experience.
An "incipit" I like because it addresses this topic is the beginning of La Foce: A Garden and Landscape in Tuscany, by Benedetta Origo and Laurie Olin. It highlights the surprise that the varied nature of the territory bears for most people, who come expecting Tuscany to be a "monolitic", uniform area, and more precisely, the place they see on postcards and documentaries.
"Tuscany, in most people's mind, evokes appealing images of a centuries-old civilization, a place where nature itself appears tamed and enhanced by the presence of man. Images of Renaissance art and architecture, terraced hills neatly planted with vines and olive trees, monasteries and villas surrounded by woods and enclosed gardens all come to mind. Visitors travel along country roads that wind through prosperous villages with medieval centers, enticing shops and well-dressed women. Fields are carefully tended, tomatoes and eggplants glow in the backyards, vineyards are heavy with grapes. Not a square meter is left unplanned. The legacy of Florence and its Medicean culture is a constant, reassuring presence.

In contrast, the Val d'Orcia comes as a shock to the stranger driving south from Chianciano, a watering spa overlooking the fertle Val di Chiana, toward the Via Cassia, the ancient Rome-Florence road. "

(p.1)
Quite to the contrary, Tuscany is an incredibly diverse place, its "quintessential", picture-perfect parts being only a small portion of the region (either the Chianti area, or the Val d'Orcia in fact).
The Maremma area is a completely different world for instance. Not less charming either. And not only made of mosquito-infested plains.
"[…] The house sat on the crest of a softly proportioned hill, on about two acres of land, one acre of which was given over to forty olive trees and as many fruit trees: apricot, pear, nectarine, white peach and three varieties of plum. At the base of the poggio a tree-lined rivulet – dry over the summer months – curved alluringly. (It was because of this rivulet that the house had been named Podere Fiume.)

From upstairs one could see where a famous battle had been fought many centuries ago. One could also see the Monte Argentario peninsula, as well as the "skylines" of the villages of Saturnia and Montemerano, and the town of Manciano. Around us there was pasture land for sheep, farmland that produced hay, wheat and sun-flowers, and a couple of small vineyards. The trees were mostly oaks, pines and chestnuts. (One of the most beautiful even moving sights was that of a lone, gnarled, ancient oak in the middle of an expanse of pasture.) The sheep created the illusion of boulders cropping out from the grass. There were few of the cypresses which are the presiding genius of the land around Florence, for the Maremmani associate them with cemeteries."

(David Leavitt and Mark Mitchell, In Maremma: Life and a House in Southern Tuscany, p. 2-3)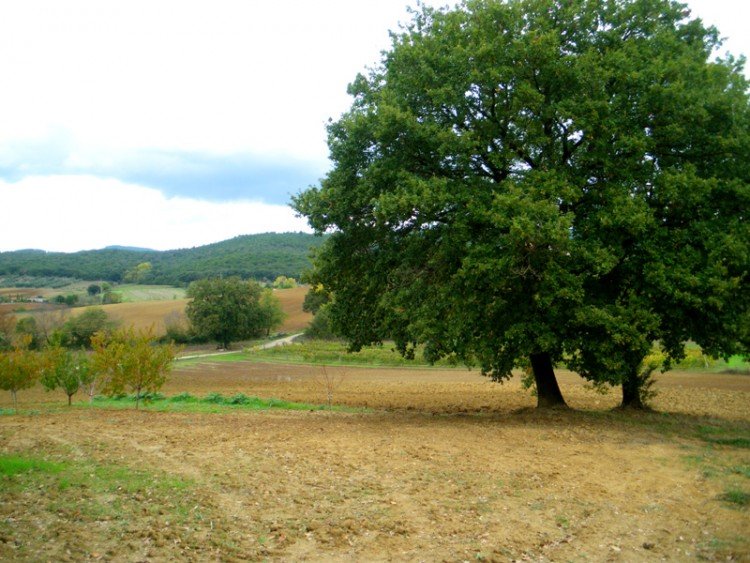 I would be curious to know what books (if any) people who plan to trave to Tuscany have read or will read and whether the way you come to image the place and life here corresponds to your experience of Tuscany.
I have to say that I have mixed feelings towards (travel) literature set in Tuscany because, if on the one hand they it is the best promotion for our region (and therefore, indirectly for our rentals too), on the other it sets expectations so high that we sometimes feel it might be difficult to live up to them. Luckily, the many lovely people we have had as guests and come to call friends are the best reassurance we could possibly have.
If you are looking for books about Tuscany, here is a nice list!
Italy Blogging Roundtable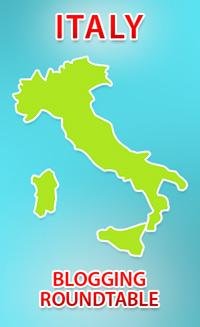 This is the 17th post in a monthly series called The Italy Blogging Roundtable. Here you can find the posts of the other bloggers who participate in the roundtable. Our topic this month was "the beginning":
Brigolante – Too busy this month, she will be back soon!