When we decided on "roots" as the topic for this month's Italy Blogging Roundtable, I thought I would write about my "super-Tuscan roots". I always say that I have a pedigree, because both of my parents were born in our small village, all my grandparents were (and are… my grandmother is alive and kicking! A real wonderwoman!), 7 out of 8 of my greatgrandparents were, and so on for generations back. Most of the family still lives in the village and we are all very close. It was exactly two years ago when I wrote a post about this, starting my "Feeling at home" series (check it out if you are interested in my blabbering!).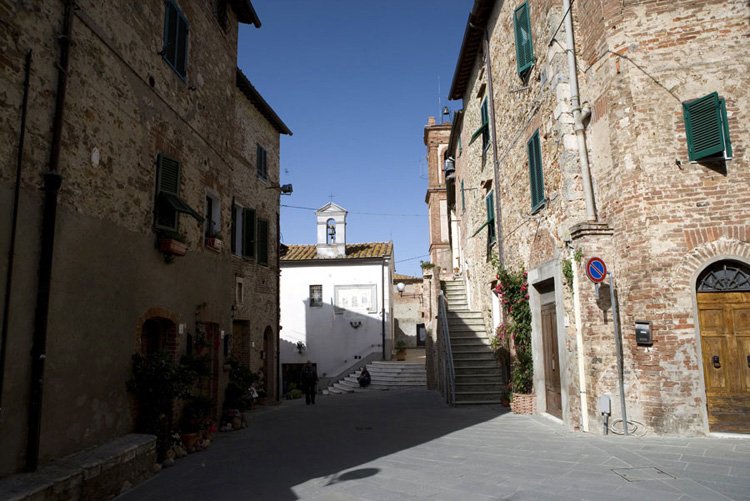 Then, something happened… I went on a diet to loose the baby weight and more. Every woman knows that, when you go on a diet, your perception of the world shifts completely. Personally, mine has shifted towards my sad, sad fridge, with which I have now officially entered a love-hate relationship. I look at it as at a magic box, in the idle hope that the next time I open it, those sad salad leaves will have been transformed into some magic diet food… maybe like a zero-calorie bacon? Or magic nutella that makes you lose weight when you dig into it with a big spoon and a guilty posture… you know, half curved as if hiding from your conscience behind the fridge door… that type of posture.
If you are wondering what this has to with "roots" (besides the obvious… that is, the fact that these days I could even eat the roots of the first pale flowers dotting the fields…), not much. Except that two types of roots have caught my attention these days, so here we go.
Cycling or jogging in the city?
I don't run. Not even to save my life I think… (It would be a poor strategy anyway, given how slow I am…), but I like walking a lot and I also use my bike to go to work, when we are in Pisa. Besides starving myself, these days I also need to "exercise". Just writing the word makes me laugh… I could be the laziest woman in Tuscany… really. Sport is not my thing, unless it involves a sprint from the sofa to a a nicely laid table covered in titbits!
Many cities lack proper parks or green areas where you can "exercise", but Pisa is an exception, because it has several beautiful parks and gardens such as the Botanic Garden, Giardino Scotto, the Park of San Rossore, the newly cleaned up space along the city walls and Le Piagge, my favorite place to go walk with my family – the enhanced version, I mean – me, my husband Marcel, baby Liam and our dog Candy!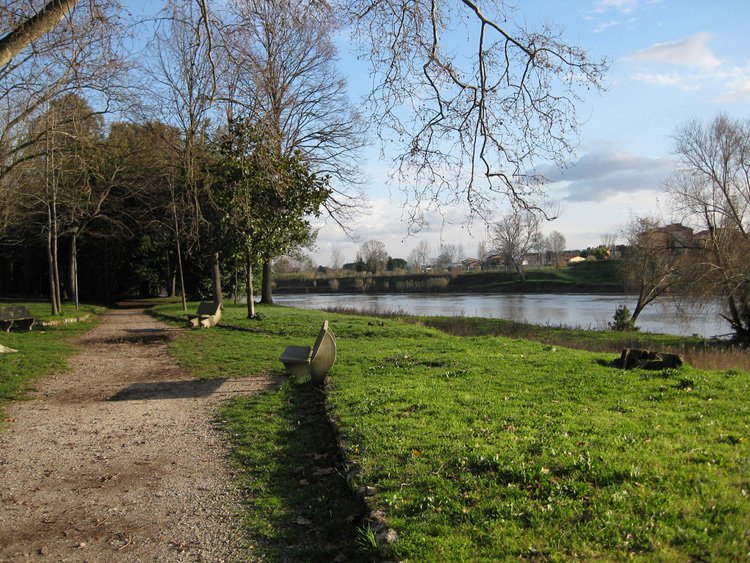 (Photo by zanne84)
Many cities have tree-lined boulevards too, usually with maritime pine trees. And here comes the root part. For the first time, yesterday I noticed how problematic it can be in terms of accessibility and safety to cycle, run or take a stroll pushing a pram if you are on the sidewalk of one of these boulevards. The roots of pine trees, and very old trees in general, ruin the pavement and tend to stick out and make the surface of the road, path or sidewalk very irregular and bumpy. So, keep that in mind, especially if you plan on renting bikes (especially in a beach town) or if you travel with young children or mobility impaired people. And also if you plan on renting one of those silly-looking vehicles which, I have just discovered, are called segways (what on earth are those?! walk or bike for God's sake: Pisa is small! …anyway… a segway tour of Pisa is now available…)
Our village park has the same problem: the alleys were repaved not long ago but the roots of the old chestnut trees are strong.
If you are on a diet (or just because)…
"Exercise" has a nasty effect on me. I get home tired and I have the temptation to eat more than I normally do with the result that besides being tired and sweaty, I am also grumpy and I need extra will power to avoid eating twice as much as I should…
The solution I have found is to keep something healthy but "different" in the house, something that I don't usually eat, so that I can prepare something more appealing on the days where food therapy would be my first (bad) choice. And March and April are the first months of the year when you can find those radishes – radici in Italian – we call "ravanelli", which are quite spicy and perfect for "pinzimonio", that is, dipped in olive oil and salt, or in a salad.
The most common type has a bright red skin, but you can also find them with white skin. If you happen to be in Tuscany in late March or April, you will easily find "ravanelli" at the supermarket. They can be eaten raw or cooked. If you want to try them raw, the best way is "in pinzimonio": just dip them in extravirgin olive oil and salt. They have a peculiar taste: you either love them or hate them. They get a much sweeter taste if you cook them.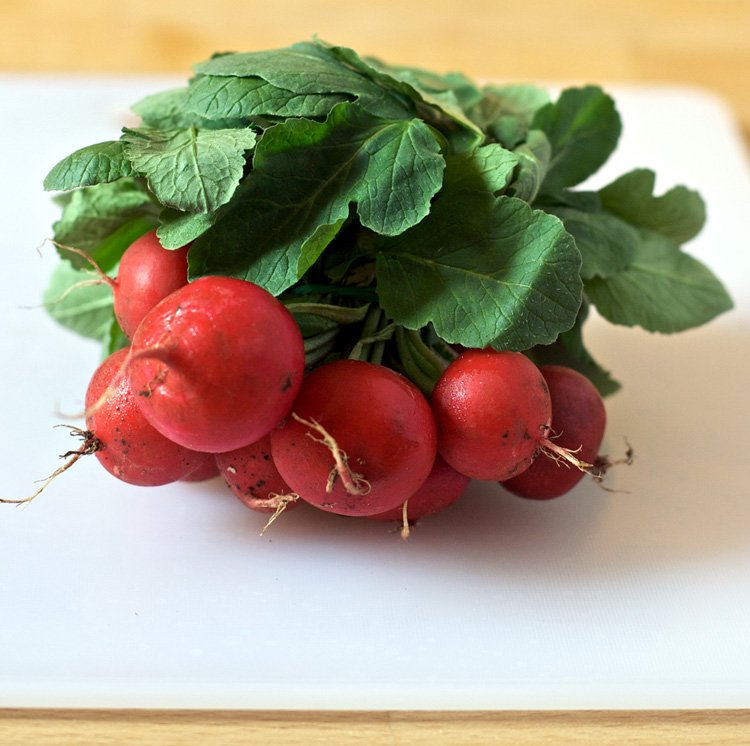 (Photo by Sara Maternini)
You are likely to find them in salads too. One of my favorites is salad with "ravanelli", oranges and walnuts. It's an interesting mix of winter and spring vegetables.
Ingredients
escarole salad, or another broad-leaved type of salad
ravanello radishes
oranges
walnuts
balsamic vinegar
extra-virgin olive oil
salt
In a bowl, mix salad, peeled and sliced ravanelli and oranges, and walnuts. In a small cup, mix some olive oil with a few drops of balsamic vinegar and a pinch of salt. When the "vinaigrette" is ready, pour over the vegetables, and enjoy!
Another recipe which I love is ravanelli risotto.
Ingredients
1 onion
100g pancetta
extra-virgin olive oil or butter
200g ravanelli
150g rice
500ml chicken or vegetable broth
pepper
parmesan cheese
Chop the onion and the pancetta and sauté in olive oil or butter (whichever you prefer). Peel and slice ravanelli and add them to the onion and pancetta. After 5 minutes, add the rice and stir until the grains become almost transparent. Pour 500ml of chicken or vegetable broth and let simmer so that the rice can slowly absorbe the water. Keep adding water until the rice is cooked but only in small amounts so that it can be totally absorbed, and the risotto has a nice consistency (it should not be watery). When the rice is cooked, add pepper and a couple of generous handfuls of parmesan cheese. You can keep aside a couple of ravanelli and add a few raw slices for a spicier taste.
Last but not least, you shoud know that the green leaves of the ravanelli can be used to make a delicious soup. It is one of those dishes which belong to the tradition of the "cucina povera" (literally, poor people's cuisine) but which have now practically disappeared from our tables. My great-grandmother used to make it when I was a kid.
Ingredients
ravanello leaves
1 onion
2 potatoes
water
salt
pepper
a few ravanelli
Wash and chop ravanello leaves, the onion and the potatoes. Put them in a small pot, covered with water, add a pinch of salt, some pepper and let it simmer for at least 30 minutes. Purée the mix in a blender, put back in the pot and keep cooking until the soup is thick enough. Peel and slice ravanelli, add a few slices and serve warm.
The 21st century enhanced version would allow for some mascarpone or cream too… just to make the soup richer.
Buon appetito!
Italy Blogging Roundtable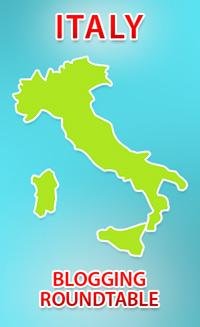 This is the tenth post in a monthly series called The Italy Blogging Roundtable. Here you can find the posts of the other bloggers who participate in the roundtable. Our topic this month was "roots":
Alexandra (Arttrav) – How to put down roots in another country
Jessica (Why Go Italy) – Tracing your Italian Roots
Melanie (Italofile) – Rooted in Italy: The World's First Botanical Gardens
Rebecca (Brigolante) – Zen and the Art of Making Gnocchi