I am by no means an art expert, but I do like art. Choosing a work of art to talk about for the third post in the Italy Blogging Roundtable was not easy: something Italy certainly doesn't lack is art! After much mulling over what I could possibly write about, I suddenly realized the choice was obvious.
When I walk home from work in Pisa, I often make a point to walk by the beautiful mural by Keith Haring, Tuttomondo. It was the artist's last public work of art, painted in 1989 before his premature death. Not many people know about this large mural, but my fascination with this interesting wall-painting dates back to my first years in Pisa as a student. I love the colours, the richness of the composition, and I always notice some new characters that I hadn't noticed before.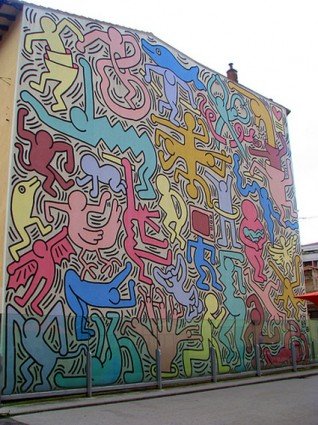 (Photo by juanita.laguna)
Other than these few observations, don't expect "an educated comment" here: I am in no way qualified for that and I get quite bored with the average art expert's blabbering. In my ignorance of the matter, I simply like works of art which have something to say to me… and, to me, Tuttomondo has always been the symbol of a welcoming and lively city where I have spent the last 17 years and which has always struck me as being so very different from the only other "art mecca" I was familiar with for having grown up in the area: Siena.
There are three main reasons why I love Tuttomondo.
First of all, I have always thought that Keith Haring's work was perfectly in line with the cultural atmosphere of the city, which has always been very "popular" in a way. Street art in Pisa is a blessing and a curse. Being a university city with over 30,000 students and a very lively cultural life, there is a vast population of street artists. Some of them are more harmful than artistic, others though, paint beautiful things. The city has always tried to encourage the "controlled" expression of street art by providing authorized spaces for graffiti and murals. Recently, during the renovations of the Logge de' Banchi in Corso Italia, the City enclosed the building with white boards and asked street artists and students to decorate them. For a couple of years, the area was an open street art gallery, which received mixed comments. Folk art is like that… you either love it or hate it. And recently, street artists have been ask to decorate the new "Casa Sperimentale", a brand new student residency built in line with the most recent proposals of eco-compatible and bio-compatible architecture.
Secondly, I like the fact that the inspiration for the mural came from a fortuitous meeting between Keith Haring and a student of the Univeristy of Pisa. The University is the real moving force of the city. For someone like me who has spent the last 10 years trying to "form the young minds" at this university, it is amazing to see that some of the work we do here can bring such great gifts to the city.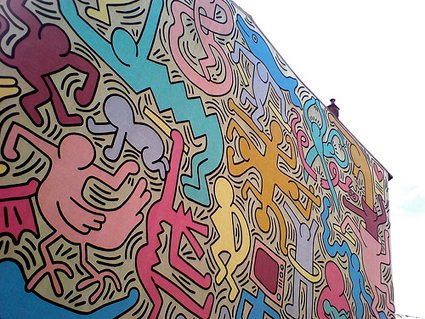 (Photo by buxx)
Last but not least, I love the message. Tuttomondo was painted in a week without preparatory sketches to represent the good and bad of human coexistence.  The main theme is harmony and peace in the world, but next to the positive figures such as a mother with a baby, two men supporting a dolphin and dancing figures symbolizing the vitality of humanity, there are some more "troubled" figures, such as a scissor man cutting a snake that has already eaten a man's head or a man wolf with a knife, to symbolize the fact that mankind can be dark and dangerous, but we can fight the evil that is in society to reach harmony, the same harmony that strikes me when I look at the way all the figures fit into place on the wall.
Tuttomondo is only few steps away from the central train station, in Piazza Vittorio Emanuele, on the side of the old convent of St. Antonio.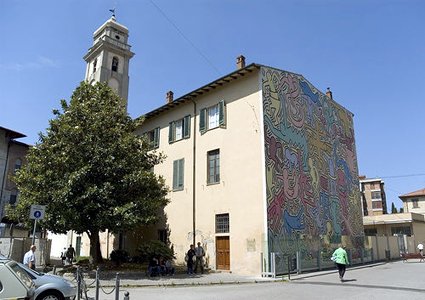 (Photo by MagnusW)
If you want to take some time to admire it and see if you can figure out the meaning of all the characters, you can sit at one of the tables of the Keith Café, opposite the mural. At lunch time they offer free wi-fi and delicious food. In the evening, they serve a great aperitivo and they often host parties and interesting events.
More on Tuttomondo is available here:
Italy Blogging Roundtable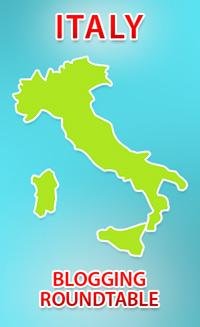 This is the third post in a monthly series called The Italy Blogging Roundtable. Here you can find the posts of the other bloggers who participate in the roundtable and who, like me, talk about "a work of art in Italy":
Alexandra (Arttrav) – Is it possible for an art historian to have one favourite work of art?
Jessica (Italylogue) – My Favorite Work of Art in Italy
Melanie (Italofile) –Five Fabulous Art Works in Rome You May Have Missed
Rebecca (Brigolante) – liding Doors, What-ifs, and the Cross of San Damiano