The Easter weekend has just passed. This year we didn't eat much chocolate but my grandmother sent us a large tray of home-made sweets: a "mantovana" cake with almonds, a "torta avvolta" (literally a "rolled up cake") with chocolate filling and lots of amazing "ciambellini con l'unto", one of the two types of biscuits that are typical of my village.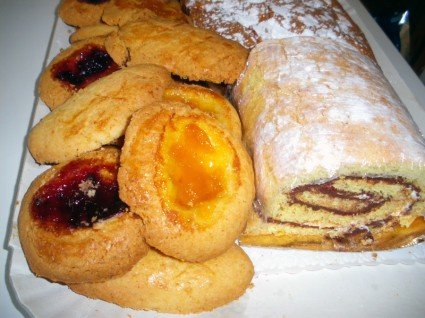 Nothing you couldn't buy at one of the bakeries in the village but so much better. No matter how "less perfect" they look: home-made traditional sweets and cakes are so delicious!
Maybe because they taste of home: if I close my eyes, I can almost see my grandmother and my mother working in the kitchen for a couple of days preparing trays and trays of sweets to give to friends and relatives! Plus, they are made with my dad's hens' eggs, with locally produced "unto" (melted and then filtered pork lard – the traditional alternative to butter in Tuscany), with home made jam. Nothing can beat that.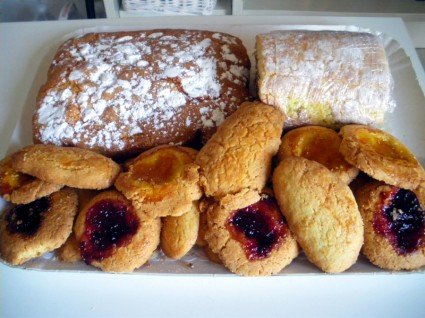 Ciambellini con l'unto and ciambellini rossi are the traditional sweets of my village, Civitella. They are biscuits which last for a long time. Traditionally they were made around Easter and they lasted for months. They sometimes constituted the whole meal in the fields, sometimes accompanied by whatever fresh fruit was in season.
My husband always makes fun of them, because he says they are just dry biscuits, but they are delicious, believe me! Ciambellini rossi are biscuits covered in sugar and alchermes, hence the red colour.They are perfect for dunking them in red wine or vinsanto!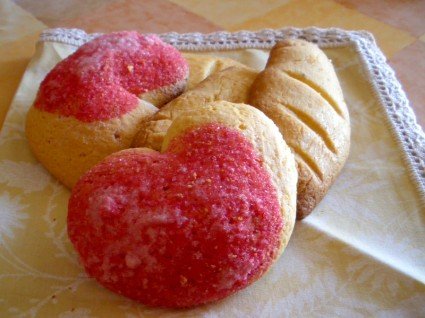 It was only a few weeks ago that I was talking with Letizia of the beautiful Madonna del Piatto about how alchermes brought back memories of our childhood's dessert and a couple of days ago I saw that she posted this delicious recipe on her blog: ciaramicola! I loved it!
I'll have to ask her to make me one next time we meet!