I had 500 grams of peas to use and so I decided to experiment a bit! I apologize for not taking any photos… I was too hungry and all I could think of was… getting our lunch ready! The photos you see here are not mine, but they should give you an idea of what you should end up with.
I prepared a delicious pea cream with saffron with crispy pancetta and croutons on the side.
Here is my recipe! Let me know if you try it!
Ingredients for 2 people
50 grams of butter
1 medium sized onion
500 gr of peas (fresh or frozen)
500 ml of chicken stock
milk (you can use fresh cream or Greek yogurt instead)
saffron
100 gr of firm bread (better if at least a couple of days old)
1 small packet of pancetta cubes
Melt half the butter at a low temperature while you slice the onion. Sauté the onion in the butter until golden. Add peas and cook for 15 minutes, stirring frequently. Add the chicken broth and let simmer at a medium temperature for 10 more minutes until the liquid is significantly reduced, but not completely evaporated.
While the peas cook, cut the bread into little cubes. Melt the remaining butter in a large frying pan, add the pancetta cubes and let cook at a low temperature so that the pancetta fat melts with the butter. Increase the temperature and add the bread cubes. Let them roast for 5 minutes making sure they don't burn.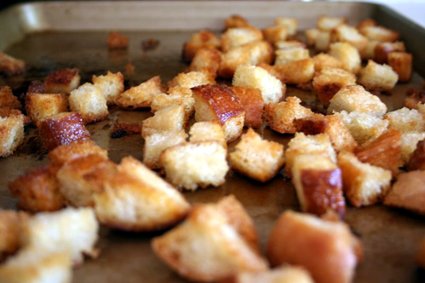 Pre-heat the oven to 250°C (480°F). Cover an oven tin with waxed paper and spread the bread and the pancetta cubes on it evenly. Place in the oven for 5 minutes and then for 2 more minutes under the grill. Turn the oven off, but leave the bread and the pancetta in it until you are ready to serve the soup.
Take the peas off the stove and place them in a blender. (I use an immersion blender: I find it much easier. If the pot you are using is tall enough you don't even need to transfer the contents. Mine was a bit too low and I transferred everything in the jug that comes with the blender to avoid spattering my kitchen wall with pea soup!) Reduce to a smooth cream and place it back in the pot and heat it up at a low temperature. Add a bit of milk and stir to incorporate it well. Add saffron to your liking.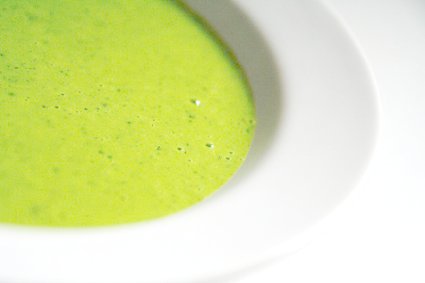 Pour the soup into two bowls, add the crispy pancetta cubes and the bread croutons and… Buon Appetito!