This is the 10th post of a guest series. We ask friends and colleagues to share with us what the expression to "feel at home" means to them. We believe that to truly enjoy a place, you need to really experience it, to make yourself at home. This means different things for different people, but it is an essential part of our lives, both as travelers and travel professionals. The idea came from a post I published in March and that you can read here.
Italy: "Casa dolce Casa"
Whether it's something in the air, the hospitality, the food, or the way of life – I don't know, but at least to me, Italy feels like home.  At first I thought it had to be the air…what else could've been responsible of making me feel at home the first time I stepped outside of Rome's Fumicino airport and set foot on Italian soil? Perhaps it was that homey feeling from Italian classic movies of Italian grandmas cooking fresh in my mind… which means it had to probably have been in my head and not in the air. But either way, I liked it.
First time in Italy is one thing….but arriving at Rome's Termini station for the first time via Leonardo express was a tad bit overwhelming for a naive newbie who's also not a New Yorker used to the chaos of Penn Station and Grand Central Station. For those who have taken the Leonardo express to the Termini station, you know it drops you off at the farthest possible point from the metro and bus area, that's equivalent to the next town over.
Perhaps it was cleverly designed to force travelers walk a good way to get their circulation going from long hours spent squeezed into small airplane seats in nearly upright position. Add way too much luggage to that, and it's an unexpected total body workout. That's when a smartly dressed African student with a British accent and books in one hand offered to help me carry one of my luggage pieces. Perhaps it was the shock that a stranger so casually offering to help me that spurred me to blurt out YES!! Si!!
Without a further word, the lovely and apparently very strong girl, picked up the biggest luggage piece I had and quietly walked with me to where I needed to meet my ride….like it was a normal thing to do, offering help to strange tourists who couldn't schlep their own luggage. Clearly she wasn't Italian….but her kind offer made me feel like I just entered my family's  home and they offered to bring my suitcase up to my room. Truth be told, I don't even get that kind of unsolicited help from my family! Perhaps there is something in the air after all…and not long after that I was helping little old ladies cross the busy intersection in Piazza Venezia. I thought they only do that in movies, but apparently, it's done in Italy!
Not until Italy did I stay at or even saw a Bed and Breakfast. B&B's are quite popular in Italy, and most family run in residential buildings. Often the rooms are inside converted condominiums where you actually have Italian neighbors across the hall who you can say "Buon Giorno" to. Sometimes you stay in guest houses where you're really at home in someone else's home, staying with an Italian family while you feel like you have the house to yourself. I'm still hoping someone would invite me to an actual Italian family home cooked dinner though…
Speaking of food… even many of the restaurants and cafes I've eaten at are family run. The wife is the chef, the husband is the manager, the young daughter training to take over the family business one day… and granny chopping tomatoes behind the scenes. There's no bottom line that serves as their prime motivation to offer the best food and service they can, it's their family honor and tradition at stake… and that's something no bottom line can trump.
A shop owner once told me, when you enter their store, you're entering their home… their business IS an extension of their home. You're a guest in their store or restaurant, and that also comes with responsibilities. Just like you enter someone's house, you say hello and thank you and good bye. So basically, there's no place where you can walk into that's not "like home".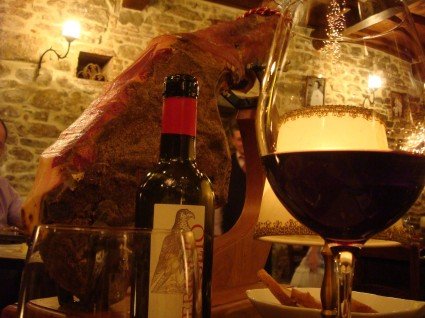 You know how sometimes you give your favorite house guests parting gifts?? Yes, that also happened in Italy, but I wasn't a house guest, I was a "store",  "workshop" and "art gallery" guest. In Minori – a small town on the coast of Amalfi, an established local artist whose workshop I used to stop into on the way to and from the bus stop to chat, gifted me 2 large watercolor prints when I came in to say goodbye the day I left. In Assisi, I befriended an artist who had an exhibition I admired. It just so happened that during my stay there I had a birthday that coincided with a local
holiday. In honor of my birthday he asked me to pick any of his original paintings from the gallery as a gift. Declining such a generous gesture was out of the question because I inadvertently insulted the artist when I expressed that this was too generous of a gift for someone he only met briefly. On a daytrip to Cortona, I met another artist whose artwork
displayed in her gallery shop was amazing. I must've spent a couple of hours there talking with her when I realized I was almost missing my bus back to the train station… She wouldn't let me leave without giving me the sepia drawing of an angel she was working on… to bring me good luck on the road.
I was deeply humbled by the generosity and kindness of so many in Italy, many more who I haven't even mentioned.  And yes, I also felt deeply guilty that I didn't have something to give them in return….except my fondest gratitude and appreciation.
All of those beautiful gifts have been framed and displayed in my home… fond memories and treasures of strangers who became friends and we departed like family… from a place far away, that in my heart, is home sweet home.