This is the 9th post of a guest series. We ask friends and colleagues to share with us what the expression to "feel at home" means to them. We believe that to truly enjoy a place, you need to really experience it, to make yourself at home. This means different things for different people, but it is an essential part of our lives, both as travelers and travel professionals. The idea came from a post I published in March and that you can read here.
Feels like home
My definition of home follows the English proverb "Home is where you hang your hat". Home is where I live. Home is where my I have my stuff. Home is where I sleep at night. And when I am traveling, home is a vacation rental that I have rented for a week or two.
I am writing this while staying at a vacation rental in France, going back next week to a house that we have rented for a year in England, while our house in Colorado is rented out to help finance this European adventure. Which of these is home? Right now it is this house in Normandy.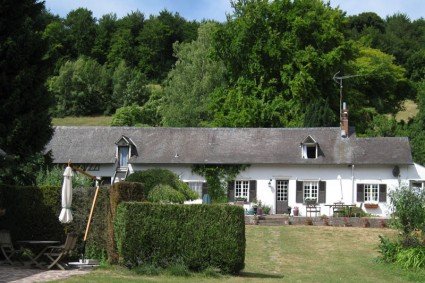 What makes a vacation rental feel like home?
Vacation rentals come in all shapes and sizes, from basic to luxury, but you know as soon as you walk in if it is going to feel like home.
Someone or something is there to greet me. It is nice to be welcomed by the owner or local representative but we have stayed in places where the key was left under a flowerpot and they still felt welcoming. Tea was set up on the counter or there was a note from the owner or fresh flowers in a vase – something that let me know the house was ready for me.
A house book helps me understand how things work. I don't want to spend my time trying to find the owner to ask about garbage, recycling or how the stove works. I want it all written down so I can get the information when I need it. A good house book shows me that the owner cares about their house and wants me to be comfortable.
Good local information so I can find my way around. Most likely I have never been to the area before. If the owner gives me some insider information – the best places to shop, a few good local restaurants, the best café – that makes me feel like a local.
The furniture was chosen with the traveler in mind. No orange couch purchased decades ago for the owner's house and put in the vacation rental when they can no longer stand looking at it.
The fridge is clean. When we arrived at our vacation rental in England last summer, the fridge was full of half eaten and expired food. Opened bottles of alcohol lined the counter. Dog-chewed shoes were stuffed under the couch. I felt like an intruder in someone else's house and never felt at home.
Nice towels. Fluffy from a tumble dryer or stiff from line drying, I don't care – what is important to me is a nice set of towels left for me.
There is room for me. I am not house-sitting, I am not staying with a friend – I am renting this place to be my home for a short time. I want room to spread out, to use the house the way I like to live. I don't want a house bursting at the seams with the owner's knick-knacks or, even worse, antiques that I worry about damaging. I want room for my things, so I can unpack and settle in.
I appreciate the time vacation rental owners take to set up these homes for travelers, to think about what we need for cooking, to make spaces for us, to hang pictures you know we will enjoy. I would like to thank vacation rental owners who make a home for me.
And to the vacation rental owner who takes the orange couch that they never could stand and dumps it into their vacation rental, I would like to say "Hey, that is my home you are decorating!"
My current home, this vacation rental in Normandy, is lovely. I feel comfortable and at home. My maps and books are spread out on the coffee table. My food is on the shelves in the kitchen. My clothes hang in the closets. This is my home right now and it feels like home to me.